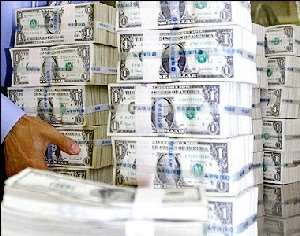 The Statesman can disclose that plans are under way to help build up promising Ghanaian companies into multi-million dollar giants. The aim is to increase their competitiveness in the sub-region in particular and on the global front, generally. For the past two years, a joint team of government officials and corporate leaders has been set up with the task of "selecting winnable economic sectors, winners within that sector and to map out the kind of assistance government can effectively provide," to turn them into corporate giants. This was disclosed in an exclusive interview with The Statesman, by Trade & Industry Minister, Alan Kyerematen. He added that the selection will be based purely on economic merits. He further disclosed that Government is in the process of establishing a joint project with an Austrian company to establish a multi-million dollar technology innovation plant to serve local industries with precision capital goods which they would otherwise have imported. This project is expected to be commissioned within two years. The minister further expanded on President Kufour's assertion that Ghana is about to lift off economically in a giant way after a period of stability. While admitting that unemployment figures are hard to come by, Mr Kyerematen said all the indicators show, "we are creating jobs and will create more." He said companies fold and start up all the time; "But, I'm absolutely confident that there are many more companies being established than closing down." He cited the growth in the banking sector, telephony and agro-processing as clear indicators of a giant revival of the Ghanaian economy. He expressed concern that the Ghanaian public were not aware of the true economic picture, what he described as "the logic behind Government's economic programme since 2001." The Trade Minister believes it is an important challenge to educate the people about the true situation the nation is in and its prospects for the future. The minister said of the New Patriotic Party: "We have spent five years laying the foundations for this economic take off to occur. One of the biggest challenges we have as a government is to get Ghanaians to understand the economic paradigm charted by the NPP. Poverty reduction is the ultimate goal. Yet, you can only create jobs if you expand the economic base; you can only do that by getting the fundamentals right. That takes time." Mr Kyerematen emphasised that whilst a good framework had been put in place on the macro-economic front it meant little without three separate but interlinked areas being addressed: capital, labour and technology. "Achieving stability and sustained resilience cannot take less than three years. Beyond that other things must start kicking in because macroeconomic stability is a necessary requirement but not a sufficient requirement," said he. Government, he claimed, was actively pursuing policies that will lead to increased capital for business, identifying three examples. The first is a new incentive structure designed to enable banks to earn more if they lend more; this scheme is almost ready to come into effect. Another is the Venture Capital Fund, due to come on stream in March. The third the Cabinet Minister revealed in another important disclosure: "We are investigating the feasibility of setting up specialised supply banks dedicated to the Small and Medium Scale Enterprises. Capitalism without capital is only an ism," he added philosophically. Already in place is a project to provide a credit guarantee facility through the existing banks with an incentive structure to get the banks to earn more when they lend more to the SMEs. This is supported by an IFC line of credit. "The key," he said of Ghanaian companies, "is to enhance their competitiveness. And in that process we sometimes need to provide protection for certain sensitive companies." In that regard, Mr Kyerematen explained that an independent tariffs advisory board has been established. With regard to labour the emphasis should be on developing skills. At present the minister believes there is not enough emphasis on vocational qualifications that are specifically relevant to jobs. On technology he asserted that Government is "very serious about improving technology for business because it is the basis for competitiveness." The minister bemoaned the lack of a manufacturing base within Ghana at present: "We don't produce anything at the moment," he said, insisting that: "I am convinced we must improve manufacturing to enable us to develop. The difference between us and China and South Korea is technology." He told The Statesman that his ministry had negotiated with UNIDO to set up a technology innovation and capital goods centre in Ghana and that an Austrian company was lined up to support it. This would help to accelerate Ghana's industrialisation, by enabling the production of components and equipment with Ghana. He is hopeful that the centre would "be up and running within a year or two." Moreover, additional state support for industries will be given by redeveloping the Suame industrial area in Kumasi, for example. On the textile industry, which is widely perceived to be failing, the Trade and Industry Minister thinks: "The market is so huge. If you want a pro-poor growth strategy, textile offers that. It is labour intensive and a low skill market." He said in spite of stiff competition from China, the success of the President's Special Initiative in Textile and Garment is an indication of the potential. "The companies operating under PSI cannot even meet demand," he said, showing our reporters pairs of socks carrying the famous brand name Dockers, expertly manufactured in Ghana for the United States market. Mr Kyerematen sees the recent opening of a new factory plant for ABC wax print at Akosombo Textile as a "litmus test," with production of the fabric being moved from the United Kingdom to Ghana. He blames the difficulties in the textile industry partly on the use of old mills, and on companies focusing on African print and failing to exploit the quota-free opportunities created by the AGOA concession of America.
"The real opportunity is in diversification," he stressed.
The Ghanaian government, he pointed out, has also waived duties for imported raw materials. "We are also encouraging them to change management strategies," he said.
In general, Mr Kyerematen was extremely optimistic and concurred with the President's belief in a bright future, particularly with the focus he placed on capital, labour and technology. "With those three things I am confident of wealth for Ghana."
He further stated: "A lot of engineering, a lot of planning, a lot of work has been done in the last five years. They have started bearing fruits. People should give us the time and chance to deliver."