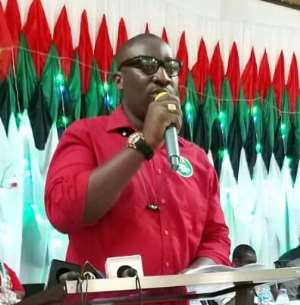 Chief Biney
A Deputy National Organizer of the Opposition National Democratic Congress (NDC), Chief Biney Hamilton Nixon says President Akufo-Addo seems too comfortable with his appointees who are excitedly splashing into his eyes lies and deceit in the pool of corruption.
He made these remarks while delivering a speech at a symposium organized by the Tertiary Education Institutions Network (TEIN) of Koforidua Technical University.
Chief Biney explained, that "Corruption is now a household name in the Akufo-Addo led government. The popular description given to President Akufo-Addo by most Ghanaians is Clearing Agent. But I personally think that corruption should have been the president's surname because he appears to be too comfortable with his corrupt appointees".
He further stated that the litany of corruption cases, most of whom are orchestrated at the Presidency, painting a picture of a government of comfortable 'thieves."
The NDC Organizer cited the BOST scandal, that saw the sale of 5 million litres of supposed contaminated oil for 15 million cedis and wondered why the President through the Bureau of National Investigations, quickly cleared the CEO of BOST then, Mr Alfred Obeng of any wrongdoing and another report by a committee led by Mr Senyo Horsi, the Chief Executive Officer of the Chamber for Bulk Oil Distribution Companies describes the deal as fraudulent and criminal.
He said such actions of the President encourages his appointees to dupe the nation the more and harder.
Chief Biney is calling on all members of the NDC to rally behind H.E John Dramani Mahama and change the Akufo-Addo led government come 2020.