Students Urged To Exhibit High Moral Standards - Educationist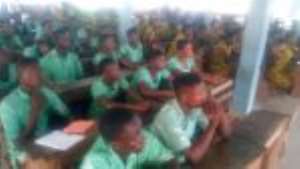 Students have been urged to exhibits high morals standards in their society to make society a better place since the country's development rests in their hands.
The municipal education Director for Atwima Nwabiagya Municipality of the Ashanti Region Mr. J.K Agyemang says corruption, copying alien cultures blindly, selfishness, disrespect for elders and for rule of law are factors that are working against Ghana's progress.
Mr Agyemang was speaking at the '2019 Civic Conference', a campaign to promote civic education in Ghana at Toase Senior High school.
The conference which brought together all SHS within the directorates dubbed "Project Citizen", is a process aimed at empowering students with civic literacy and leadership capabilities that will help students fit well in the society.
According to him, a sure way of achieving such a goal is through education, by educating the citizens to be knowledgeable, patriotic, committed to and responsible members of the society.
This he said requires the effort of every Ghanaian citizen, especially the young ones who will take up leadership positions to be knowledgeable and know the right values, adopt the right attitude and behaviour, and civic rights and duties to build enviable Ghana.
The President of Campaign to Promote Civic Education in Ghana (CPCE) Mr Ken Atta-Boakye says the campaign is to raise well-rounded individuals who have the welfare of Ghana at heart.
According to him, they seek to provide students with all resources that will help to accomplish such goals.
He added that the organization will form Civic clubs in their various schools on responsible citizens such as right and duties of citizens, responsibilities of citizens, personal traits of good citizens, ways to participate in Community Service and ways of becoming good citizens.
Mr Atta-Boakye stressed that the program is expected to properly train the students to become more productive to themselves, the community and Ghana as a whole.
"There is a missing link in the country despite all the development taken place. We need a new attitude to turn things around which is the campaign to promote civic education in Ghana, attempting to plant in all SHS over the country," he stated.