CPP Kick Against Nana Addo's Proposed New Legislation On Political Militia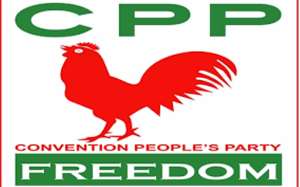 The Convention People's Party (CPP) has questioned President Nana Addo's plan to initiate legislation to end vigilantism should the two major political parties fail to strive a compromise to disband vigilante groups.
According to the CPP, the New Patriotic Party (NPP) and National Democratic Congress (NDC) must resolve the issue internally.
President Nana Akufo-Addo during yesterday's State-of-the-Nation Address (SONA) to Parliament in Accra, expressed his determination to end political vigilantism in the country adding that, if voluntary disbandment of vigilantes were not feasible, he would initiate legislation to stop it.
But speaking to Citi News, Communications Director of the CPP, Abdul Rauf Kadiri noted that ending vigilantism requires a collective effort of all stakeholders.
"I don't think that can be achieved through the power of law; it just has to take the commitment of all stakeholder. When people engage in vigilantism, it is clear that they have breached the law, but these people are often allowed to go scot-free because they belong to one political party. It tells us that even if there is an instrument it pass that effect and there is no willingness to enforce. It is just going to be the old syndrome, so our suggestion is that the NDC and the NPP must develop strong willingness in combating the issue and ensure that they disown on one of their own that engage in such activities and punish them severely," he said.
In his State of the Nation Address, President Nana Akufo-Addo urged the two major political parties to meet and discuss the prospect of disbanding all militia groups affiliated to them.
He said he would initiate legislation on the matter if the parties are unable to come to a voluntary solution.
But the General Secretary of the opposition National Democratic Congress (NDC), Johnson Asiedu Nketiah has said president's suggestion is not a panacea to ending activities of vigilante groups in the country.
"I want to believe that a meeting between NPP and NDC won't solve any problem. Also, the President's threat of using legislation is also not going to solve any problem because there are laws in the country that can deal with this problem. What is lacking is the political will of the governing President. It takes the President alone to clean the state apparatus of the vigilantism to clamp down on vigilantism outside the state apparatus," Asiedu Nketia told Umaru Sanda Amadu in an interview on Eyewitness News yesterday, Thursday.
Vigilantism in Ghana
The phenomenon of vigilantism has become a topical issue in the country following a surge in acts of physical attacks and assault carried out by members of vigilante groups aligned with Ghana's major political parties.
Some of these attacks have resulted in death and injuries on victims including innocent citizens.
Recently, the presence of some masked and armed men at a polling station during the Ayawaso Wuogon by-election sparked conversations on the matter.
–citinewsroom