Ahmadiyya Youth Association Donates To School For Deaf/Blind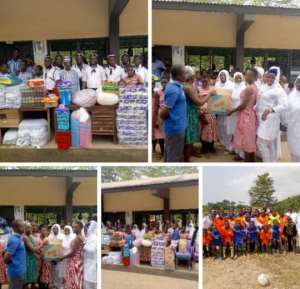 The youth wing of the Ahmadiyya Muslim Community (Khuddam-Ul-Ahmadiyya) in the Abura Zone of the Central Region has donated assorted items to the Cape Coast School for the Deaf and Blind.
The items, which were acquired mainly through contributions of members, included a bag of gari, beans and rice, 55 pieces of mosquito nets, boxes of soap and detergents, assorted soft drinks, toilet rolls, sachets of water, floor mops and sanitary pads.
They also played a football match and socialised with the students to familiarise themselves with the activities of the school to ascertain, at first hand, how the students lived on campus.
Mr Rahman Arthur Quarm, the President of the group, said the donation was in fulfilment of the community's annual charity projects aimed at providing support for deprived members of the society.
He said through the project the youth wing had made similar donations to the Ankaful Maximum Prison, Ankaful Leprosarium and other orphanages in the Central Region.
'We do a lot of humanitarian activities through which we preach peace and love. We want to impact lives as much as we can. Our religion teaches us to be benevolent, loving, caring and above all, be each other's keeper, we are following the teachings of Islam,' he said.
Mrs Regina Esilfie, the Assistant Head in charge of Academics, who received the items on behalf of the School, commended the Ahmadiyya Community for its benevolence and called on other religious and cooperate institutions to visit them regularly.
She said poor road network, irregular water supply and lack of teaching and learning materials were some of the challenges confronting the School.
Mrs Esilfie said the School did not have enough braille for the blind students while it had only one projector, which made teaching very difficult.
The Cape Coast School for the Deaf and Blind currently has a student population of more than 500.
---GNA