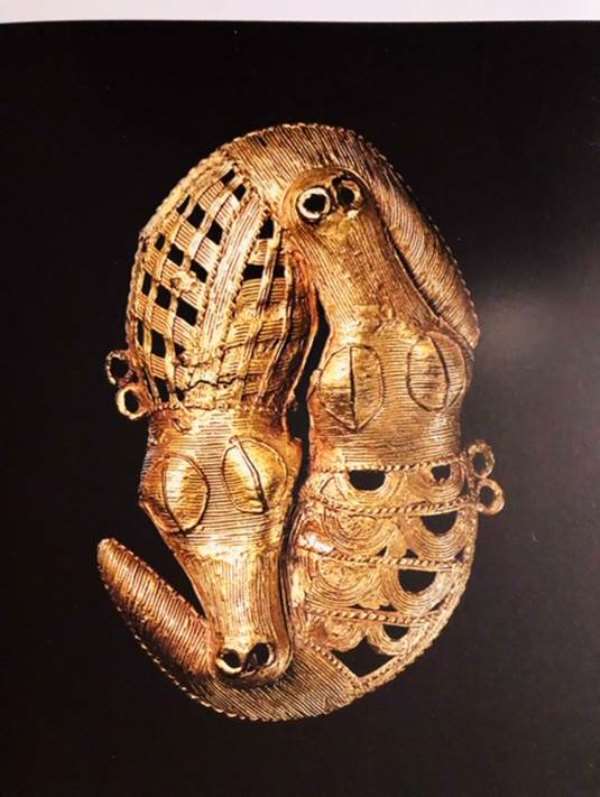 Gold jewel of two crocodiles, Akan, Baule, Ivory Coast, now in Musée du Quai Branly, Paris, France.
''Cultural heritage constitutes an inalienable part of a people's sense of self and of community, functioning as a link between the past, the present and the future; it is essential to sensitize the public about this issue and especially the younger generation. An information campaign may prove very effective toward that end; certain categories of cultural property are irrevocably identified by reference to the cultural context in which they were created (unique and exceptional artworks and monuments, ritual objects, national symbols, ancestral remains, dismembered pieces of outstanding works of art). It is their original context that gives them their authenticity and unique value;"
Conclusions of the Athens International Conference on the Return of Cultural Objects to their Countries of Origin Athens, 17-18 March 2008. (1)
May our African gods and ancestors bless Bénédicte Savoy, Felwine Sarr and their team. They have restored to us part of the self-respect and dignity we lost when strange peoples, unknown to us, came from thousands of miles across the oceans from lands we had never seen and places we never knew existed. They killed many of our peoples. They burnt our cities. Abomey, Benin City, Kumasi, Maqdala, and Segou. They took with them our artefacts that had been with us for hundreds of years, our memories. They declared that our artefacts and images of our ancestors and times past belonged to them, even though they never shared our ancestral beliefs and cultures which they condemned as pagan and primitive.
Descendants of these violent soldiers, audacious robbers and uninhibited looters, after more than hundred years, still declare that we do not deserve the images and objects we ourselves created in accordance with our own traditions, beliefs, and aesthetics They have declared that our funeral objects and ancestral works belong to the world. Are we Africans not part of the world?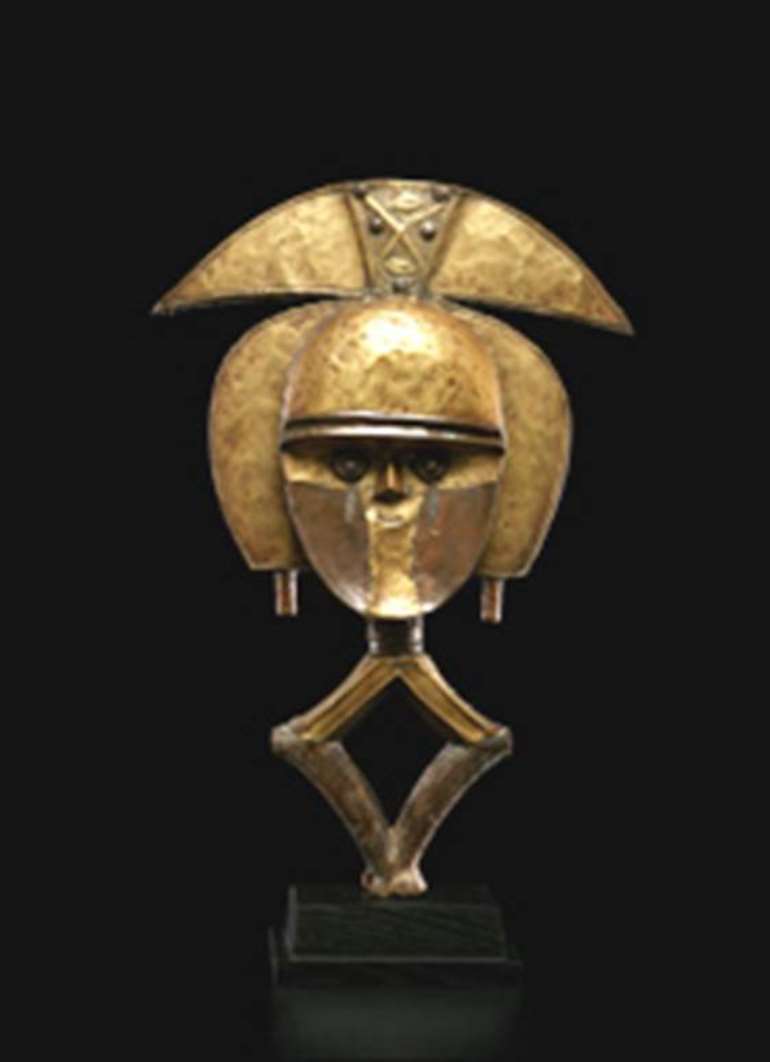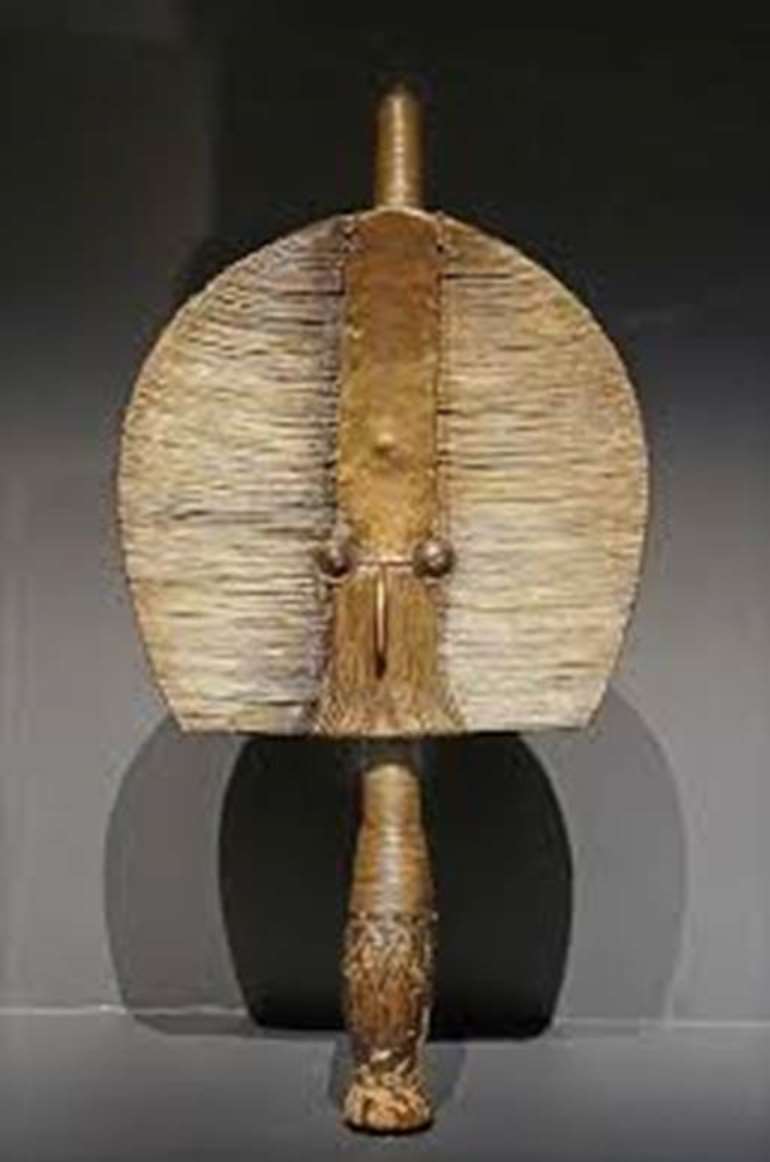 Kotas from Gabon, now in Musée du Quai Branly, Paris.
Some Europeans appear to be genuinely concerned by the idea that African artefacts could soon be back home in Africa. Foolish European ideas about us appear not to have evolved much during the last hundred years. Some are wondering what all the fuss is about. But many have been convinced that stolen artefacts must be returned to the place where they were taken from. The republic of Benin will soon see Behanzin, Ghezo and Glele, the royal statues of Abomey that were looted by notorious General Dodds in 1840. Guo will also return. (2)
But what about Benin's big neighbour, great Nigeria, what are the Nigerians doing about recovering artefacts looted by Europeans? They are very busy borrowing their own looted artefacts from the very countries that looted them. But will anybody in Addis-Ababa, Abidjan, Abomey, Accra, Benin-City, Cotonou, Dakar, Lagos, Lomé, Ouidah, understand the idea of borrowing your own looted artefact from the same country that looted them and has been keeping them for more hundred years? This Anglo-Dutch-Austro German concept is beyond most of us. Nigeria will apparently receive temporarily some of the Benin artefacts stolen by the British in 1897 when a Royal Museum now under construction in Benin City is ready. We do not know which artefacts will be temporally returned to Benin City. Those on display in the Bode Museum, Berlin or those in the British Museum in London?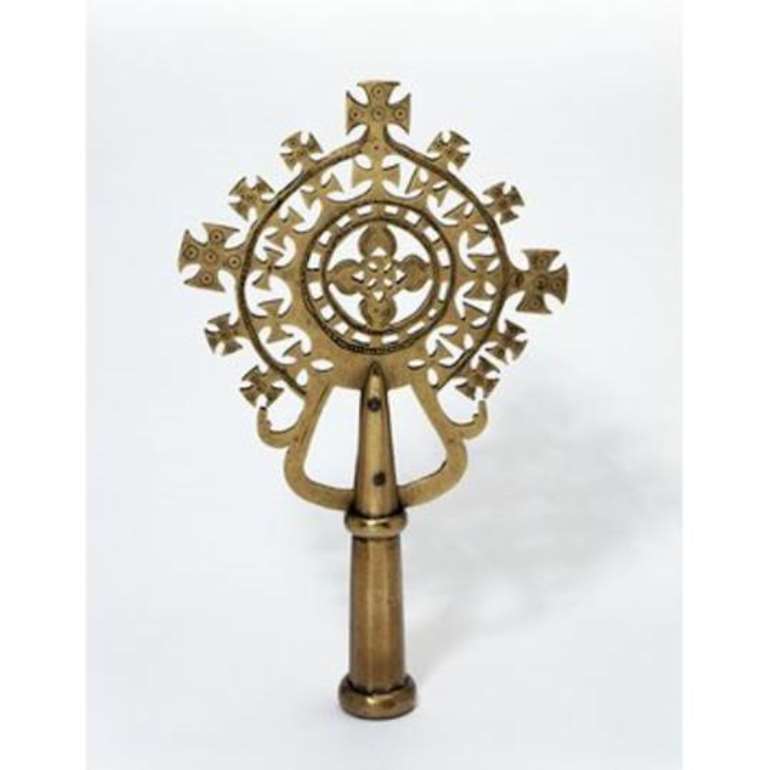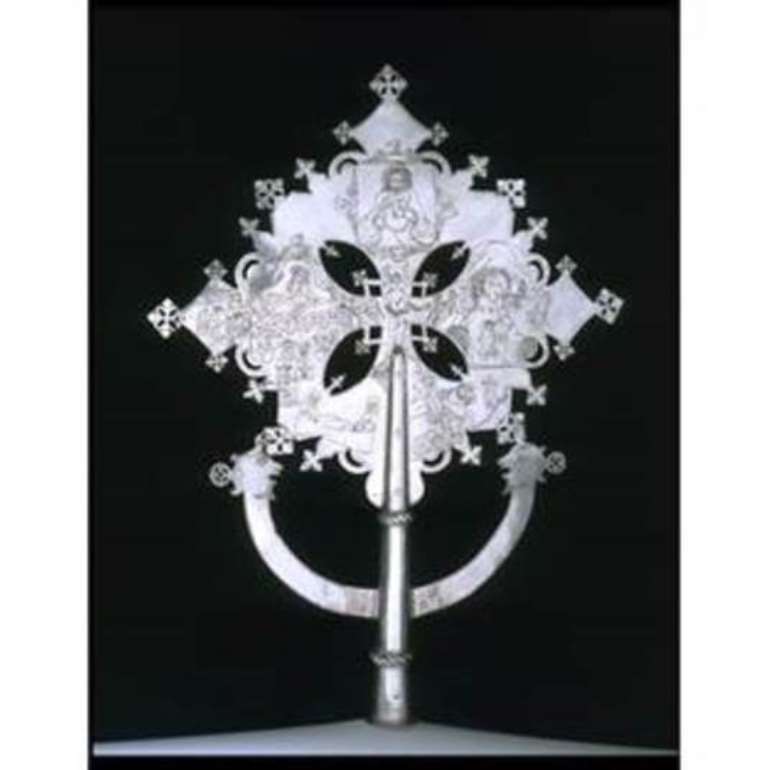 Ethiopian crosses, Victoria and Albert Museum, London, United Kingdom
.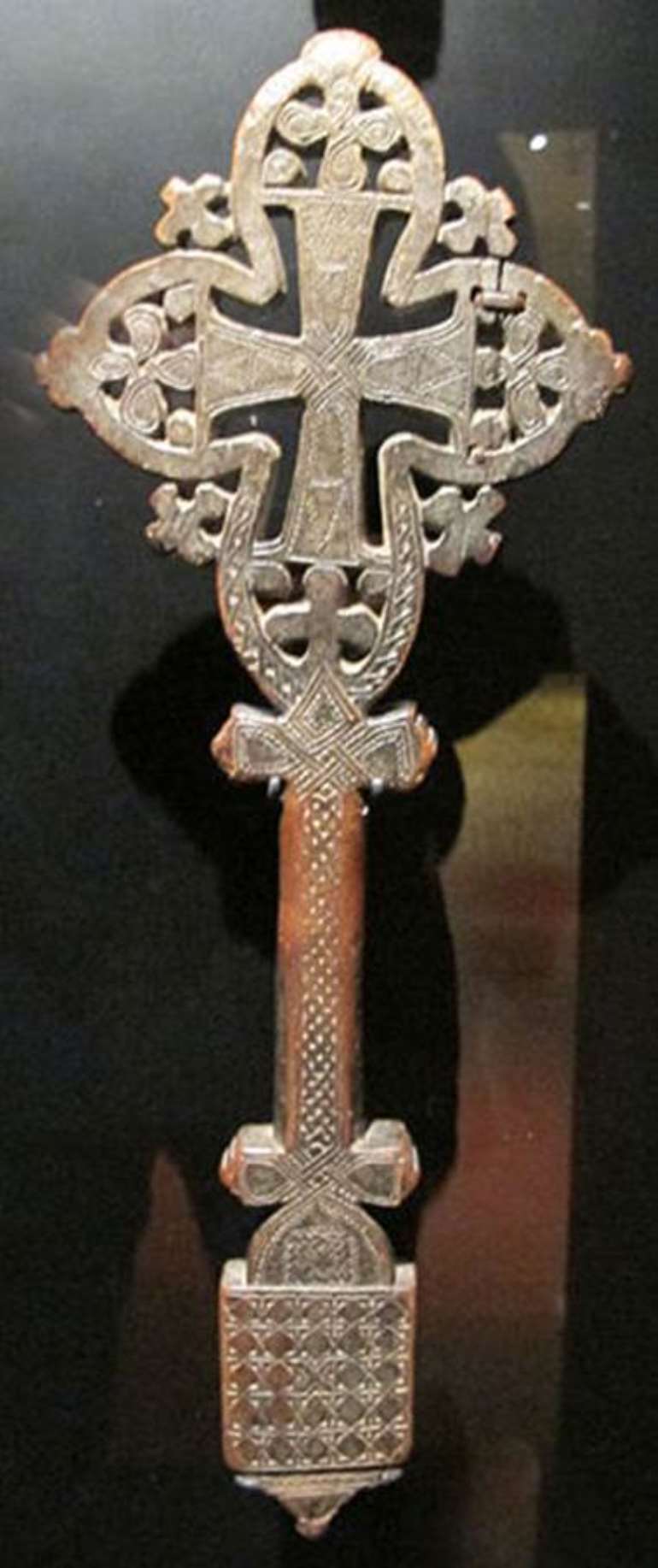 Ethiopian processional crosses, Ethiopia, now in Musée du Quai Branly, Paris, France. How can our contemporary Westerners still justify the stealing and detention of Christian crosses that the Ethiopians need for practicing their religious belief? See Michel Leiris, Afrique fantôme on how Ethiopian holy paintings were stolen during the notorious Dakar-Djibouti Mission 1931-33.
This loan arrangement reminds one of a thief who has stolen your Mercedes Benz and promises to return the vehicle if you build a better garage and employ an experienced driver. But where does the thief derive the right to dictate to the owner terms and conditions on which he would return the stolen vehicle? But this is in substance what the Nigerians appear to have negotiated with Austria, Britain, Holland, and Norway in the so- called Benin Dialogue Group.
Between now and the completion of the new Royal Museum in Benin City, in 2021, (Ovonramwen Museum?), there is sufficient time for our Nigerian sisters and brothers to think the matter over. Even Brexit can be reconsidered. They have enough time to explain to the rest of the continent that they were supposed to lead who gains by their borrowing their own looted artefacts, how much they have to pay -transport, insurance and security costs, etc., and why Britain and the other European States cannot do what the French are doing: simply return the artefacts to the place and people from whom they were looted. Nigeria's defeat and humiliation are the defeat and humiliation t of our whole continent. If Nigeria cannot claim back its undoubtedly looted artefacts and therefore has to accept neo-colonial schemes of loans, those of us who have supported the unconditional leadership of Nigeria must re-examine the basis of our assessment. We must ask ourselves whether an African State, however big and rich in resources, including cultural artefacts, but appears weak in resolve to complete decolonization, has the right qualities for leadership on our Continent at a time when decisive leadership and determination are required. Nigeria's small neighbour, Benin, is offering an alternative approach to decolonization that can only be completed when the former colonialist masters have returned unconditionally African artefacts they stole during the colonial period.
Before the publication of the Sarr-Savoy report, some people spoke of circulation of artefacts. This topic was briefly discussed by some speakers at the UNESCO Conference on circulation of cultural property and shared heritage: what new perspectives? on 1 June 2018. But after the ground-breaking report, it became clear that quite a number of people were considering circulation of artefacts as an alternative to restitution, to avoid the need or duty to restitute them. Stéphane Martin whose changes of position on restitution surprises many of us, was among the first to hint at this variation. Martin who has expressed his opposition to the report recommending restitution, suggested that Macron's sending of 26 artefacts to Benin and his call for an international conference in 2019 were indication of change of mind by the French president and that Macron has closed the door on restitution. He said that: 'Macron is more likely to favour the wider "circulation of artworks as the principal method of sharing cultural heritage." In other words, what we see as the beginning of the process of restitution of looted artefacts, Stephan Martin considers it the end of the process. (3)
Martin relies on the statement by Macron that he has requested his new culture minister, Franck Riester, who was present at the meeting along with the two scholars, to organise the conference with the Foreign Affairs Ministry, and to structure the process of the "circulation of these works" in the years to come. Macron had declared that "all forms of circulation be considered: restitutions, but also exhibitions, exchanges, long-term or short-term loans, cooperation, and the like," and that "museums play a central role in this process". We do not understand Macron's statement as closing the door to restitutions when he says all forms of circulation of artefacts must be considered and mentions restitutions first and adds that also other forms are not excluded. There is no ground to think that the first mentioned procedure is excluded. Strange interpretation to exclude the first in favour of all those that are later added.
We see this restrictive interpretation of Macron's statement as part of the tendentious reporting that a certain Western press has adopted concerning the Sarr-Savoy report as soon as it was published, calling it, even before many had read it, a controversial report thus trying to push the reader into a certain frame of mind even before she or he has read the report and built an opinion based on his or her reading. Whatever Macron may have intended, we should examine, what European museum officials understand by circulation of artefacts.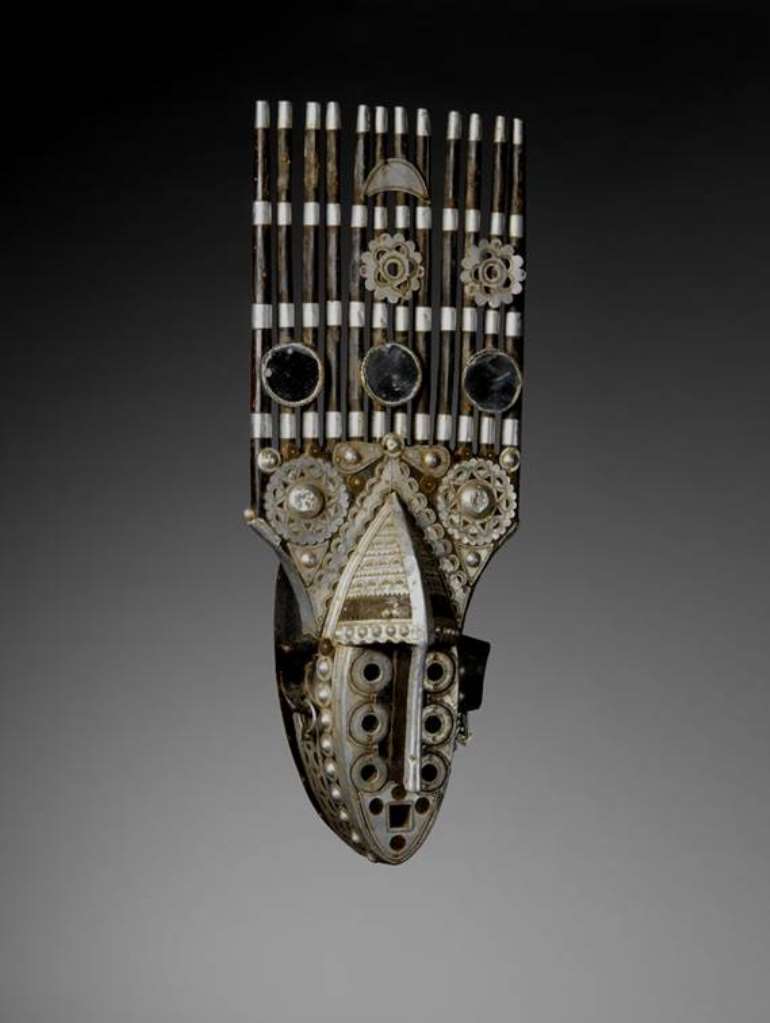 Anthropomorphic mask, Malike, Guinea, now im Musee du Quai Branly, Paris,France.
At basis of the European conception of circulation, is their conception of sharing. What do the Western museum directors understand by sharing? Most people in the world understand by sharing, to mean generally that you divide whatever there is to share and give each party a portion, generally, equal portion unless there are good grounds for dividing into unequal shares. When western museum official talk about having a shared tradition or heritage with Africans they do not mean they are ready to share whatever there is with Africans. Most of the classical Benin bronzes are in western museums (and not all over the world as they prefer to say.) The British Museum has a large quantity, anywhere from 300 to 900 pieces, the Ethnology Museum, Berlin has transferred its 508 pieces to the Humboldt Forum, Vienna Ethnology Museum, now World Museum, has some 167 pieces, Hamburg Ethnology Museum, now Museum at Rothenbaum, has 200 having recently obtained another 3 pieces that were established as looted objects by the research of the Museum of Art and Crafts, Hamburg. Most western museums refuse to tell us how many Benin artefacts they hold. Do you think any of these museums would be willing to give even one of the artefacts to Benin, Nigeria? Not on your life! Of course, the British Museum sold some of the Benin bronzes to Nigeria! (4)
During the Benin exhibition Benin: Kings and Rituals – Court Arts from Nigeria on 8 May 2007, in the Museum für Völkerkunde, Vienna, (now World Museum) an international symposium was organized in connection with the exhibition. In the course of the symposium, the Benin Royal Delegation declared that if each of the Western museums at the conference returned one artefact to Benin, they would be satisfied. Professor Feest, then director of Völkerkunde Museum, Vienna, replied that this was impossible. The West thus lost a golden opportunity to settle once and for all this thorny problem. The greed and selfishness of the so- called universal museums had reached its climax and the idea of parting even with one Benin artefact was unbearable to them. (5)
We have in suggested in several articles that the Berlin museum could, for example, return 200 pieces of the 580 it presently holds to Benin, Nigeria. Nobody has even bothered to comment on that because that is not how the German museums, like most European museums, understand the concept of sharing. Incidentally, the Berlin museum has apparently sold or exchanged the Benin artefacts. This came out in a case of Nazi-looted art where the deceased victim of Nazi confiscation had in his estate a Benin bronze which had been obtained from the Ethnology Museum Berlin. (6)
A young German professor who had done his doctorate on artefacts from Togo told a radio interviewer that he was surprised to realize in Togo that they had less Togolese artefacts than the museum in Berlin, whereupon the interviewer asked whether the way to fill this gap would be to send a few artefacts from Berlin to Togo. The prompt answer was no. What they could do was to share the knowledge the Germans had obtained from the artefacts with the Togolese. This view has also been confirmed by Hermann Parzinger, President of the Prussian Foundation for Cultural Legacy, Berlin. Parzinger has himself explained his concept of shared heritage as follows:
'We are all jointly responsible for the cultural heritage of mankind. So, we should share it with the nations that we once subjected to colonial rule
The concept of shared heritage is founded on the conviction that museums are merely the trustees of a cultural heritage that belongs, in essence, to the whole of humanity. This principle is only valid for objects that have been acquired legally. Shared heritage is therefore a post-national program, in a sense, and it requires a corresponding mindset from every participant.
If this is to happen, then the cultural heritage preserved in Berlin must also be made available to the cultures of origin. As part of the process, the museums themselves need to be decolonialized, in a way, and become more democratic. Firstly, it is important to involve curators from the countries of origin and to dismantle the old hierarchies of interpretation. For example, we are developing the presentation of the Amazonia collection in collaboration with representatives of the indigenous University of Tauca in Venezuela, and as a result the histories of the objects have gained new perspectives and additional layers of meaning
Secondly, it is essential that the material knowledge of the cultures of the world that has been amassed here in Berlin can be accessed in its entirety by everyone, so one of our core tasks is to make it available digitally. Thirdly, why shouldn't parts of the collections be allowed to travel more often, if the appropriate conservation requirements can be met? It is conceivable that we could cooperate much more closely with museums in the countries of origin and exchange objects temporarily for special exhibitions. It is a major concern for our colleagues in Africa, in particular, that lending should be a two-way street. The Humboldt Forum could serve as the epicenter of a network of international relationships that have been renewed along these lines. And fourthly, a partnership of equals could well include the return of individual objects in certain cases, if they have evidently been acquired illegally. The sharing of heritage can therefore only be as good as the corresponding provenance research, which means in turn that maximum transparency concerning the circumstances of acquisitions is an essential prerequisite for cooperation.. (7)
When we read this text from Parzinger, we are shocked by the absolute lack of sympathy and feeling for the victims of colonization and their descendants. It becomes clear that Parzinger is determined to hold the looted objects from the former colonies in Berlin which he reminds us, was the place where the division, exploitation and destruction of Africa were planned. For him, the sufferings of the oppressed peoples are also part of the shared heritage. The Benin objects, according to him, will enable the visitor to see the impressive works but they will also tell the other side of the story of oppression. He seems to want to make the Benin bronzes products of colonial oppression which they were not. It is their looting and detention that are part of the oppressive colonial system but not their production. They were there before the colonialists and imperialists invaded Benin. Indeed, the colonial incursion truncated a civilization in full blossom. To consider the victims of violence and the perpetrators of violence as having a shared heritage because of the criminal violence of the oppressors is rather odd. We wonder whether he would also tell victims of Nazism that they have a shared heritage with the Nazis. But with Africans, because of lack of respect for us, our history and our sensitivity, every bizarre idea appears acceptable to our contemporary Europeans.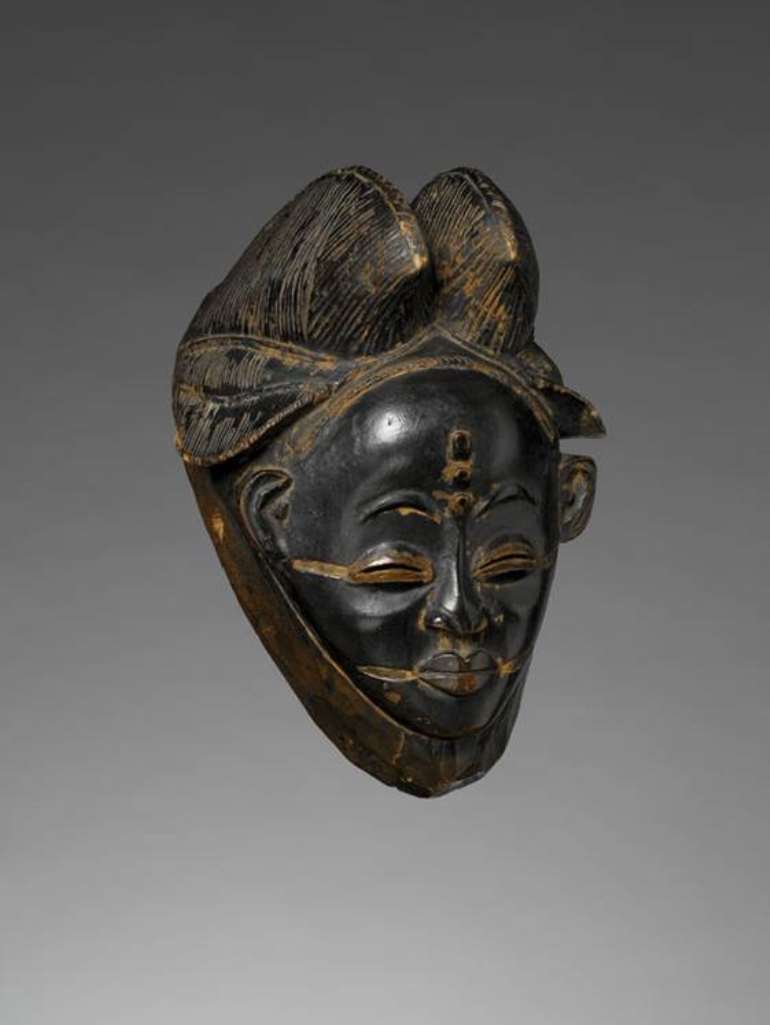 Punu mask, Gabon, now in Musee du Quai Branly, Paris, France.
It becomes clear from this text what Parzinger thinks of sharing when he talks about African artefacts. If the wicked colonial system can be shared heritage, why cannot the European art, music etc that were taught in some colonial schools be also considered shared heritage? Why is it that only the brutal oppression and looting of artefacts are considered as shared heritage but not what was presented as advanced achievement of Europe? The concept of shared heritage was clearly intended to preserve looted African artefacts in Western museums and no more. Incidentally, Germans took the concept of shared heritage from the British Museum where it was developed mainly to prevent the restitution of the Parthenon Marbles. Such a concept is clearly not likely to help African restitution in any way.
Having considered African victims and colonial racist oppressors as having a shared heritage, Europeans may appear ready to share with Africans what was looted in the colonial and slave periods. The violence and humiliation of Africans then bind them with their Europeans oppressors to a common culture or heritage that is expressed through the looted African artefacts. African artefacts are then classified as heritage of mankind, after having been brutally wrenched from their countries of origin. Europeans being part of mankind are, per definition, entitled to their share. European art not being part of the heritage of mankind, according to this way of thinking, is therefore not subject to shared heritage. Parzinger and supporters of this idea of a world heritage or shared heritage that excludes European art from shared heritage, must congratulate themselves for having cleverly excluded from world culture, Rembrandt, Matisse, Picasso, Renoir, Reubens, etc. It is clear that the idea of shared heritage that is only limited to looted African artefacts is a convenient way for the West to continue the colonial exploitation of African resources and reinforce a system that should be abolished by now and not reinforced. The notion has not been fully examined by its proponents. They do not expect Africans to examine the concept or reject it.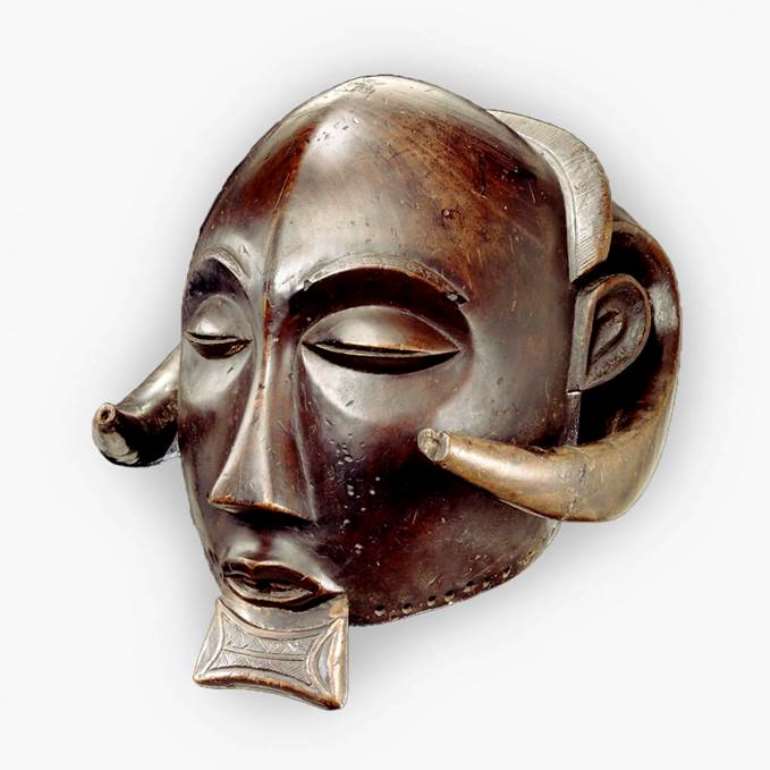 Mask, Luba, Democratic Republic of Congo, now in Africa Museum, Tervuren, Belgium.
I have suggested in several articles that we in Africa should also receive some European art about which we are generally ignorant. Sandro Botticelli, Albrecht Durer, Hans Holbein, Pablo Picasso, Raphael, Rembrandt, Peter Paul Rubens, Van Gogh and other European masters, would help us to learn more about European culture. Nobody has even commented on this idea. I can only assume that many are shocked by the very idea of a European work of art in Dakar, Accra or Lagos. Prevailing racism, which is stronger that many would admit, makes it impossible for Europeans to envisage such an eventuality. Those who refuse to return your looted artefacts on the grounds that you cannot look after them are not likely to be enthusiastic about sending you a masterpiece such as Mona Lisa. The very idea turns many cultivated European heads and yet they are not racists! It is all one-way traffic.
With the explanation of what Europeans consider as shared heritage or world heritage in art, we can now ask ourselves what they mean by circulation of artworks. With the exclusion of European art from shared heritage or world heritage, it follows that those talking about circulation of artworks mean only circulation of African artworks. The philosophy here is Mine is mine but yours is ours. I keep what is mine and we share what is yours. (8)
But why, in the name of fairness, has this become so normal that Europeans talk about the need for circulation of artworks without any serious reflection of what this means? At the back of their minds, is the exploitation of Africa that has become through centuries of practice, quite normal for many Westerners
At the UNESCO Conference on circulation of cultural property and shared heritage: what new perspectives? on 1 June 2018, the Africans who spoke, including the President of Benin, Patrice Tandon, the Senegal Minister for culture, Abdul Latif Coulibaly, all stated that they were open to circulation of artworks but clearly, there must be restitution before circulation. This seemed logical to me for if you do not have an object, how can you participate in any meaningful system of circulation? How can you circulate anything if you are not its owner or have no control over it? So, all those who are in favour of circulation must accept that circulation cannot replace restitution.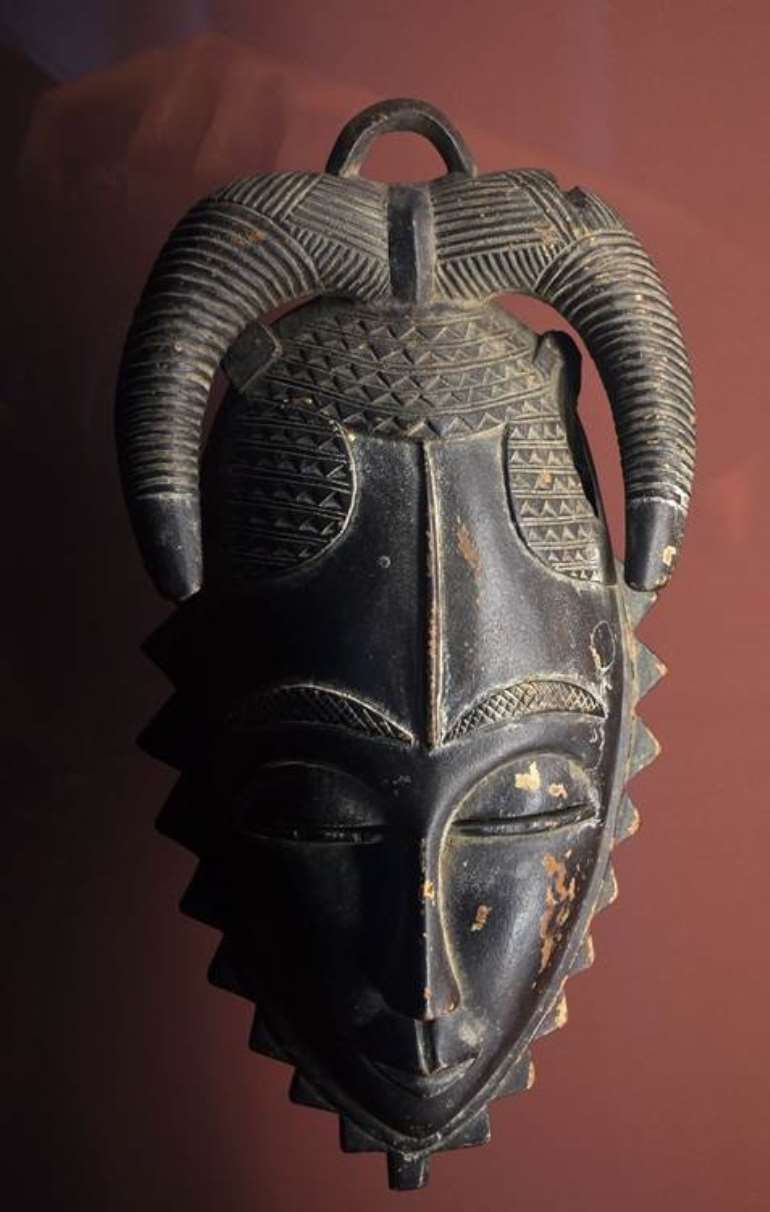 Yaourè Mask, Coté d'Ivoire, now in Musée africain de Lyon, France.
But what has been the attitude of the Western museums so far as regard circulation even of the looted African artefacts? Just a few examples. When Egypt, through the dynamic Zahi Hawass requested from the Germans the bust of Nefertiti for the opening of a new Egyptian museum, he received a negative response, based on several grounds including the explanation that the Egyptian queen was too fragile to travel to Egypt. The British also refused to send the ivory hip mask of Queen-mother Idia to Nigeria for the pan-African festival, FESTAC 77, alleging that the ivory hip mask they stole from Benin-City in 1897 was too fragile to travel to Nigeria. (9) Austrians have also argued that Montezuma's feather crown was too fragile to be sent to Mexico. (10)
After Nigeria had lent Benin artefacts to Vienna Ethnology museum for a Benin exhibition, the objects returned to Nigeria, without the objects that came from museums in Europe. Similarly, the Ife exhibition was shown in Nigeria without the Ife artefacts from the British Museum. All along then such joint exhibitions end in African countries without the African objects that came from Western museums. What then are the intentions of those who are now trying to replace restitution with circulation and long-term loans?
That the British Museum and the other European museums holding Benin artefacts are only willing to 'lend' the looted Benin bronzes to Nigeria and not restitute them shows the strong determination of some Europeans not to acknowledge that the looting of 1897, following the invasion of Benin City, was wrong and that by now one should return the objects to the Oba of Benin. We have stated in unmistakable terms that it is wrong for Nigeria to borrow its own looted artefacts from those who looted them. It would be our honest and sincere suggestion that the Europeans keep the artefacts until they finally accept that it is wrong to steal the cultural artefacts of others and refuse to return them. But why are the Nigerians going along with such disgraceful arrangements? How would they honestly explain to their people the payments and expenses for borrowing their own looted artefacts? How would they honestly teach their children and youth about the borrowed artefacts? They will surely be obliged to present incomplete narratives and thereby distort history.
Some have alleged that Sarr and Savoy did not consult the dealers at rue de Seine in Paris, but others found out later when they read the report that they did consult some dealers but not all of them. ( 11) When the two scholars were selected by President Macron to do a study on the question of restitution, temporary or permanent, of African patrimony, the whole world heard about it. Are we to suppose that the art dealers in Paris did not hear about it? During the various travels of the authors in Africa and the seminars and meetings held in Paris, news went around, and they explained what they were doing and how far they had gone, explaining most of the time their approach and views about the relevant issues. They were both often on television programmes. Did the art dealers not hear or see all this? Why did they not send a memorandum explaining their own standpoint and their interest in the subject? They now see that matters are moving fast and are worried about their interests. The truth is that the dealers, like many museum directors, do not like talking about the sources of their artefacts. They prefer that there be less talk about these matters. 'Les choses dont il ne faut pas trop en parler' ('Things about which one should not talk too much'). They still have time to explain fully and clearly their positions and suggestions for dealing with looted African artefacts in France. Simply arguing that their business would be affected is not enough.
Those who do not like the conclusions and proposals of the Sarr-Savoy report are often pushed to make absurd suggestions instead of contemplating restitution. They will do anything except restitute looted African artefacts to Africans whom they insult at each step without realising it. Thus, the Humboldt Forum which intends to open with looted African artefacts, has now come out, through Hermann Parzinger, with the idea of dedicating a room in the restored castle in Berlin, for meditation, a 'room of silence and reflection on the crimes and cruelties of the colonial regime'. (12) Would he have made such a cruel and insulting suggestion to the victims and survivors of the Nazi crimes? Someone should tell Parzinger that Africans have for a hundred years been meditating on colonialism and all its horrible crimes. What we need now is the restitution of our looted objects as a genuine sign of acknowledgement of the injustice that was done when the objects were looted and carted off to Europe. A room of silence would not mean that much to those who have been silenced by colonial guns.
A bronze sculpture would be placed as a remembrance of colonialism. The plan is that a black flag at half-mast, with the lower part in the staircase area of the Humboldt Forum whilst the upper half will be placed at Nachtigalplatz in the so-called African Quarters, in the Berlin District Wedding. Very curious idea especially, if one recalls that the Nachtigalplatz is named after a notorious colonialist whose name-anti-colonialists would like to see removed from street and squares in Berlin and elsewhere. Can the ignorance of those steering the fate of leading States be so much or is it simply arrogance and indifference? By the way, what is the symbolism of the black colour in this context?
In the exhibition itself in the Humboldt Forum, the subject of colonialism will be explained through the artefacts. For example, the Benin Bronzes which came from a British invasion will be shown. There will be a video installation with African museum experts and the Oba of Benin will explain the history of the looting and the importance of the artefacts. Why the Oba and not a German scholar or curator, representative of Germany who could also explain what his or her people did in German colonies such as South-West Africa, now Namibia? This would at least indicate that Germans regret the atrocious acts in German colonialism. Would Parzinger suggest having a video statement by the German Chancellor Merkel to be shown in an exhibition in Moscow, pleading for the restitution of German artefacts taken by the Red Army during the last World War? Why not? This will probably seem awkward and beneath the dignity of the Chancellor's position. But it seems to the Humboldt Forum and Parzinger not to be beneath the dignity of an African Monarch.
If Parzinger and others want a symbol of remembrance of German slavery and colonial crimes, they should build in the city-centre of Berlin, preferably on the Museum Island, in front of the Humboldt Forum, and not in some outlying district, a spectacular monument, such as that built for the victims of Nazi atrocities. We also want a spectacular monument that is visible to all and cannot be missed or ignored by any visitor to Berlin. After all, Berlin is the place where Africa's colonization and partition were solidified.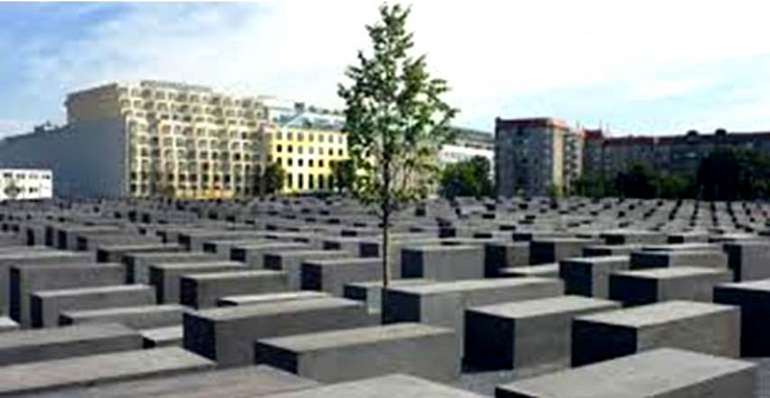 Holocaust Memorial, Berlin.
What slavery and colonialism require now is definitely not silence of any kind. The last decades in Europe been precisely silent on slavery and colonialism, leading to a great ignorance, on the part of the people and the elite, about those two phenomena that have characterised the relationship of Europe and Africa. We do not want silence about colonialism anywhere. We need monuments that shout about slavery and colonialism. A room of silence where people would not even talk about the accursed phenomena will help no one and cannot be seriously considered as symbol of remembrance for the 12-30 million Africans we lost in slavery and colonialism. If Germans do not want to spend any money on such a monument after they have spent 600milion euros on a monument to our slave masters, they should refrain from any such invisible and non-attractive symbols. Which visitors to Berlin would see the silent room? The truth is that even now Germans do not seem to have for us Africans the empathy and sympathy they have for victims of Nazi atrocities. It is true that one group consists of black persons and the others are largely white people.
In view of the horrendous atrocities of slavery and colonialism, and the enormous benefits derived by Western States from the constant and permanent violations of human rights, true situations of crimes against humanity, one is simply flabbergasted by the ridiculous memorials suggested by Europeans. And where are the memorials of slavery and colonialism by the European cities that benefitted primarily from these nefarious activities? ''And I say to myself, Bordeaux and Nantes and Liverpool and New York and San Francisco, not a single piece of this world which does not bear my fingerprint.''-Aimé Césaire (13)
There are other persons in Germany that seem gradually to have understood that changes must be made. Culture Minister Monika Grütters who has already declared support for the Sarr-Savoy report, has also stated that the museums must be active in matters of restitution and not wait for African owners to approach them. (14) But she has also spoken about re-circulation. We shall see how she develops further in the direction of restitution. The Hamburg Senator for Culture Carstens Broda has said that in March 2019 there would be a common political statement on restitution by the Bund and Länder. A group of 80 scholars have signed a letter supporting the Sarr-Savoy report and urging the German authorities to extend the research on the colonial past beyond artefacts into areas such as Ethnology, History and Art history. (15)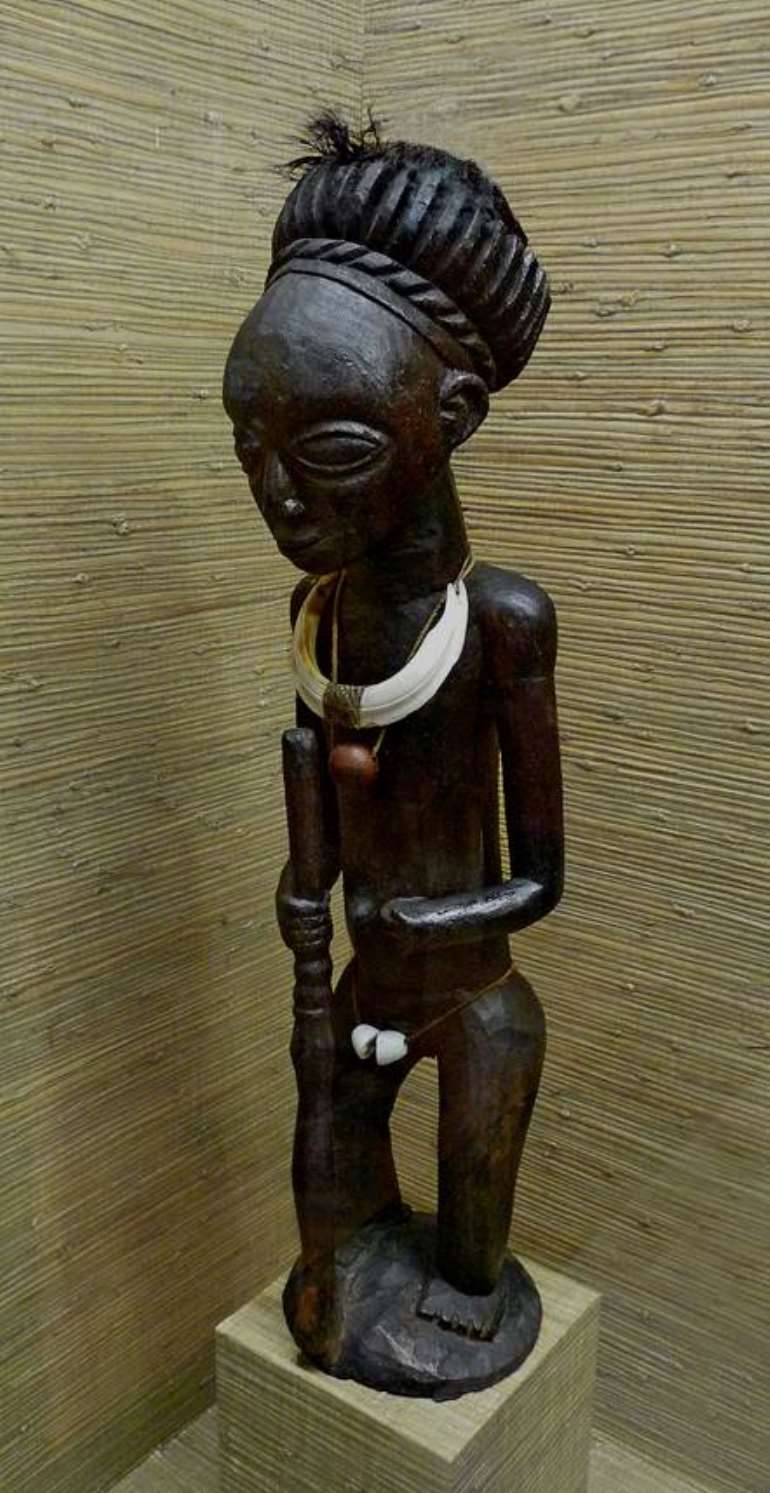 Ancestor figure of Tabwa Chief Lusinga Iwa Ng'ombe beheaded in 1884 in a punitive expedition by the notorious Belgian commander Emile Storms who brought his actual scalp to Belgiumin his suit case. The ancestor figure which was stolen from Lusinga is now in the Africa Museum, Tervuren. The scalp is in the Institut des sciences naturelles in Brussels with other scalps brought to Belgium by Storms. Le retour de Lusinga Iwa Ng'ombe - Dans une boîte qui se trouve à l ...www.lusingatabwa.com/ See also Allen F. Roberts, A Dance of Assassins, Indiana University Press,2013.
My impression is that things are moving and most likely after the opening of the Humboldt Forum in November 2019, we will see more of this shift of position from the German side. They have seen that there is no alternative to restitution of looted African artefacts. The Guidelines for handling collections acquired in colonial contexts will not solve the problems of restitution. (16)
The conference called by President Macron in April 2019 will be very interesting. We would have the Germans who will be preparing for the opening of the 600million Euro Humboldt Forum project, nervous that something may go wrong before the November opening, anxious to continue holding the Benin artefacts that have a central place in the exhibition of the new monstrous culture palace. Will those who criticised the Sarr-Savoy report for not having dealt with the States of North Africa try to put this item on the agenda of the conference? I doubt very much. In any case, they can always contact their own governments or other institutions to conduct a study on this area. Similarly, the museum director who thought the Sarr-Savoy report was weakened by not covering Oceania, could also ask his government or museum to do a similar study for that area. But would they? They are all too scared that giving independent academics such a research project, without any control from the market or the government, would end in recommendations for restitution of the looted objects.
We are on the whole astonished and sad to note that after more than hundred years of detaining looted African artefacts, we still hear from present-day Europeans, the same self-assured arrogance and condescension their predecessors had in discussing the restitution of our artefacts. They ask whether we have well-built and secured museums, forgetting that when they stole these objects they were not in museums. They ask whether we have conservators with high qualifications to look after the looted objects, they forget that these objects were looked after for centuries without any European trained persons but by our own people using our own knowledge and experience. The general failure to understand the true nature of colonial systems and their oppression seems fairly wide-spread. They discuss with us as if they were the owners of these African objects that owe nothing to European culture. They seem very concerned about the future of the looted African artefacts whilst we Africans are more concerned about the present imbalance where Europe has most of the best African artefacts, whether they have 90% or not is not decisive since all agree that the Western world has most of the best African artefacts whereas we ourselves have very few.
At the back of the minds of the Europeans appears the racist, colonialist, imperialist Enlightenment belief that Europeans are superior to Africans and somehow have a right and a duty to exploit us and control us wherever and whenever they can do so to their advantage which they present as benefit to humanity.
But why do Africans even listen to Europeans, who generally seem to ask us to suspend our common sense and logic when our interests are at stake? Why do educated Africans not challenge this prevailing belief which manifests itself in our relationship with Europeans? This aspect of domination is very pronounced in our relations with Western museums that now appear as the last bastions of colonialism and imperialism. What are the African governments doing about such obvious cases of plunder and robbery? Will they be able to tell their European counterparts that we are Africans and are not bound to follow European patterns of development and social organization. They should not try to tell us what to do with our resources including our artefacts that they have stolen and are reluctant to part with. But will our African elite, especially those in the museum area, feel strong enough to tell their European counterparts to mind their own business? We doubt, for the colonialist or neo-colonialist mentality seems to be firmly anchored here. We think of the Director-General of the Nigerian National Commission on Museums and Monuments who suggested that the imperialists museums, the so-called universal museums which he described as international museums, should establish dependencies in Nigeria. When we look at the history of relations between Nigerian Museums and British museums on the background of the invasion of 1897, it seems incredible that a Nigerian would make such a proposal.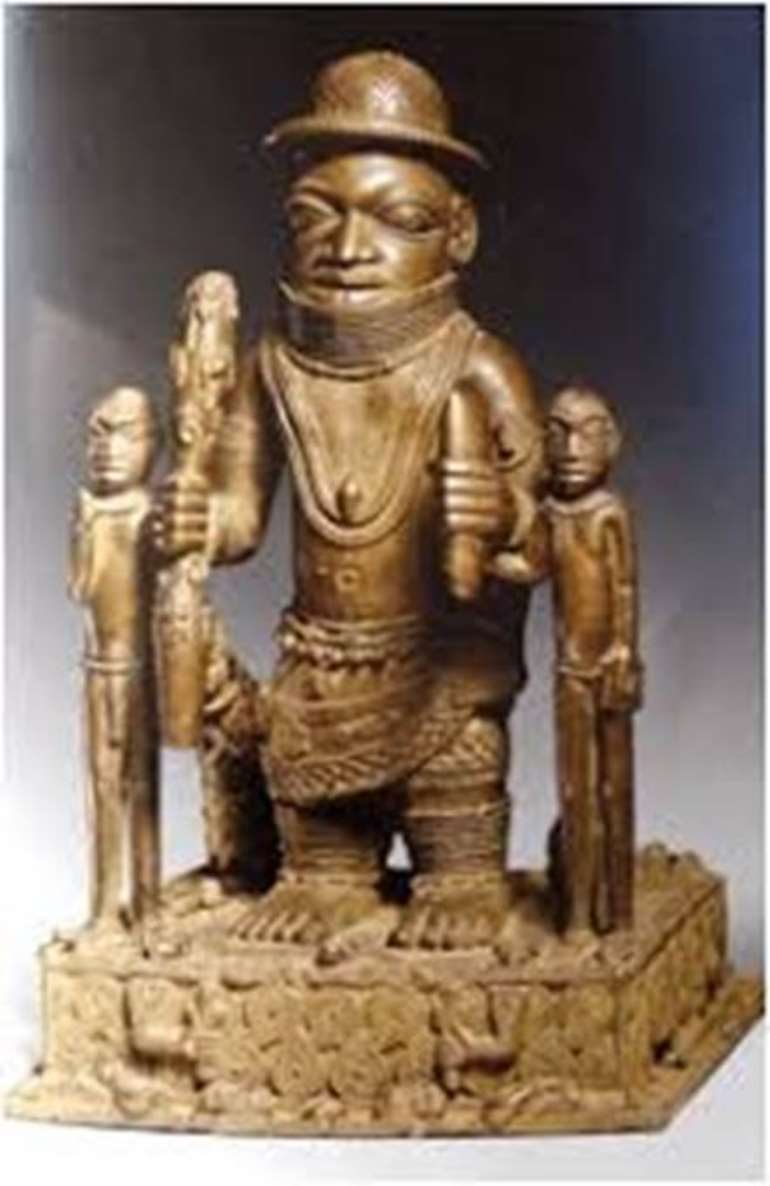 Altar group with Oba Akenzua I, Benin, Nigeria now in Ethnologisches Museum/Humboldt Forum, Berlin, Germany.
African governments are generally not doing as much as they could and should do in this area. We shall leave aside budget provisions for museums. Macron made his famous speech more than a year ago when he showed determination to restitute looted African artefacts in France. How many African governments have reacted? Apart from Benin, Burkina Faso, Côte d'Ivoire, Senegal, Gabon, Morocco, the rest of the continent acts as if nothing important has happened yet we know from the Sarr-Savoy report that the Musée du Quai Branly is holding looted artefacts from practically every African country: South Africa458, Angola 457, Benin3157, Botswana 68, Burkina Faso 1088, Burundi 28, Cameroon 7838, Cape Verde2, Comores175, Cote d' Ivoire 3951, Djibouti 722, Ertitrea102, Gabon 2448 Gambia 35, Ghana 1656, etc. (See list in the Sarr-Savoy report). So, what are the rest of African governments and their museums waiting for before sending a simple letter to President Macron that they want their artefacts back? This absence of a demonstration of interest can ultimately not be beneficial to the African cause. Corollary to this, is the absence of a united African approach or policy to such issues. Thus, Ethiopia quite correctly refuses to contemplate a loan of its own looted artefacts from a British museum whilst Nigeria accepts loans of its own looted artefacts from several European museums. The African continent needs a minimum of policy coordination which could be done through International Council of African Museums (AFRICOM).
Whatever criticisms others may make, there is general agreement that the Sarr-Savoy report has brought the discussions on restitution at least 20 years forward and that the report constitutes an indispensable milestone on the road to restitution. But what else could we have expected from two highly qualified academics? Wherever the authors have presented their report, they have been enthusiastically received by large audiences, especially in Germany where the authorities have announced an intention of setting up soon an International Agency to be responsible for museum cooperation, including cooperation with African museums. We do not have details of how this institution will work but it will be a German institution. The restitution debate as well as the building of the Museum of Black Civilizations in Dakar seem to have put pressure on the German authorities to act in this direction. Whatever form the new German International Agency for Museum cooperation will take, African States and museums must insist that we first have the restitution issue settled. Any idea that the new agency will settle the restitution issue must be rejected for it will only mean more delays. Hundred years delay is long enough. (17)
We cannot dismiss the feeling that such a new body is intended to prevent any possible restitution of looted African artefacts to African States. When the talk is of common exhibitions and we are told that the location of artefacts is no longer decisive, we can only assume that the objective is clear|: no restitution of artefacts as the French are proposing, we bind the objects and the African curators to put up the show here in Berlin. We see once again that Europeans seem prepared to do anything except return looted artefacts. Indeed, it is interesting to see the number of suggestions and projects for cooperation that have been proposed since the Sarr-Savoy report came out.
Even those who oppose or criticise the report seem to feel that the time is finally coming when looted African artefacts would have to be returned to Africa. Many share the opinion expressed below without the reference to jargon:
''This report is necessary reading for anyone who claims to care about the future of museums and the wider significance of cultural heritage. It is not easy to read – the authors have a weakness for jargon, and its English translation feels uneven – but its content is nonetheless forceful. Many of the objections that have been raised to this report – legal, geopolitical, conservational, ethical or otherwise – are anticipated and deliberated in its text. Whether or not one agrees with the proposals, there is no turning away from its point of departure, that '90% of the material cultural legacy of sub-Saharan Africa remains preserved and housed outside of the African continent', or for its demand for a more equitable future.'' (18)
Anyway, Bénédicte Savoy and Felwine Sarr have presented an excellent report and should not be bothered by criticisms of museum directors, frightened that they might lose artefacts illegally acquired that are on display in their museums or in their store-rooms. As we say in Akan, nipa beyebi na wambeye niyinaa. We came to do some work but not all.
The famous words pronounced by the young French President Emmanuel Macron, on 28 November 2017 at Ouagadougou, Burkina Faso, still ring in the ears of many Africans and the seismic effects of those words are still felt in many museums and chancelleries in Europe:
"…I cannot accept that a large part of cultural heritage of several African countries is in France. There are historical explanations for that, but no valid justifications that are durable and unconditional. African heritage cannot only be in private collections and European museums. African heritage must be highlighted in Paris, but also in Dakar, in Lagos, in Cotonou. This will be one of my priorities. I want conditions to be met within the next five years for the temporary or permanent restitution of African heritage to Africa.' Emmanuel Macron (19)
Kwame Opoku

Bernie Grant, Labour Member of the British Parliament, from 1987 to his death in 2000. Grant urged the British to return looted Benin artefacts. Benin Bronzes Campaign Files | The Bernie Grant Archivehttps://alchetron.com/Bernie-Grant-744944-W.
K. Opoku, Will Western Museums Tell the True Histories of Their Acquisitions ...https://www.modernghana.com/.../will-western-museums-tell-the-...
NOTES
1. Conclusions of the Athens International Conference on the Return of ... www.unesco.org/culture/laws/pdf/Conclusions_Athens_en.pdf
2. restitutionreport2018.com Restituer le patrimoine africain 3. French President Emmanuel Macron calls for international 3. https://www.theartnewspaper.com/news/french-president-emmanuel .
See also the following videos Restitution d'œuvres d'art à l'Afrique : un rapport controversé remis à ...
Brut - Des États africains demandent la restitution de leurs œuvres d'art
Vers la restitution du patrimoine africain
4. British Museum Sold Benin Bronzes - Forbes
https://www.forbes.com/2002/04/03/0403conn.html
British Museum sold precious bronzes | UK news | The Guardian
https://www.theguardian.com/uk/2002/mar/28/education.museums
BBC News | ARTS | Benin bronzes sold to Nigeria
news.bbc.co.uk/2/hi/entertainment/1896535.stm
5. Nigerian treasures | No Humboldt 21
www.no-humboldt21.de/information/nigeria_treasures/
From Benin to Quai Branly - Dr. Kwame Opoku - AFRIKANET.info
www.afrikanet.info/archiv1/index.php?option=com...task...
Further Report from the exhibition "Benin-Kings and Rituals: Court Arts ...
https://www.modernghana.com/.../further-report-from-the-exhibi..
6. Opinion | Loot in Loot -Benin Head of Oba In Nazi Looted Jewish Art ...
https://www.modernghana.com/.../loot-in-loot-benin-head-of-oba...
7. The Humboldt Forum as the Epicenter of Shared Heritage Shared Heritage - Stiftung Preußischer Kulturbesitz https://www.preussischer-kulturbesitz.de/.../shared-heritage.html
Herman Parzinger, Klaus-Dieter Lehmann, Neil MacGregor, Sigrid ...
https://slideslive.com/38897022/shared-heritage?locale=de
Museumsarbeit - Teilen und Tauschen und das kulturelle Erbe (Archiv)
https://www.deutschlandfunk.de/museumsarbeit-teilen-und-tauschen-und-das-kulturelle-...
looted/stolen cultural artefacts declared "shared heritage"
www.no-humboldt21.de/.../Opoku_SHARED_HERITAGE-4..pd...
8. Mine is mine but yours is ours: Comments on a suggestion to take ...https://www.modernghana.com/.../mine-is-mine-but-yours-is-our...
9. Benin ivory mask - Wikipedia
https://en.wikipedia.org/wiki/Benin_ivory_mask
https://www.vanguardngr.com/2017/02/festac-40-history-mystery-behind-mask/
https://www.vanguardngr.com/.../festac-40-history-mystery-behi...
The Controversial Mask of Benin - The Washington Posthttp://www.museum-security.org/opoku_idia_mask.htm
https://www.washingtonpost.com/...mask...benin/f6845f66-ffbd-4...
Kwame Opoku - THEY ARE SELLING QUEEN-MOTHER IDIA MASK ...
https://groups.google.com/d/topic/museum.../HAFsSwG2ew4
http://www.museum-security.org/opoku_idia_mask.htm
See also annex below.
10. afrikanet.info: Kwame Opoku: It´s time to return the Montezuma Crown ...www.afrikanet.info/.../kwame-opoku-its-time-to-return-the-mont..
has Mexico renounced her claim to Montezuma's feather crown that is ...
https://www.toncremers.nl/has-mexico-renounced-her-claim-to-m..
Montezuma headdress goes into storage - Cultural Property ...
culturalpropertyrepat.blogspot.com/.../montezuma-headdress-goe...
has mexico renounced her claim to montezuma's feather crown that is ...
https://www.toncremers.nl/has-mexico-renounced-her-claim-to-m.
11. http://theartnewspaper.com/news/french-president-emmanuel-macron-calls-forinternational-conference-on-the-return-of-african-artefacts
12. Humboldt Forum: Patziger fordert Gedenkraum für koloniales ...https://www.tagesspiegel.de › Kultur
Monopol Magazin, 03.01.2019: Gedenkraum für koloniales Unrecht im Humboldt Forum gefordert
13. Aimé Césaire, Cahier d'un retour au pays natal, Présence Africaine, Paris, 1956. PP.44. "Et je me dis Bordeaux et Nantes et Liverpool et New York
et San Francisco
pas un bout de ce monde qui ne porte mon empreinte digitale."
14. Kolonialismus und Raubkunst: Eine Lücke in unserem Gedächtnis – FAZ https://www.faz.net/aktuell/feuilleton/debatten/kolonialismus-und-raubkunst-eine-luecke-in-unserem-gedaechtnis-15942413.html
taz, 03.01.2019: Unterm Strich Kulturstaatsministerin Monika Grütters (CDU) fordert offensive Rückgabe
Kolonialismus: Gibt es den politischen Willen zur Restitution? | Kultur ...
https://www.dw.com/de/kolonialismus-gibt-es-den-politischen-willen.../a-46963206
Grütters für offensivere Rückgabe von Kolonialobjekten
https://www.monopol-magazin.de/gruetters-fuer-offensivere-rueckgabe-von-kolonial..
15. Kolonialgeschichte: Was wir jetzt brauchen | ZEIT ONLINE - Die Zeit
https://www.zeit.de › DIE ZEIT Archiv › Jahrgang 2018 › Ausgabe: 52
Was wir jetzt brauchen – Für Restitutionen und einen neuen Umgang ...
https://europehist.hypotheses.org/1410
Scholars Urge Germany to Create a National Institute Addressing ...
https://www.artforum.com/.../scholars-urge-germany-to-create-a-..
https://www.domradio.de/.../debatte-um-rueckgabe-von-kolonial-kulturguetern-intens.
Ministerkonferenz über Kulturerbe aus der Kolonialzeit – www ...
https://www.kunstforum.de/.../ministerkonferenz-ueber-kulturerbe-aus-der-kolonialzei..
16. K. Opoku, Brief comments on german guidelines on handling objects acquired in ..
https://www.museumsbund.de/brief-comments-on-german-guidel...
Kwame Opoku – GERMANY'S ANSWER TO MACRON ON ...
https://www.toncremers.nl/kwame-opoku-germanys-answer-to-m...
17. Gespräch mit Feine Sarr und Bénédicte Savoy: "Europa ist auf ... https://www.tagesspiegel.de › Kultur
Agentur für Internationale Museumsarbeit in Gründung – www ... https://www.kunstforum.de/.../agentur-fuer-internationale-museumsarbeit-in-gruendu .
Agentur für Internationale Museumskooperation geplant - Kultr ...
https://www.sueddeutsche.de/.../agentur-fuer-internationale-museumskooperation-raus-a...
18. Apollo, Rethinking the restitution of African artefacts, Thomas Marks 2 January 2019.
19. Le discours de Ouagadougou d'Emmanuel Macron. Le Monde Afrique ,29.11.2017 Restitution du patrimoine africain
…' Je ne peux pas accepter qu'une large part du patrimoine culturel de plusieurs pays africains soit en France. Il y a des explications historiques à cela mais il n'y a pas de justification valable, durable et inconditionnelle. Le patrimoine africain ne peut pas être uniquement dans des collections privées et des musées européens. Le patrimoine africain doit être mis en valeur à Paris mais aussi à Dakar, à Lagos, à Cotonou. Ce sera une de mes priorités. Je veux que d'ici cinq ans les conditions soient réunies pour des restitutions temporaires ou définitives du patrimoine africain en Afrique'.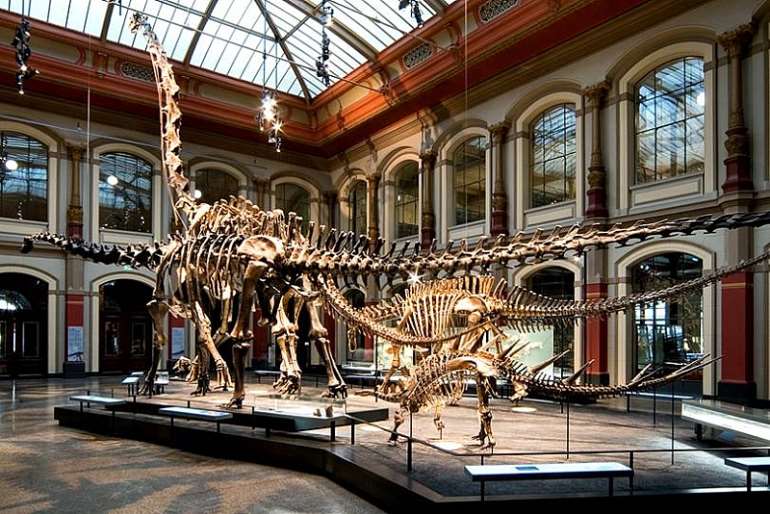 Dinosaur, Brachiosaurus brancai, 13.27 metres tall, found at Tendaguru, Tanzania during an expedition led by German investigators now in Museum für Naturkunde, Berlin.
ANNEX.
NOTE ON FESTAC MASK AND DIFFICULTIES EXPERIENCED BY AFRICA IN TRYING TO OBTAIN THE QUEEN MOTHER MASK FOR THE PURPOSES OF FESTAC 77 FROM THE ILLEGAL HOLDER, BRITISH MUSEUM. The ivory hip mask in the British Museum represents an image of Queen Mother Idia, mother of Oba Esigie, who ruled Benin in the 16th century. Another Idia hip mask is in the Metropolitan Museum of Art, New York. This mask has become a symbol of Pan Africanism and was used as the official logo of FESTAC 77, an African cultural festival. When the Nigerian Government requested the British to lend the mask for the purposes of the African festival they refused. After all kinds of excuses, that the mask could not travel, they asked for a high insurance premium which the Nigerians were willing to pay but the British refused finally. This great disrespect to the people of Benin, all Nigerians and the entire continent of Africa has not been forgotten but apparently the British Government does not care. Indeed, when the CBCAA asked for the celebration of the 40th anniversary of FESTAC, Neil McGregor, then Director of the British Museum in his response to the letter of request from Prof. Tunde Balewale did not even to refer to the request for the artefact but rather spoke about ongoing co-operation between Nigeria and the British Museum. It would have been a magnificent opportunity to make some amends, albeit small, if the British Parliament had passed a law immediately after this disgraceful refusal to make the return of Queen-mother Idia possible.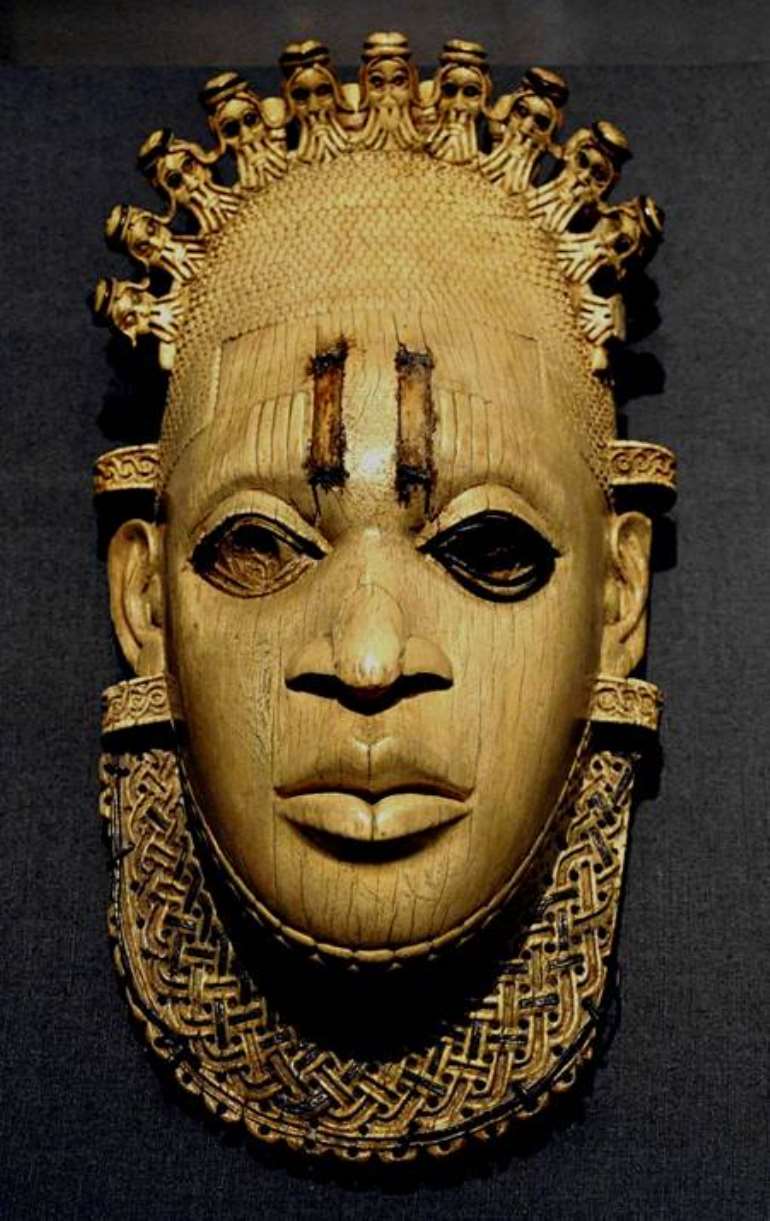 Image 1. Displayed at the British Museum, London.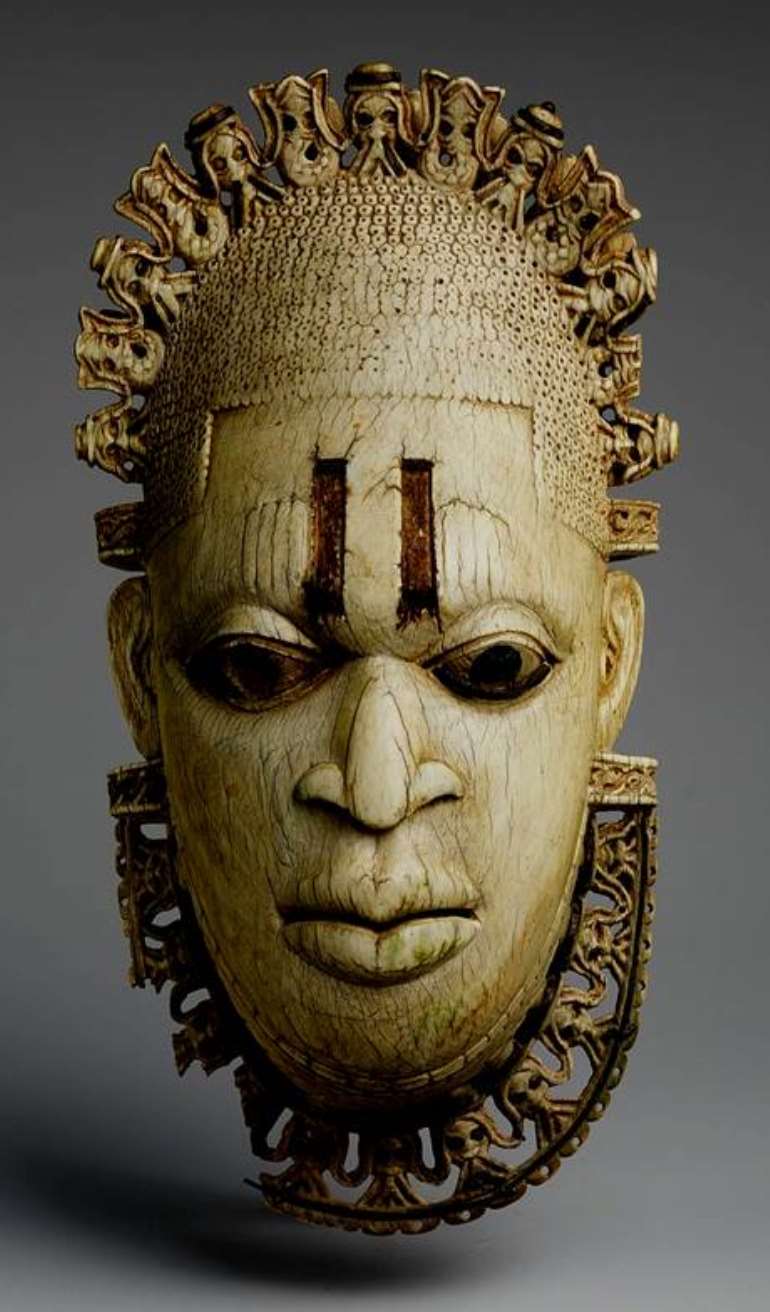 Image II
Displayed at the Metropolitan Museum, New York, U.S.A.
An interesting comparison of the two Idia ivory masks has been made by the Comprehensive Business and Investment Data on Nigeria www.marketsandinvestments.com/images/mask2
The 16th century mask at the heart of our logo has its roots in the ancient city of Benin, in modern day Edo State of Nigeria. It represents the Queen Mother IDIA, mother of Oba Esigie who ruled the Benin Kingdom at the time. It is one of two near identical masks taken to Britain by Sir Ralph Moore K.C.M.G, Counsel General of the Niger Coast Protectorate, following the British Punitive Raid on Benin in 1897. It was bought by a Professor Seligman in 1909, from a relative of Sir Ralph Moore to whom it passed on his death, and later passed to the British Museum where it is displayed to this day.
In 1977 it was used as the symbol for FESTAC 77, The 2nd Black and African Festival of Arts and Culture, hosted by Nigeria. Between 1979 and 1992 it featured on the back of Nigeria's One Naira Note. In 1996 we adopted it at the heart of our logo to convey Nigeria's unique heritage … and our depth of understanding of the Nigerian market.
After the British refusal to lend the original 16th century Idia pendant mask, the Nigerian authorities set about to find an alternative; they obtained a replica of the ivory pendant made by Joseph Alufa Igbinovia which was subsequently presented to the Head of State of Nigeria as the symbol of FESTAC 77. As Peju Layiwola stated:
"The refusal of the loan and the following public discussion in Nigeria contributed to the fact that this mask became one of the most reproduced African artworks and a powerful icon for African culture and history"
(Adepeju Layiwola, in Barbara Plankensteiner (Ed) Benin Kings and Rituals: Court Arts from Nigeria, Snoek Publishers. 2007, p.505).
In the very unlikely case that the British realize the mistake they have made and, in a desire, to make amends for the insult to the African peoples, they return the original mask, we would expect an official celebration of the homecoming of this most beloved symbol of Pan-Africanism (Image I). But do colonialists ever learn and regret their grave mistakes? Have they ever apologized for slavery and all the atrocities they committed? We have to be realistic and go by historical experience. A British writer has recently suggested that the British Museum should keep the Benin bronzes because the money used by Benin to purchase the metals required for the artefacts were derived from Benin's participation in the slave trade. Is this writer aware of the role of Britain in the slave trade?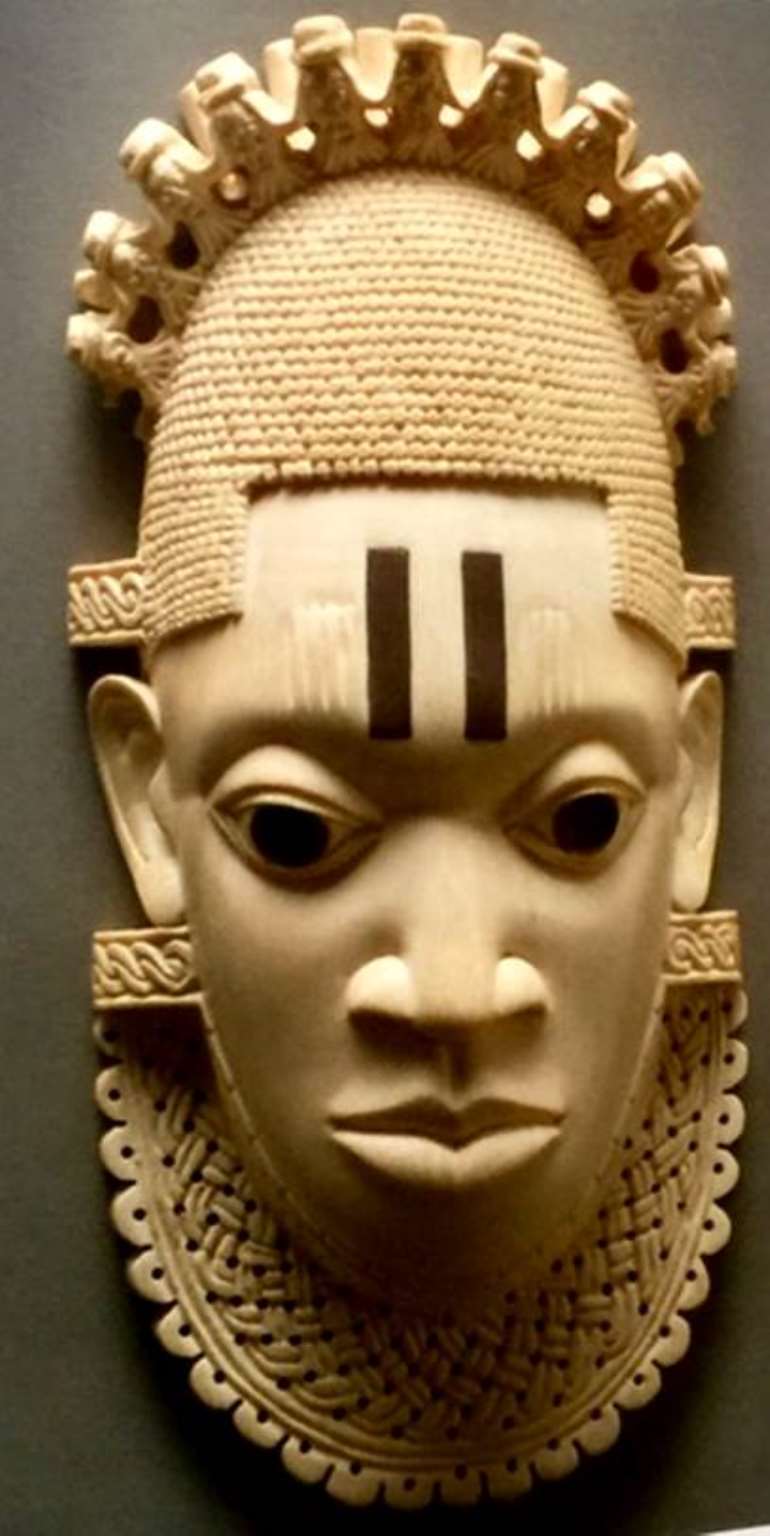 Image III. FESTACT 77 emblem (replica, 1977)) by Alufa Igbinovia, pending return of the original from the British Museum. The National Commission for Museums and Monuments, Nigeria.
?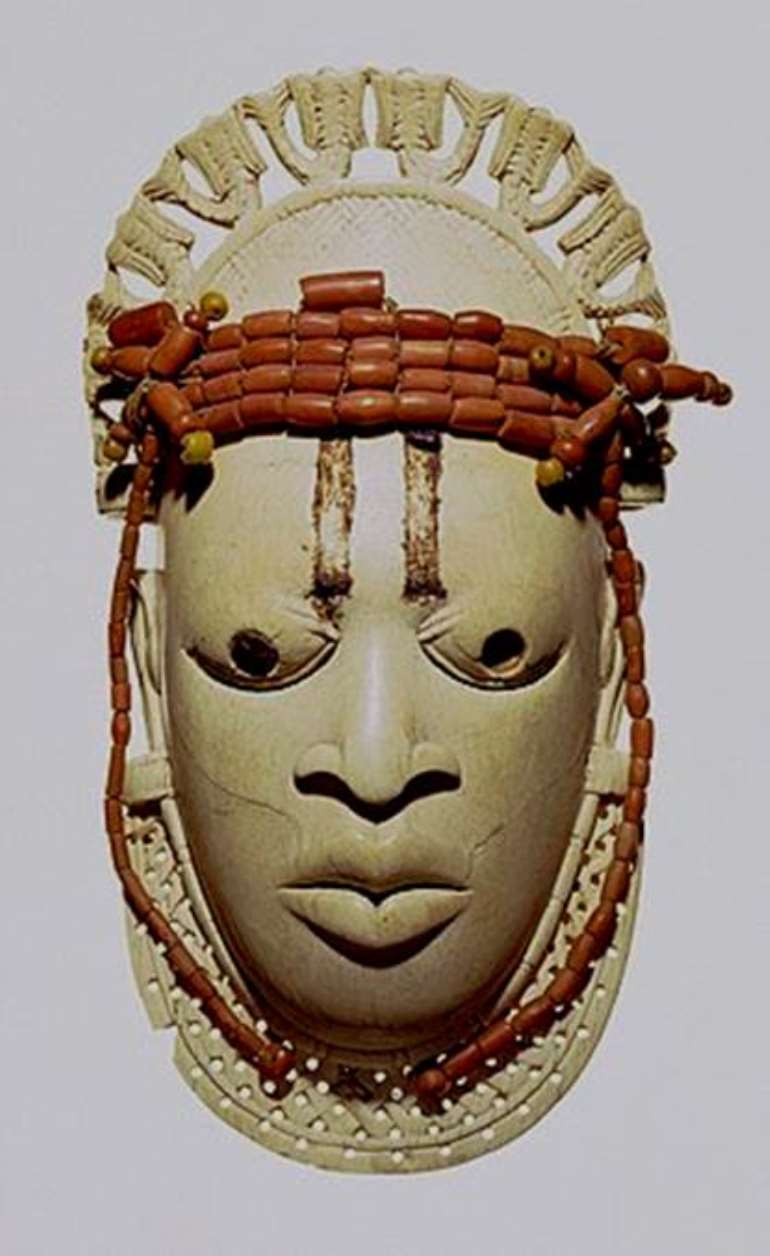 Image IV. Benin mask in Linden Museum, Stuttgart, Germany. Readers may take note of this mask (Image IV) that is in the Linden Museum, Stuttgart, Germany that should not be confused with the other three masks discussed above. This iyoba mask was also among the 3000-4000 masks that the British looted in the notorious punitive expedition of 1897.