Elijah Will Soon Come To Teach Ghanaian Pastors How To Prophesy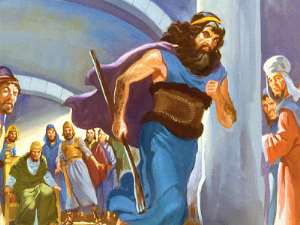 "Prophet Elijah or Elisha will soon come to teach Ghanaian 'prophets' how to prophesy." This is my prophecy and if it didn't take place please, no one should attack me when you see me on the street since I have no church.
Prophet Elijah prayed earnestly that there shouldn't be any rain, and there was no rain for three and a half years. Again he prayed, and the heavens gave rain, and the earth produced its crops." (James 5:17,18). Also, one day a woman came to see Elisha. She was crying. She told Elisha her husband was dead.
She had to pay money to a man. If she did not pay the money, he would take her sons away. Elisha wanted to help the woman. He asked what she had in her house. She had a jar with some oil. Elisha told the woman to get more jars.
He told her to pour oil from her jar into them. The woman obeyed Elisha. The oil from her jar filled all the other jars. That was a miracle.
Joshua was a spy and after the death of Moses led the Israelites. He wasn't a prophet, yet was able to command the Sun To Stand Still. So what's happening to Ghanaian 'prophets' that most of their prophecies instead of hitting the target, they are all going over the bar?
The significance of this article is to point out that nobody has the right to touch or damage the property of Pastor Owusu Bempah after his prophecy pertaining to the death of certain key figures in Ghana. Whether that prophecy occurred or not, it is not lawful for any Ghanaian to damage his property.
If a prophecy is a crime in Ghana, let the law take the appropriate channel to deal with the 'prophet.' Sometimes, the way Africans react to certain problems is completely wrong. This is one of the reasons decades after independence, Africa is still called a developing continent.
In Africa or Ghana, due to our porous borders, corruption, and the lack of reading, many white people including the Chinese come to our shores to commit crimes, yet no one treats them that way. If an American pastor would have made a similar prophecy, then visit Ghana, many Ghanaians would have welcomed him on a red carpet. Because he is an American.
We treat our people very badly sometimes and give applause to a white man even after committing a serious crime in Africa. That is how some Africans are the reason we don't see any significant progress on our continent and until that negative attitude changes we shouldn't even dream of being called a developed continent in thousand years.
I will also take the opportunity to remind men of God their importance in society. They must continue caregiving, counseling, comforting, and taking care of the needs of people but avoid saying things which will provoke the community.