Another CHPS Compound Abandoned In Western Region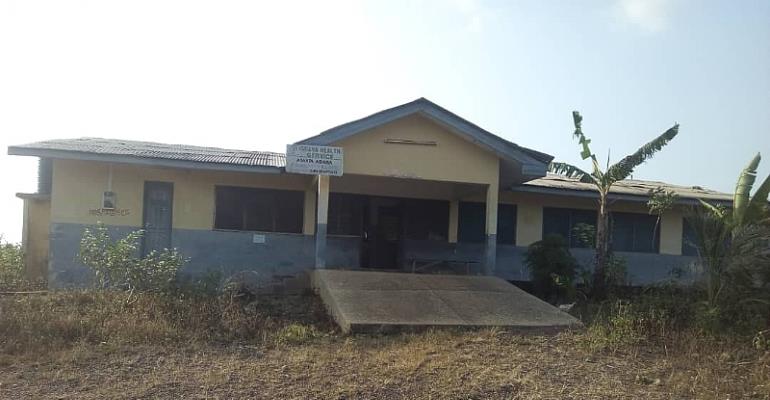 Residents of Abaasa community in the Essikado - Ketan Constituency of the Western region, have bitterly expressed their frustrations over an abandoned CHPS Compound in the area.
According to the residents, the rural electrification project in the area has also been stalled over the shortage of electric poles which is making working life unbearable.
The facility is now serving more than six communities with no electricity making it impossible for health workers to execute their duties at night.
The CHPS Compound located at Ahanta Abaasa a suburb of Kansaworodo in the Essikado - Ketan Constituency under the jurisdiction of Hon. Joe Ghartey is posing lot of health dangers to workers at the facility and patients who patronize its services.
Most people marveled about why their community had electricity while the health facility was left behind in the project.
According to elders of the Abaasa, they have used almost all avenues available to them to petition authorities in the area and Region but their efforts have been futile.
According to the aggrieved residents the whole electrification project was extended to their area because of two most important facilities which the CHPS Compound was one.
"In fact, the community itself was not the in the plan of the project". They have learnt.
Information gathered by thepressradio.com, the building was built purposely to be a slaughter house for those in Tarkoradi and beyond but due to it far from them they abolish it and later turns to CHPS compound. The health officials suffered day in day out as they work in an area of total darkness, strange sounds from living creatures, unavailability of foodstuffs and only thing been seen around is 'Forest'.
They have however, sent petition to Mr. Joe Ghartey who is Member of Parliament for the Constituency and also the Minister For Railway Development, and Mr. K.K Sam the Mayor of the Jurisdiction.
Meanwhile the Municipalities Health Director Mrs Joyce Bagina has also been petitioned but nothing better has been done for the people of Abaasa.
This situation may not come as surprise to many Ghanaians as politicians have in the past years not taken keen interest in providing good health care for people of the country especially those living in areas with CHPS Compound.
A study conducted by Glooplan, an institution which deals in research policy and advocacy lead by Former Officer of World Health Organization (WHO) Abraham Assan in four regions revealed that, politicians have over the years built CHIPS Compound to glorify themselves and not in the interest of the people.
Meanwhile, government is yet to spend 12 million US dollars annually on drones in medical supplies for the country, a step most people have described as unnecessary.