Kennedy Agyapong Honoured at Gomoa Afransi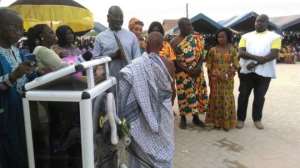 Kennedy Ohene Agyapong, the Member of Parliament (MP) for Assin Central, has been honoured by the chiefs and people of Gomoa Afransi Traditional Area, for his efforts to develop the area.
The honour followed the 2015 promise the MP made to donate 300 bags of cement worth GH¢10,000.00 towards the construction of pavement blocks for the durbar grounds during their annual Akwambo festival.
Receiving the citation, stool, ram and other items, at the 2019 Annual Akwambo festival of chiefs and the people, Mr Agyapong expressed his heartfelt gratitude for the honour done him and pledged to support their development projects.
The MP said government under President Nana Addo Dankwa Akuffo-Addo will continue to support rural, urban and city developmental projects.
In 2015, the MP said, he was the Central NPP Campaign Manager of NPP and accompanied the then NPP Presidential Candidate, Nana Addo Dankwa Akufo-Addo to attend Akwambo festival of chiefs and people of Gomoa Afransi and realized that there was massive dust at the durbar ground which disrupted the programme.
He said he decided to assist them so that in the coming years there would be no dust during their festival.
The Assin Central MP pledged to assist the second and third phases of the durbar ground and community centre project which include construction of blocks, decoration, cementing of ground floor and others to ensure completion of the project.
He presented a cheque of GH¢30,000.00 towards the construction of the community centre and other projects to fulfil promise made to assist the construction of the permanent sheds at the community centre in order to avoid erection of canopies during Akwambo festivals.
Mr Agyapong praised Nana Ogyedom Obrenu Kwesi Atta VI, chief of Gomoa Afransi for his generosity, honesty, dedication, sense of direction and foresight which has contributed to the development of the town. GNA
---GNA