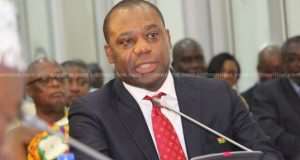 The College of Education Teachers Association of Ghana (CETAG), has expressed disappointments at Government over the non-payment of their interim premium and book and research allowances.
The association embarked on an industrial action that lasted for a month to demand payment of their allowances.
The strike also forced the Ministry of Education to order the closure of all the 46 Colleges of Education in the country.
CETAG subsequently called off the strike after they agreed to resume negotiations with the National Labour Commission and Labour Ministry.
The Commission directed the government and all the parties involved in the protracted market premium impasse to resolve the issue within 14 days.
National President for CETAG, Prince Obeng Heming, however says government has not shown determination in implementing the road map.
"We are extremely disappointed at the posture of government. Government has not been forthcoming. The National Labour Commission gave a clear ruling. They were explicit that we were to restore services which they did. They have not given any personal interpretation and we expected that in the same manner that they asked government to resume negotiations with us commencing on the 10th December, 2018, so that we will be able to give the Commission the outcome of the negotiation for book and research allowance as well as the market premium on the 4th of January, but as we speak, there has not been any formal meeting so we are extremely disappointed."
Background threats
Prior to the strike being called off, NCTE had warned that CETAG members will be denied their November salary because their strike was illegal.
Earlier defence by CETAG
CETAG however defended its indefinite strike saying it has been in negotiations with the government since 2012 when the law was passed to give the colleges full tertiary status.
It said it had had five engagements with the Fair Wages and Salaries Commission since the colleges were upgraded in 2016.
These engagements, according to CETAG, have not yielded any favourable result, and their members continue to be unfairly remunerated.
--citinewsroom