Evangelist, two others steal black stool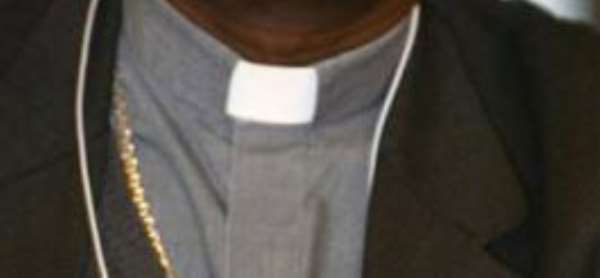 Techiman (B/A), Nov. 21, GNA - An Evangelist, a chief and another person, who allegedly connived to steal a black stool from the shrine of Bokyerewa, a deity in Techiman in the Brong Ahafo Region have caught and brought before the Techiman Traditional Council.
The man of God, Owusu Fordjour of the Dwankbea Prayer Camp at Jama Tenponim, who had been preaching against traditional rulers as well as the worship of the powerful shrine of "bokyerewa" allegedly lead Nana Kwasi Kromo, Asueyihene and Ameyaw Gyabunu, aspirant to the Tenponim stool to steal the black stool of the Gyasehene, Nana Oti Asare Baffour II of the Techiman Traditional Area, who died earlier this year.
They were however, caught red-handed at mid-night by some care-takers of the Gyase black stool but they managed to flee, leaving Nana Kwasi Kromo, 70, who could not run away and was apprehended and when questioned, mentioned the names of his alleged accomplices. At an arbitration by the Techiman Traditional Council, the three people were found guilty, especially the evangelist, who had for the past years been preaching and casting insinuation against chiefs and custodians of the traditional area.
Ironically, Evangelist Fordjour did not even seek the help of religious bodies to plead on his behalf but rather sought the assistance of Nana Kwabena Taa-Mensah, the Taa-Mensah "Bosomfour" to plead on his behalf.
Before accepting the apology, the traditional authorities demanded a fine of three million cedis, three rams and four bottles of Schnapps. The Omanhene of the Techiman Traditional Area, Oseadeeyo Akumfi-Ameyaw IV, warned that the traditional authorities would not spare any group of people, who would do anything to tarnish the image of the deities and land of Techiman.
Oseadeeyo Akumfi-Ameyaw expressed disgust about the denial of Fordjour in the attempt to steal the Gyase black stool and asked him to desist from his utterances, condemnations and insinuations at the traditional authorities
The Omanhene declared the alleged installation of Ameyaw Gyabunu as the chief of Tenponim as null and void, leaving the stool vacant and warned that he should not in any other means present himself as chief of the area.
In another development, the Techiman Traditional Council has fined Mr Atta Seth of Techiman six sheep, six million cedis and six bottles of Schnapps for threatening the traditional council. In an apology on behalf of Atta Seth, Right Reverend Asua Sekyere, Methodist Priest and Mr Kwabena Agyemang-Badu, the Nkoranza District Director of Education pointed out that the behaviour of Mr Atta Seth had not only tarnished the image of Techiman but the whole nation for allegedly inciting another tension in the municipality. He has been given one week to render unqualified apology to Nananom or face the consequences.