Abura Eyinanbrim Launches 2019 Akwambo Homecoming Festival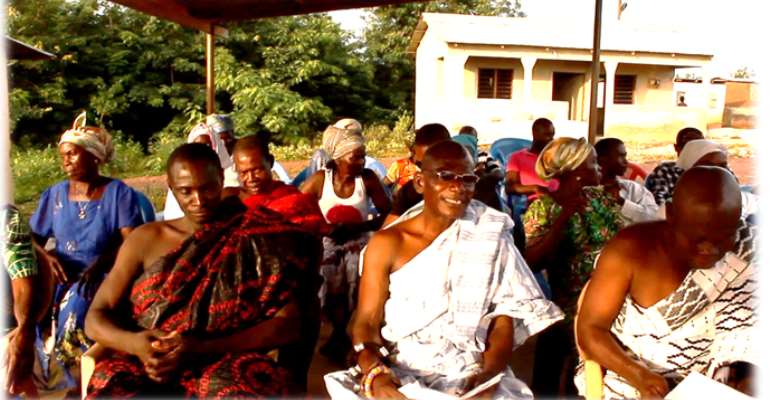 Odikro of Abura Eyinanbrim Nana Amoakwah II, Elders, and the Planning Committee on Saturday 7th July 2018, formally launched the Abura Eyinanabrim Homecoming (Akwambo Festival) 2019.
The festival with the theme: "Sourcing funding for key Project (Community Health Care Facility) and Initiating a Revival of Our Ancient Asafo and Ancestral Cultural Practices," when will commence on Thursday April 18th 2019, with the Cleanup Exercises.
The event is meant to bring together Sons and Daughters and Friends of Abura Eyinanbriman, both Home and Abroad, as part of ongoing efforts to rebuild Abura Eyinanbrim and open up the area for investment and development.
The announcement by the Odikro drew wild cheers from the elders and people of who had gathered at the community debar grounds. Nana Amoakwah II, who was enthroned in February 2015, is seeking to rekindle the Historic, Cultural, Political and Spiritual Bondage with its kith and kin dotted around Ghana and in the Diaspora.
In this regard, the Odikro of Abura Eyinanbrim, and his planning committee have set aside a five-day period (from April 18th to April 22nd) for the Homecoming event.
Nana Amoakwah II stated that the essence of celebrating the Akwawbo festival was to engender communal spirit, promote oneness as well as use the occasion to settle long standing family disputes.
He urged natives abroad to discard the perception that something untoward would happen to them should they come home for the celebration and rather come home to support in building better communities.
Abura Eyinanbrim is noted for its Rich Traditional Culture and Beautiful Tourist attractions including some of the oldest artifact and Archeological sites in Ghana. It is also home of a variety of historical materials, culture.
Consequently, a five (5) member Steering Committee chaired by Mr. Anthony Kontoh a royal of the Nsona family was informed to plan and ensures a successful execution of the five days events.