Samira Bawumia Charges Health Sector Stakeholders To Create Systems To Support Safe Blood Transfusion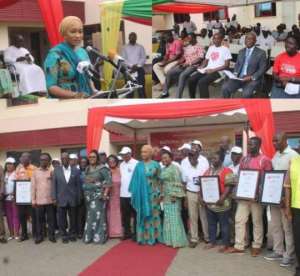 Mrs Samira Bawumia, Second lady, has called on the Ministry of Health, the National Blood Service and stakeholders to create systems and offer technical assistance to support safe blood transfusion.
She said if voluntary blood donation was made an integral part of the nation's health policy, Ghana would have adequate and safe supply of blood as its being practiced in other parts of the world.
Mrs Bawumia made the call at the 18th National Blood Donor Day commemoration and launch of the 2019 annual blood donation campaign.
The event which was held in collaboration with the Rotary Clubs of Accra and Ridge was on the theme: 'Be There for Someone Else. 'Give Blood Share Life'.
The Second Lady said the need for blood and blood products was increasing every year thus, adequate supply of blood could only be ensured through regular and safe donations by self-motivated, voluntary and unpaid donors.
'This requires a concerted effort to encourage among the citizenry the need to become voluntary blood donors,' she stated.
She said the World Health Organisation (WHO) estimates that every year, nearly 830 women worldwide die from pregnancy or childbirth-related complications, such as severe bleeding due to the non availability of safe blood.
She said most of these preventable deaths could be addressed if people would be there for someone at all times as the WHO had indicated that blood donation by one per cent of a population could meet a nation's most basic requirement for blood.
Mrs Bawumia said Ghana needed to move away from the family replacement system of blood donation and paid donors in order to meet the WHO target of 100 per cent voluntary donation by 2020.
She said it was time for the nation to focus on how best to support national blood programmes that would encourage and attract many more citizens unto the voluntary unpaid donor's platform.
She congratulated voluntary blood donors for donating blood to save the lives of many Ghanaians.
The Second Lady also urged management of the National Blood Service to continue to use the occasion to share regional experiences and develop plans for strengthening blood donor programmes nationwide.
Mrs Tina Naa Ayeley Mensah, the Deputy Minister of Health, speaking at the event said to promote access to blood transfusion and to effectively promote blood safety, the ministry had over the years supported and would continue to support the National Blood Service to focus on blood collection from low risk population groups.
She said there are still thousands of lives in the country threatened by lack blood and effective transfusion and asked Ghanaians to wake up to this sad reality and be there for someone else by donating on regular basis.
Mrs Mensah commended the Rotary clubs for their 60th anniversary and for supporting blood donation events in the country.
The Deputy Minister urged management of the National Blood Service to consider rolling out outreach initiatives including competition for schools to ensure sustainability of regular donation all year round.
Dr Justina Kordai Ansah, the Chief Executive Officer of the National Blood Service, said giving blood freely and repeatedly was what Ghana needed to sustain the supply of safe and regular blood and blood products to patients.
She said currently, with an estimated annual blood requirement of 280,000 units, the country collects about 160,000 units of blood, leaving a deficit of 43 per cent of the requirement.
'The demand for blood has always exceeded supply and there is the need for us all to start doing things differently to change the status quo,' she said
Dr Ansah noted that in 2017, out of a total of about 160,000 blood were collected nationwide, about 36 per cent were from voluntary donors, a third of the voluntary donations were repeat donations.
The remaining 64 per cent (6.4 out of 10) of the donations were collected from family replacement donors (FRD) who only give blood to replace the units given to their relatives and friends, she added.
She said replacement blood donation system does not cater for patients who are involved in a road crash or some other disaster; or who is bleeding excessively after child birth and requires urgent blood transfusion before his/her relatives and friends arrive.
'The blood collection index per 1000 population in 2017 was 6.1. This simply means that only six persons out of every 1000 population in Ghana gave blood in 2017. This is woefully inadequate for a middle income country where the minimum index recommended by WHO is 10.'
The situation of over-reliance on family replacement system compromises the national self-sufficiency of blood and blood components for patient care in health facilities to meet the ever increasing demand for blood.
Dr Ansah expressed gratitude to the Rotary Clubs, voluntary blood donors, Unilever among others for supporting the National Blood Service over the years.
The National Blood Service awarded best blood donors at the regional and national levels as well as institutions for ensuring blood donation drive in the country.
Source: GNA