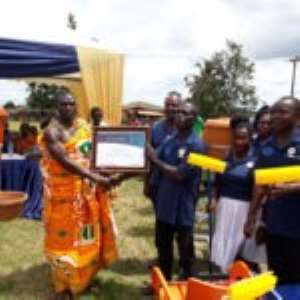 The maiden edition of the Damang Goldfield Ghana Limited (GGL) Cleanest Community Competition (3C) programme passed off successfully among its catchment communities.
The competition, which saw eight catchment communities compete for a reward, was well organised and heavily attended by residents of the host communities with the hope of annexing the top prize.
With each community led by their chief and assembly members, everything pointed to the fact that the competition's first position was up for grabs.
Nana Kwabena Amponsah II, Subri Chief, Nana Enimil Kwaw, Nyamebekyere Chief, Nana PK. Offei, Koduakrom Chief, Nana Kurantwiwa, and Bompieso Obaahemaa amongst others, were all in attendance, underlining the importance of the programme.
The District Chief Executive (DCE) for the Prestea Hunni-Valley, Mr. Mozart Owoo, graced the occasion. With Damang as host of the competition, Bompieso, Abosso, Subri, Amoanda, Hunni-Valley, Kyekyewie, Koduakrom and Nyamebekyere were all eyeing the top maiden Damang GGL 3C competition.
The Cleanest Community competition was initiated by Goldfields Foundation in collaboration with the Prestea Hunni-Valley District Assembly.
The main objective of the competition was to improve the health and hygienic status of the host communities of Damang GGL.
Consequently, the competition dubbed '3C'Project, was introduced and launched by the mining company to educate the host communities on the need to keep their environment clean.
Speaking at the competition, the Community Affairs Manager of Damang Goldfields, Mr. Razak Yakubu, spelt out the criteria upon which the committee formed awarded marks to each community in the competition.
He said the four-member committee considered five major categories in awarding marks.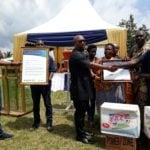 He mentioned the category as Waste Disposal, Toilet Facility Management, General Hygiene, Water Reserves and Revenue Management.
Considering the tools needed to aid the communities keep their environments clean, the Community Affairs Manager said GGL Damang had earlier supplied the eight communities with waste bins, wellington boots, head pans, nose masks, and cutlasses.
At the end of the competition, Nyamebekyere community emerged tops.
Koduakrom and Kyekyewere followed second and third respectively.
The host community, Damang, where Goldfields operates, shockingly emerged last.
For its prize, Nyamebekyere community received a citation and 150 plastic chairs.
It will also benefit from a new water facility project, yet to be constructed. The second and third community received citations, plastic chairs, and buckets respectively.
Community Affairs Manager Razak Yakubu told the gathering that being the first competition, those communities which did not receive awards should not feel let down.
Rather, they should be motivated to press on for the second edition of the programme. Considering the importance GGL attached to its host communities, he said about 200 boreholes had been dug for the communities.
The boreholes would be extended to areas where it had not reached.