Maiden Next Level Conference To Host Majid Michel, Amoako Attah, Others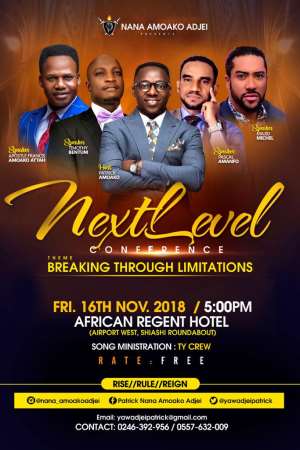 Next Level Conference is a maiden conference being organised by Prophet Patrick Amoako under the theme "Breaking limitations"
This aims at bringing the mind of God known to His children through His word and His gift of Prophecy.
The Bible clearly makes us understand that the only way to freedom is to knowledge about the truth "you shall know the truth and the truth will set you free" John 8:32 what then is this truth we ought to know in order to be set free from every form of bondage? It's a mystery but will be revealed by God's grace during this conference so the young Generation can loose themselves off every bondage being it financial, marriage, oppressions, etc.
This conference turns to position us on purpose as Yahweh has predestined for our lives. Speaking at this conference will be my father Apostle Francis Amoako Attah, Timothy Bentum, Pascal Amanfo and Majid Michel with song ministration from the TY Crew. My reason for organizing this conference is to help the young generation like myself live and manifest they God driven purpose. This conference is for every young man or woman looking forward to experience a divine move of God for greater heights in life as the mind of God will be made manifest unto His children through His unadulterated word, prophecies and intense strategic prayer.
What this hopes to achieve is for people to live in God's perfect will for their lives as the mind of God will be made known through His word and gift of prophecy and break out of every form of limitations both spiritual and physical in order to launch into their divine purpose and assignment.
The venue is African Regent Hotel on Friday November 16th 5pm sharp. It's highly word based and prophetic ministrations, be my special guest. About the Prophet Amoako Patrick Amoako serves at the Lord's Parliament as a Prophet of the church under the able leadership of Apostle Francis Amoako Attah. He is the founder and President of one of the seasoned contemporary choirs in Ghana TY Crew. Under the five years milestone of TY Crew, the choir has seen great success as many souls have been won through music ministrations to the glory of Yahweh. Patrick is also an active member of the Sonnie Badu Ministries (SBM) in Ghana where he has been serving under the able leadership of Dr Sonnie Badu for 6years and counting.
Can't wait to welcome you to this life transformation conference, God bless you!