Bosomtwi NPP Defends Ashanti Regional Minister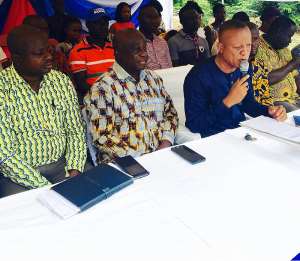 The Bosomtwi constituency branch of the New Patriotic Party has risen to the defends of the Ashanti regional Minister Simon Osei Mensah in an audio that went viral on social media recently.
The audio that was purported to have been a recorded statement by the regional minister seriously denigrated Northerners across the country in a supposed response to a NDC National Organiser hopeful video against the NPP.
Perpetrators of the said audio initially succeeded in deceiving many people into believing that it was the voice of the regional minister until it was subjected to strict proof, and then came the realization that it was not his.
According to the Bosomtwi branch of the NPP, they had undertaken painstaking investigation and seen that the audio was orchestrated by some 'insiders with the support of outsiders'
"Our investigation is about 70 percent complete and we have our own NPP members who are doing this with outsiders to dent the image of our regional minister". Mr. Addai Poku Aikins, constituency chairman noted.
Addressing a section of journalists at the constituency party office at Kuntenase, Mr. Addai Poku noted that 'we know Hon Simon Osei Mensah very well because he has been our MP for 12 years and cannot say what is on the tape'.
"We in Bosomtwi constituency know the principled stand of the regional minister who is one of the hardworking ministers under HE Nana Akufo Addo when it comes to fighting bribery, corruption, greed, injustice and thievery". He pointed.
According to him, the incorruptible nature of the minister has angered some 'nation wreckers who have become so desperate to dent his image'.
The Bosomtwi constituency chairman warned perpetrators of the tribalist audio to desist from it or else they would soon name and shame.
He noted that Mr. Simon Osei Mensah is working for the Ashanti region and Mother Ghana in general, 'he is on the right track and we will not sit unconcerned and allow detractors of this region to distract him from the good works he is doing'.
Mr. Addai Poku said the people of Ghana and Ashanti region in particular have grown above what he described as pettiness and cheap pull him down politics.
"We have in Hon Simon Osei Mensah a trusted, selfless leader, father and partner who is humble and ready to lead the people of the region to achieve the development that befits Asanteman".