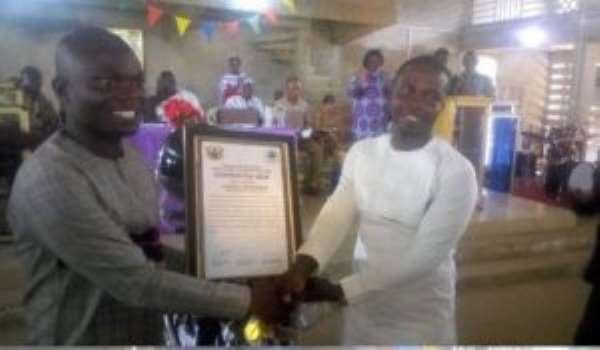 Teachers in the Adaklu District of the Volta Region, have been honoured for helping the District place first in the region in Basic Education Certificate Examination (BECE) for three years running.
The District maintained its first position in BECE in the region since 2015, and placed 11th on the national league table last year.
The Adaklu District Best Teacher Awards, was therefore organized by the office of the Member of Parliament for the area, Mr. Kwame Agbodza, with support of the Assembly, and the District Education Directorate to motivate the teachers to help the district maintain the position.
The event was held under the theme: "The right to quality education means the right to qualified teacher".
Madam Enyonam Afi Amafuga, the Volta Regional Director of Education, lauded the teachers for their commitment and professionalism, which has brought honour to the District.
"It is heartwarming that across the length and breadth of Adaklu District teachers have distinguished themselves as astute professionals, who consistently and successfully teach their students and inculcate in them the core values of our society. We doff our hats to these ones and celebrate their immense contribution towards quality education delivery in the district," she said.
Mr. Francis Yao Agbemadi, the Adaklu District Director of Education, asked the teachers to keep up the good work and avoid acts such as absenteeism, lateness and sexual misconduct, saying, "management will not shield any teacher who will fall foul of the code of ethics of the profession".
He said lack of accommodation for teachers and staff at the Directorate, inadequate furniture for students and lack of logistics for monitoring and supervision posed great challenges to the Directorate's objective of achieving greater academic excellence.
In all, eight teachers were awarded with citations and various items including television sets and refrigerators with Christopher Galenkui of Adaklu Ahunda Roman Catholic Junior High School, emerging the overall Best Teacher, and took home a brand new motorbike.