Dead Asutsuare Tilapia Not GMOs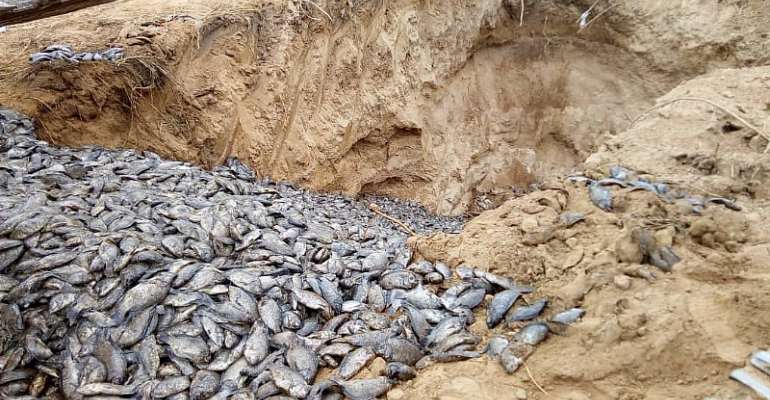 It has come to our attention reports in some sections of the media that the recent dead tilapia fishes discovered at Asutsuare are Genetically Modified Organisms (GMOs). Nothing can be further from the truth. This is palpable misrepresentation of facts.
We at Alliance for Science Ghana are a group of scientists, farmers, communications persons and other well-meaning people working to promote science based innovations as the sure way to tackling food insecurity, environmental destruction and poverty. And we find it necessary the need to correct such misinformation which is obviously aimed at demonising the GMO technology, despite the evidence that it has revolutionarised agricultural production in different parts of the world.
As we have all heard, Fujian farm, a Chinese-owned aquaculture business in Asutsuare has reported an incident of mass deaths on its fish farms which has alarmed everybody. 18000 tonnes of dead fishes, precisely tilapia, have since been destroyed at the company's site. The Food and Drugs Authority, Fisheries Commission and other institutions have moved in, taken samples and are investigating the cause of deaths. We are all eagerly awaiting the results of investigations.
But some media reports have claimed the dead fishes could be GMO tilapia varieties which couldn't survive the local environment, leading to the deaths. This can't be true. The term, GMO is used to refer to organisms that have had their genetic makeup altered through the introduction of specific beneficial traits. It's not every fast growing or high yielding plant or animal which is a GMO. In fact, there are GMO varieties that have been engineered with other traits including higher nutritional value and are not necessarily higher yielding. So let's not confuse it.
For the records, there are currently no commercialised genetically modified tilapia on the market anywhere in the world for some to have been introduced on fish farms in Ghana. In fact, the only commercially available GMO fish in the world is AquaBounty's genetically engineered salmon which was released onto the market in Canada last year. This fish is twice as productive as their conventional counterparts but mass deaths is not one of their traits. GMO fishes don't die in mass numbers just because they have been genetically modified. And till date, there has not been any reported incidents of negative health implication on humans from the consumption of these GMO fishes in Canada because GMOs don't kill nor causes diseases. GMOs are regular products with beneficial traits that help make agriculture more productive and less tedious and helps ensure there is food for all.
We would want to say this a second time for the avoidance of doubt; no commercialised GMO tilapia exists in China to have been brought into Ghana which could not survive in the River Volta leading to mass deaths in Asutsuare.
There appears to be a deliberate campaign in Ghana and all over the world to demonize the GM technology, and this latest misinformation appears to be part of that smear campaign. This is not fair. The latest effort to link the dead fishes with the GMO technology is no different from the usual efforts of special interest groups to just fun fear and unfounded panic among the general public towards this noble technology.
The World Health Organisation, Ghana's Food and Drugs Authority, United States Department of Agriculture, Food and Drugs Administration in the USA, Academy of Arts and Sciences, and hundreds of other scientific institutions have all testified to the safety of GM foods. In fact, these foods have been consumed in North and South America for more than 20 years with no recorded incidents of negative health implications.
Ghana has a robust system for the regulation of GMO products which was set out back in 2011 with the passage of the National Biosafety Act 2011 and the subsequent establishment of the National Biosafety Authority. And we are all aware that there has not been the commercial release of any GMO in Ghana yet.
We are by this statement challenging the National Biosafety Authority to live up to its mandate and step up its public education initiatives for Ghanaians to properly understand this technology, as well as what it can do and what it cannot do.
Thank you
Signed
Evans Okomeng (Executive member, Alliance for Science Ghana)