Accra Cleanest City Agenda Gets Boost Of $49 Million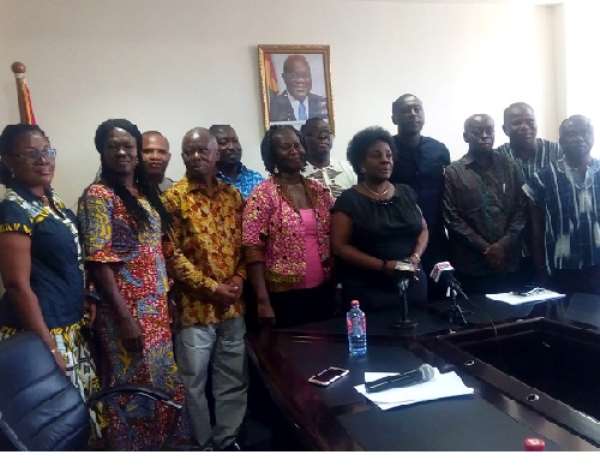 The African Development Bank (AfDB) has committed $48.85 million towards the realization of President Akufo-Addo's vision of making Accra the cleanest city on the African continent.
AfDB is funding the 'Accra Cleanest City' Agenda with the above-mentioned amount, which is a loan facility repayable over a period of 25 years, through the Greater Accra Sustainable Sanitation and Livelihoods Improvement Project (GASSLIP).
This came to light on Friday, October 19, 2018 in Accra when the Minister of Sanitation and Water Resources, Cecilia Abena Dapaah, inaugurated a 15-member steering committee of GASSLIP.
Members of the committee have been drawn from the Ministries of Finance, Sanitation and Water Resources, Monitoring and Evaluation, Ghana Coalition of NGOs in Water and Sanitation and Ghana Water Company Limited (GWCL).
They include Ms Dapaah, Joseph Obeng-Poku, Ag. Chief Director of Ministry of Sanitation, Anthony Mensah, Emmanuel Fordjour, Raymore Mensah, Alberta Kwarko, Atta Arhin, Christian S.K. Siawor, Slyvanus K. Adjornu.
The rest are Patrick Affum-Asumadu, Daniel Alexander Nii-Noi Adumuah, Mohammed Adjei Sowah, Mayor of Accra, Mabel Helen Yemidi, Lydia Essuah and Stephen Ackon, GASSLIP Coordinator.
They have been mandated to ensure that all interventions under the GASSLIP are in line with the Project Appraisal Report and that the implementing unit is appropriately monitored to deliver the expected results.
In her inaugural speech, Ms Dapaah stated that "GASSLIP, as you are already aware, is an intervention adopted by the Ministry of Sanitation and Water Resources with the view to cleaning Accra and making it the cleanest city in Africa, as envisioned by His Excellency, the President of the Republic of Ghana."
GASSLIP is expected to build on the successes of the Accra Sewerage Improvement Project (ASIP) and other sanitation projects in the region to deliver and manage climate resilient sanitation services.
According to Mr. Ackon, the project is expected to impact positively on health and human productivity in the Greater Accra Region.
Under the four-and-half year project, Mr. Ackon said over 5,000 toilets are to be provided for homes across 20 assemblies, with each household expected to contribute about 30 percent of the earmarked $900 for the toilet facility, while GASSLIP contributes 70 percent of the amount.
Additionally, there will be the provision of toilet facilities for about 60 schools and waste collection systems such as dustbins for residents, the coordinator disclosed.
Beneficiaries
"The project aims to provide 1.9 million people as direct beneficiaries with improved sanitary, environmental and social conditions to contribute to the realization of SDG 6.2," he said, adding that "about 1.8 million people in the Greater Accra Metropolitan Assembly (GAMA) will be expected to benefit indirectly from the improved environment resulting from the project," he stressed.
DAILY GUIDE gathered that the beneficiaries are Accra Metropolitan Assembly, Tema Metropolitan Assembly, Ga South Municipal Assembly, Ga West Municipal Assembly, Ga East Municipal Assembly, Ga Central Municipal Assembly, La Nkwantanang/Madina Municipal Assembly, Adentan Municipal Assembly and LaDade Kotopon Municipal Assembly.
The rest are Ashaiman Municipal Assembly, Ledzokuku Municipal Assembly, Krowor Municipal Assembly, Okaikwei Municipal Assembly, Ablekuma North Municipal Assembly, Ablekuma West Municipal Assembly and Ayawaso East Municipal Assembly, Ayawaso North Municipal Assembly, Ayawaso West Municipal Assembly, Tema West Municipal Assembly, Weija/Gbawe Municipal Assembly and Ga North Municipal Assembly.
The beneficiary assemblies initially were supposed to be 11, but Ms Dapaah, who is poised to clean the country, asked that nine more assemblies be included.
According to the Minister, "The primary objective of GASSLIP is to provide domestic and municipal level sanitation infrastructure, support skills development and livelihood improvements, as well as enhance the capacity of sanitation service providers and the participating assemblies to better deliver and manage sanitation services in the Greater Accra Metropolitan Area."
By Melvin Tarlue