Koforidua Roads See Touches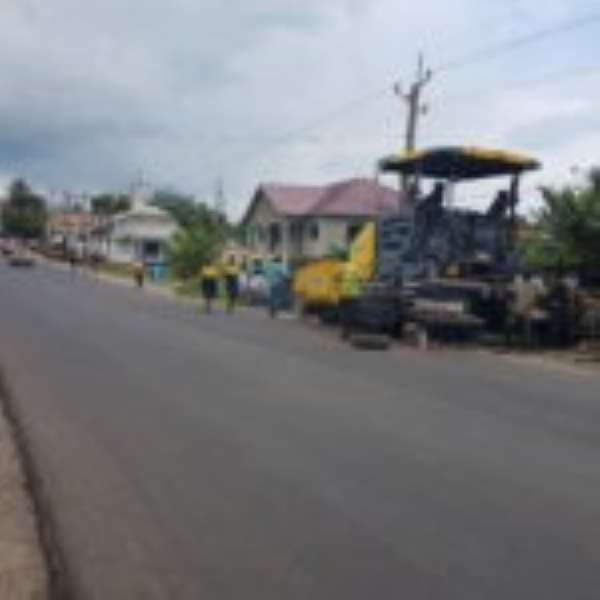 Drivers in and around the new Juaben South Municipality have heaved a sigh of relief, as roads in the area get a huge facelift, a project which is in fulfillment of the Akufo-Addo-led New Patriotic Party (NPP) major campaign promises of fixing bad roads in some districts and municipalities in the region.
Despite the increase in petroleum prices, the drivers have praised the government for the ongoing facelift of roads in the municipality, since that could spare them frequent visits to mechanical workshops.
Whilst a cross-section are singing songs of praises to this government, others are of the school of thought that it is too early to jump into wild jubilation, since a similar project took place under the now opposition National Democratic Congress (NDC), prior to the 2016 general elections.
The Koforidua roads were asphalted in December 2016 at the peak of the electioneering campaign. At the time, many believed it was to woo them to vote for the then NDC government, where areas from Methodist School through the central business district to Nsukwao, Effiduase and Asokore were asphalted.
But, six months into its completion, the rain exposed the shoddy work done, as the roads started developing potholes.
In random interviews with some of the drivers and residents, most of the residents, particularly drivers in the municipality, questioned the processes under which the contracts were awarded, since they were of the view that diligent work was not done.
The asphalted roads are not the only ones in the municipality with the problem, but all other roads in the area are in such a deplorable state.
Notwithstanding the sharp division of views on the facelift, the majority have expressed satisfaction with the progress of work, and said that the projects would be completed on time, and with high level of quality work that would stand the test of time.
The asphalt overlay and sectional repair works of roads such as that of Old Estate through to SSNIT junction, and Kenkey factory through to ministry roads among others have been undertaken by Messrs Justmoh Construction Limited at the cost of GH¢27,447,302.70.