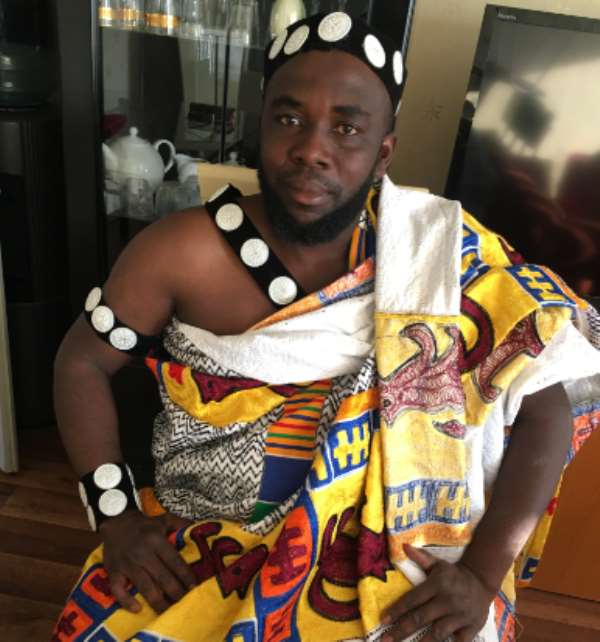 From the pitch to royalty Soko Bamba has been crowned as the king of the youth in Amsterdam for leadership and development among the Ghanaian youth community in Holland.
Many humble beginnings end in greatness and so is the the case of Mr Kennedy Adu Poku formerly of Prempeh College in Kumasi Ghana.
Some of his achievements date back to his Coast Football playing days in Kumasi which got him the chance to play for his Alma-Mata Prempeh College, from 1992 to 1994 during his secondary school days.
The dedication, discipline and determination of his personality and character was what the king makers in Amsterdam saw in him, with regards to the merits that got him the kingship.
Although Nana Soko is the name most people fondly likes to call him, however Nana Baffour Kagya is the name of his stool and therefore deserves to be called and known as such.
Rolling out some of his kingship responsibilities with respect to some of the needy Ghanaians in Amsterdam, he said: " I will seek to connect with the powers and authorities that be, to get the best basic education in terms of the Dutch language, literacy and numeracy for Ghanaians who are ready to learn."
In addition to the above mentioned responsibilities, and knowing the importance of education, Nana Kagya said: "With education one can see and experience the best of opportunities that abound in the Netherlands and thereby maximising our full talents and potentials."
As to how he is going to help some of the Ghanaians who have dropped out of schools or colleges, he said: "Although it is not an easy problem to solve, but once we have the will power, there will be a way.
" Because I will be liaising with the Dutch authorities in dealing with that menace, and as far as the Ghanaian community in Amsterdam is concerned, our progress is very important and close to my heart as a person."
Talking about the necessary steps that need to be taken and hugely respected by the Ghanaian community in Holland, Nana Kagya emphasised on the essence of teaching the youth the history and values of Ghana saying: " We need to stick to our traditions, culture and heritage by blending it with the Dutch ones."
Nana Kagya sounds very optimistic about what the future holds for some of the Ghanaian youths in Holland as he said: " Mind you, in as much as there are some school drop outs, there are some Ghanaian youths who are doing marvellously well in their education, and I am even thinking of an award scheme in that regard."
Acknowledging his coronation, Nana Kagya extended his salutations to the Ghanaian community in Holland and thanking Amsterdam's Ashanti queen Nana Ama Serwaa and Abusua Panin Kwame Afriyie and his wife for bringing him this far.