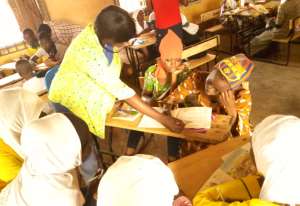 Readers & Leaders is a group of tertiary students, teachers and professionals dedicated to helping struggling readers and cultivating a culture of reading among students in Kalpohin community and Tamale in general.
In an opening address, Mr Stephen Tettegah hinted that the initiative is a move to bridge the huge reading gaps among students in the Tamale metropolis. Recent reports suggest that reading difficulty is widespread in the metropolis. On a national scale, 98% students in grade 2 cannot read a word in English or their local language, according to a GES Reading Assesment Report. In Ghanaian classrooms today, many students even at the junior high school have difficulty in reading.
With 39 students and 7 volunteers, Readers and Leaders kick started on Thursday October 4th 2018 at Kalpohin Kamaria JHS. The two-hour exercise seeks to employ variety of activities, including phonetic lessons, model and guided reading, literacy games, readership journeys, and others in realising it's vision of making every child in Tamale metropolis a book lover.
Participants were mainly Junior High School students from Kalpohin and surrounding communities. The group was started by Teach for Ghana fellows in Kalpohin Kamaria JHS, after noticing over the last academic year that the greatest challenge of students in the area is low English proficiency.
Speaking to participants, Miss Ayisha Mohammed, one of the volunteers, challenged the students to believe in themselves and be confident in and outside class.
Another Volunteer, Esther, commended participants for their efforts, while Aisha encouraged students to be resilient and ignore those who laugh at they're mistakes because the more they try the more they improve.
The weekly reading clinic is free and open to all students in upper primary and junior high school who seek to improve their English proficiency.