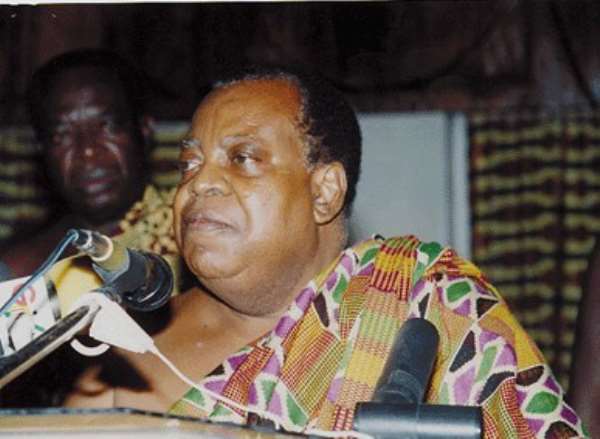 THE REIGN of Nana (Dr.) S.K.B. Asante, who answers to the stool name of Nana Susubiribi Krobea Asante, as the Omanhene of Asokore traditional area in the Ashanti Region, has come to an end.
He was destooled last Thursday, after years of agitation and pressure brought to bear on him to abdicate.
Customary rites to that effect had been preformed and the Manhyia Palace, which approved of his installation 14 years ago, has accordingly been informed about the purported destoolment.
The Chronicle has gathered that a ram was presented to the Manhyia Palace last Friday to officially announce Dr. Asante's destoolment Nana Kwabena Dame, the 89-year old Kyidomhene since 1946 and the Akyeamehene, Nana Frimpong Ampa II, supported by a section of the royal lineage, slaughtered a white ram at the forecourt of the palace at Asokore last Thursday, in accordance with Akan tradition, to signify the chief's destoolment.
The Kyidomhene and Akyeamehene explained the purported destoolment in the continual refusal of the chief to observe basic traditional and customary functions and practices.
His disregard for tradition had resulted in his failure to pour libation, as well as not attending to the demands of the stool, as required by tradition.
He was also accused of gross disrespect for royal members of the family and seldom attended funerals.
They also claimed that the title of 'Susubiribi' adopted by the chief on his enstoolment is not acceptable because it is alien to the stool.
The embattled chief is also said to have destooled the queen mother, Nana Bruku Yaa II, without cause.
Several attempts by the elders to draw the attention of the Omanhene over the years to the commission and omissions have failed, hence his destoolment to save the stool from being desecrated.
Agitations for his destoolment heightened early this year when stool elders pressurized him to abdicate in vain.
Their action was also to champion the enhancement of a proper traditional set-up and development in the area.
Opanin Kwaku Brentua, a royal of he Agyabeng Stool of Asokore and member of the Akwamusa family, had spearheaded agitations last January by petitioning the Kumasi Traditional Council (KTC) to ensure sanity at Asokore.
He complained that Dr. Asante is a renowned intellectual who did not regard culture and tradition and not cut out to be a chief.
He argued that since chieftaincy is not an intellectual pursuit it was only proper that Dr. Asante abdicated the stool.
Nana Bruku Yaa, the queen mother, is on record to have said that she was not part of the installation of Nana Asante as chief of Asokore.
Dr. Asante, a former chairman of the Public Utilities Regulatory Commission (PURC) and one of the finest constitutional experts in the country, was enstooled chief of Asokore in 1991.
Nana Krobea Asante succeeded Nana Yaw Gyimah.