Ghana sucked into Zimbabwe's MDC crisis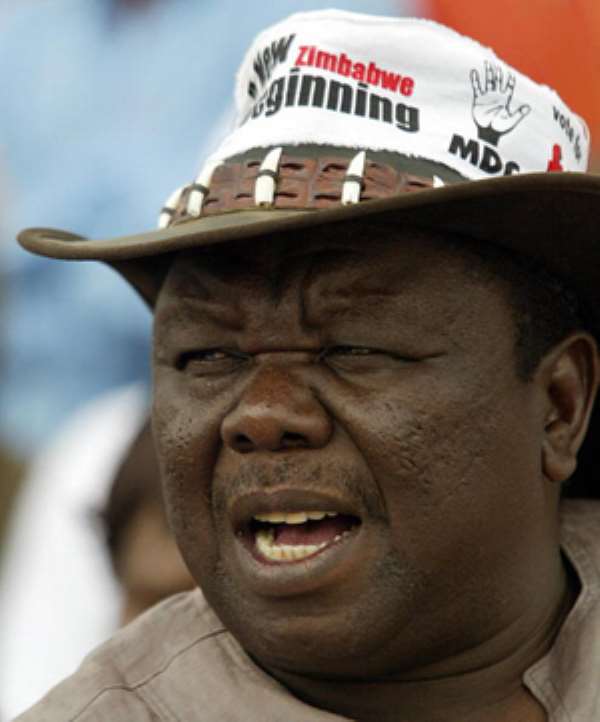 JAK donated $250,000 to Opposition Group? Report Is Baseless - K. Agyepong Ghana, Nigeria and Taiwan have given Zimbabwe's opposition illegal political funding of $2,5-million, Zimbabwe's Herald Online reported on Monday. President Kuffour is reported to have given $250,000. Zimbabwe's Political Parties Finance Act prohibits parties from receiving external funding. Zimbabwe's main opposition party -- driven by internal divisions over whether or not to take part in senatorial elections next month -- faced a new crisis Sunday when one of its MPs claimed senior officials were battling for a share of a US$500,000 donation allegedly made by the Nigerian and Ghanaian governments. The Movement for Democratic Change (MDC) St Mary's MP Job Sikhala's claims made at a press conference in his constituency could now spark an investigation by the government. Sikhala's shock claims appeared aimed at the MDC's embattled leader, Morgan Tsvangirai -- the only senior MDC leader to have flown to Ghana and meet President John Kuffour. The two have previously clashed. Interestingly, the Sunday Mirror, a weekly paper owned by Zimbabwe's intelligence services ran an article under the speculative headline: "Obasanjo paid Tsvangirai to boycott senate polls?"
MDC officials last night said there had always been rumours in the party that Tsvangirai got money from Kuffour, claimed to be $250,000 by Sikhala, which his camp was using to drum-up support for a senate boycott. Sikhala claimed another US$250,000 was a donation from Nigerian President Olusegun Obasanjo.
In statements that will further infuriate Tsvangirai, Sikhala blasted the MDC's so-called "Top Six" as "primitive factional warlords...busy throwing bags of money at each other."
Said Sikhala: "The whole quarrel in the MDC hinges on funds released by Presidents John Kuffour and Olusegun Obasanjo (Nigeria). One of them (factions) became greedy.
"It is that money which angered some of them. The people of Zimbabwe are being enmeshed in a quarrel that has nothing to do with them."
Sikhala further claimed that the MDC was rocked by similar internal wrangles in 2002 over a US$2 million donation from the government of Taiwan.
MDC spokesman Paul Themba Nyathi said he could only give a reaction to Sikhala's claims after he had spoken to the outspoken legislator late Sunday night.
Sikhala would not give his position on whether he would support a boycott of the senate, or participation, although he was keen to stress that the senate dispute was just the trigger to already simmering tensions within the MDC.
"Basically this is not about the senate. The issue is the control of the party's resources," said Sikhala, a fiery former student leader and former head of the MDC's security department.
Sikhala twisted the knife on the MDC leadership, telling journalists: "The people in the 'Top Six' are serious cowards who run away from their own shadows. The people of Zimbabwe must know that there is not one revolutionary (in the Top Six). Some are talking of courage now. They are cowards."
The political calculations that sparked Sikhala's intervention were not immediately clear, but a senior MDC official who spoke to New Zimbabwe.com said last night: "The only senior MDC official who saw Kuffour was Morgan Tsvangirai. On that particular trip he was accompanied by Isaac Maphosa (MDC official based in South Africa). So if ever the money was paid out, those two would know about it."