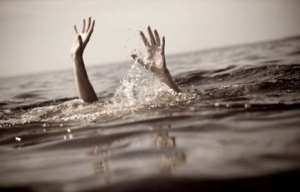 After 24 hours, the body of a 32 year old woman which fell and got drowned in the Densu River near the Ghana Water Company(GWC) Dam, has still not been found.
The lady, identified as Georgina Adobia, is alleged by some residents in the area that she normally comes to sleep on the narrow bridge over the river after indulging in alcohol.
However, on Thursday, it was reported that she fell in the river just behind the GWC dam- this supplies water to the Koforidua Municipality.
Mr Asante Daniel, Station Officer of GWC at the Densuano Water Station, said since the lady fell behind the dam, the GWC is not responsible for the removal of the body from the river but will support the search and removal of the body.
Police personnel came to the scene of the incident but left because they did not have the appropriate logistics for the search and removal of the body from the river.
Meanwhile the GWC has opened the dam for the water level to drop to enhance the search for the body.
Nana Kwame Nkansa, Odikro of Densuano Community, appealed to communities beyond the bridge to be on the lookout and inform the police if they should find body.
He also appealed for the expansion and construction of a better bridge over the dam to enable children beyond the dam to safely cross over the river to school.