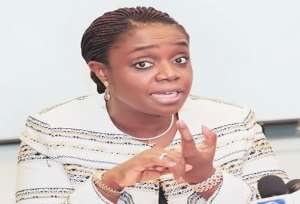 Anyone who has never been familiar with the Nigerian political arena will not even begin to imagine how slippery the ground could be. That is why it was relatively easy for those who are conversant with the rugged terrain of Nigerian politics to rein in Mrs Kemi Adeosun. Mrs Adeosun who was born, "bred and buttered" in the United Kingdom, was Nigeria's Finance Minister until she resigned her appointment on 14 September 2018 when she was knitted into and became the unfortunate latest victim of Nigeria's political web. Mrs Adeosun was appointed Minister of Finance by President Muhammadu Buhari in 2015 and she was said to have been committed to the improvement of tax collection and a crack down on financial mismanagement by government agencies.
It could not have been for any flimsy reason, therefore, or for no reason at all that Premium Times, a Nigerian online newspaper, alleged on Saturday, 7 July 2018, that the Honourable Minister tendered a false Certificate of Exemption from the National Youth Service Corp scheme during her screening into public office with an intent to avoiding the one year youth service which in the country is compulsory for graduates of institutions of higher learning under the age of 30.
From the day she was appointed Ogun State's Commissioner of Finance in 2011 until she was appointed the Federal Minister of Finance in 2015, she had no problem with anyone. She had no problem sailing through with her ideas about steering Ogun state's and later the national economy. No one remembered all those years that her Certificate of Exemption from the NYSC scheme was forged.
One fact emerged soon after her travail. All through that period, she did not belong to any political party but worked as a professional accountant and head of the finance ministry. But on Saturday 5 May 2018, for whatever reason, she decided to become a Nigerian "politician" and joined the ruling APC. On that unfortunate Saturday, she fell into the trap of those who wanted to see her go and give her place to a Northerner in accordance with General Buhari's northernisation policy in Nigeria.
But how was she to know? Innocently she had picked up her membership card of the All Progressives Congress (APC) in Abeokuta, Ogun State. After her registration, she had posed with her card and the National Financial Secretary of the APC, Alhaji Tajudeen Bello. In attendance were other party chieftains and members of the ruling party.
To some extent, it was speculated she might have been thinking of running for an elective post in 2019. But she never said so to anyone and her intention of joining a political party after so many years of avoiding parties and working purely as a professional was never made clear.
On Thursday, 2 August 2018, a freedom of information request was signed and filed by the deputy director of the Socio-Economic Rights and Accountability Project (SERAP), Timothy Adewale. Adewale contended that by providing information and documents on the controversial Exemption Certificate, the NYSC would help put an end to any insinuation of complicity and show that the institution could embrace transparency and accountability in the discharge of its statutory mandates. That would in turn contribute to improve the integrity and public image of the NYSC.
Adeosun reportedly obtained the certificate in question twenty years after her graduation in September 2009. According to reports, the certificate was allegedly signed by a Director General of the scheme, Yusuf Bomoi, who was said to have retired from service eight months earlier than the date the minster obtained the document and had died in 2017.
The management of NYSC admitted that the minister had actually applied for an Exemption Certificate but was not specific whether or not Mrs Adeosun was issued the certificate. In a statement signed by its Director of Press and Publications Relations, Mrs. Adenike Adeyemi, the NYSC said it would investigate the origin of the purported Exemption Certificate in question. Even the Minister of Youths and Sports, Solomon Dalung, summoned the Director General of NYSC, Brigadier General Suleiman Kazaure, to obtain first-hand information from the DG on what transpired and how far the scheme had gone with the investigation. Dalung promised that as soon as he had been briefed by the NYSC boss, he would relate the findings to Nigerians.
When it became evident that the investigations were going deeper and deeper and making Mrs Adeosun uncomfortable, she tendered her resignation and quit her job. In her letter of resignation addressed to President Buhari, she wrote: "Let me commence by thanking you profusely for the honour and privilege of serving under your inspirational leadership. It has been a truly rewarding experience to learn from you and to observe at close quarters your integrity and sense of duty.
I have, today, become privy to the findings of the investigation into the allegation made in an online medium that the Certificate of Exemption from National Youth Service Corp (NYSC) that I had presented was not genuine. This has come as a shock to me and I believe that in line with this administration's focus on integrity, I must do the honourable thing and resign.
Your Excellency, kindly permit me to outline some of the background to this matter. I was born and raised in the United Kingdom. Indeed my parental family home remains in London. My visits to Nigeria up until the age of thirty four (34) were holidays, with visas obtained in my UK passport. I obtained my first Nigerian passport at the age of thirty four (34) and when I relocated, there was debate as to whether NYSC law applied to me.
Upon enquiry as to my status relating to NYSC, I was informed that due to my residency history and having exceeded the age of thirty (30), I was exempted from the requirement to serve. Until recent events, that remained my understanding.
On the basis of that advice and with the guidance and assistance of those I thought were trusted associates, NYSC was approached for documentary proof of status. I then received the certificate in question. Having never worked in NYSC, visited the premises, been privy to or familiar with their operations, I had no reason to suspect that the certificate was anything but genuine.
Indeed, I presented that certificate in 2011to the Ogun State House of Assembly and in 2015 to the Directorate of State Services (DSS) for my clearance as well as to the National Assembly for my screening. Be that as it may, as someone totally committed to a culture of probity and accountability, I have decided to resign with effect from Friday, 14th September, 2018.
Your Excellency, it has been an exceptional privilege to have served our nation under your leadership and to have played a role in steering our economy at a very challenging time. I am proud that Nigeria has brought discipline into its finances, has identified and is pursuing a path to long term sustainable growth that will unlock the potential in this great economy.
Under your leadership, Nigeria was able to exit recession and has now started to lay the foundations for lasting growth and wealth creation. Repositioning this huge economy is not a short term task and there are no short cuts. Indeed there are tough decisions still to be made but I have no doubt that your focus on infrastructural investment, revenue mobilisation and value for money in public expenditure will deliver growth, wealth and opportunity for all Nigerians.
I thank His Excellency, the Vice President and my colleagues in the Federal Executive Council for the huge pleasure and honour of working with them. I also thank most especially, the team in the 'Finance Family' of advisers and heads of agencies under the Ministry of Finance.
Your Excellency, this group of committed Nigerians represents a range of backgrounds, ethnicities and ages. They have worked well above and beyond the call of duty to support me in the tasks assigned. The diversity in my team and the ability to work cohesively to deliver reforms convinces me that Nigeria has the human capital required to succeed.
Your Excellency, let me conclude by commending your patience and support, during the long search for the truth in this matter. I thank you again for giving me the honour of serving under your leadership. It is a rare privilege which I do not take for granted. As a Nigerian and committed progressive, I appreciate you for your dogged commitment to improving this nation"
And so, Mrs Adeosun became the latest victim of Nigerian political manipulation. But what was the game there? It is that just two months after Mrs Adeosun joined the APC, on Saturday, July 7, Premium Times came up with the news that she forged her NYSC exemption certificate. Only two months after she joined the APC!
The question now is: could Premium Times have come up with this allegation if Mrs Adeosun had remained neutral and not joined the APC or any other political party for that matter?
While Nigerians know that APC is another name for PDP and PDP is another name for APC because politicians from "both parties" move to and fro the parties as it suits them best to make their money and get away with it, could there have been any possibility that Mrs Adeosun was deliberately manipulated into turning from a professional accountant into a "politician" so that she could be laid down and discredited as another Nigerian sojourner from Britain who was not conversant with Nigerian political terrain and so that President Buhari could appoint a Northerner into that sensitive position as he was quick to do immediately Mrs Adeosun tendered her resignation?
Even with such possibilities, there is a recent message making the rounds in the social media about Mrs Adeosun's resignation. It reads: "Kemi came from the United Kingdom with a British accent, obtained a fake NYSC certificate and spoke herself into the juicy office of the Minister of Finance. She made her billions, drove the economy into recession and inflation, rendered 10 million Nigerians unemployed, and wrecked the country into the international headquarters of poverty. Not done, in 3 years she ran Nigeria into a whopping debt of N11 trillion. And guess what? She just ran back to the United Kingdom. Tell me what else they call YAHOO YAHOO?"
Honestly, if you ask me, I think whoever thought out and circulated this piece of twist did so in bad blood. It is so unfair.
Many Nigerian politicians in Mrs Adeosun's position as Finance Minister would have simply invited the NYSC boss to lunch in her house, discussed the development with him, offered him a chunk of her purported billions, and forced him to confirm that the certificate was genuine. But she did not and could not do a thing like that. She had to allow the law to take its full course and resigned when the scandal was gaining weight.
That course of action may also have been partly due to the fact that the Director General of the National Youth Service Corp, Brigadier General Suleiman Kazaure, is a Northerner who is very conversant with General Buhari's Islamisation policy in Nigeria. In other words, in terms of Nigerian politics, even if Mrs Adeosun wanted to "extend a hand of friendship" to the Brigadier, the door had been shut in her face by the fact that she would be speaking to a Northerner and there was simply nothing she could do without getting herself into a greater mess in the system, all because she "decided" to move from her professional status into the murky waters of Nigerian politics by registering in the APC.
The NYSC authorities testified that she duly applied for the NYSC exemption certificate and that investigations were still ongoing before she resigned.
The NYSC statement on the situation said: "Our attention has been drawn to the issue of the alleged forgery of an NYSC Exemption Certificate by the Honourable Minister of Finance, Mrs. Kemi Adeosun. Checking our records, Mrs. Adeosun did apply for an Exemption Certificate. We shall investigate the origin of the purported Exemption Certificate in question." Up until she resigned, the NYSC was yet to confirm whether or not the allegation was true, from its records.
Kemi Adeosun, who was born in England in 1967, pursued all her educational career in England and graduated in 1989 at the age of 22 from the University of East London. Having graduated before the age of 30, it seemed that by the provisions of the NYSC Act she was supposed to undergo a mandatory service year for her to qualify for any position, whether it is in the public or private sector of the economy in Nigeria.
But the fact remains that by the time she graduated, she had only one passport, the British passport, which simply meant that she was purely a British and not a Nigerian or dual citizen. So, it would be a travesty of justice to insinuate that because she graduated at 22, she was due to do her NYSC term. She was not a Nigerian citizen at that time and there was no justification in applying Nigerian rules on her. She only became a Nigerian citizen when she obtained a Nigerian passport at the age of 34, by which time she was overdue for national service.
And in that case, for someone who obtained her first Nigerian passport at the age of 34, what could have been untrue about her automatic exemption from the national youth service? Tell me: how many home bred, Nigerian educated politicians would have come across so neatly as to resign their juicy appointments at that point in time?
As for her performance in office, someone who worked in top accounting firms like PricewaterhouseCooper and even in London Underground must surely know her onions. These are tough places to work in and the experience she acquired must have been of tremendous help in dealing with the nature of her job. But even at that, she was not imported directly from the UK to become Nigeria's Finance Minister. If her performance as Ogun State's Commissioner for Finance was shoddy and unreliable, it is very doubtful if she would ever have been offered the position of Minister of Finance when everyone knows that President Buhari would have given that plump job to a Northerner, just as he has done, given the opportunity.
The Minister of State for Budget and National Planning, Zainab Ahmed, a northerner, has been appointed to oversee the finance ministry with immediate effect, the presidency said. It is only a matter of weeks before General Buhari confirms her. And Mrs Adeosun would have remained Nigeria's latest casualty.