Man Who Attempted Suicide Using Nana Addo's Convoy Get Bail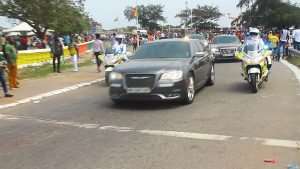 An Accra High court has granted bail to the tune of GHc20,000 with a single surety to Seth Nana Amowi, the man who allegedly attempted suicide by jumping in front of the President's convoy.
Statements taken from the accused at the Nima police station revealed that he tried to petition the president on the hardship in the country as a youth but to no avail hence, his actions on August 7.
He had a letter with suggestions to the country's problems such as taxing churches and private cars to raise money to resolve the problems.
Mr. Amowi then jumped in front of the President's convoy around the Ako Adjei interchange.
He had reportedly hidden close to the Jubilee House, awaiting the President's convoy.
In court, the Prosecution said Amowi started hitting the President's car and lay on the bonnet and it took the security a great effort to get him off the way.
He is to reappear before the court on 26th September.