September 11, 2018
|
Education
Adaklu Chiefs Want Gov't To Absorb Local SHS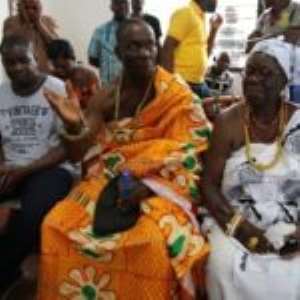 The chiefs and people of Adaklu-Hasu have made a passionate appeal to the government to absorb the Adaklu Senior High Technical School at Adaklu-Avanyaviewofe into the public school system, since the people are currently finding it more difficult to manage the institution as a private and community-based school.
According to them, for the past ten years since the school was established, conscious efforts were made to get it absorbed into the public system, but were not successful, a development which compelled the chiefs to levy members of the catchment communities for the payment of the teachers.
Speaking at a press conference at Adaklu-Avanyaviewofe, Mr. Manfred Clark Dzakumah, who spoke on behalf of the chiefs and people, explained that the press conference was the only option left to appeal to the government to help in addressing the educational needs of children in the area.
Mr. Dzakumah further explained that as a result of the increasing economic hardship, coupled with high level of poverty in the area, the people were unable to continue with the contributions for the payment of teachers and provide relevant support to the institution, hence, the need for the government to come to their aid by absorbing the school.
He, however, blamed the minority National Democratic Congress (NDC) for not helping the people when the opportunity was offered them to govern the country, saying, instead of the then NDC government supporting the community with additional school infrastructure and absorb it, it rather decided to establish a community school at Adaklu-Aboadi, which is not in their interest.
Mr. Dzakumah continued that the establishment of the community school at Abuadi was not the priority of the chiefs and people, and alleged that the NDC government then did not consult the chiefs before putting up the community school.
According to the chiefs, the distance from the various communities, with an umbrella name, Hasu, is four kilometres to Adaklu-Abuadi where the NDC put up the community school. Students from the Hasu communities, he argued, would not be able to walk such a long distance to and from school daily.
They, however, maintained that students from the Adaklu-Hasu communities, which is a very big area, can easily walk to and from the secondary technical school established by the community. According to him, the New Patriotic Party (NPP) government, during former President Kufuor's regime, supported the community to establish the school, and it would be very unfortunate that such resources would go down the drain if the government failed to absorb and sustain the institution.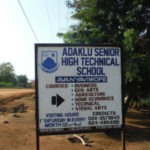 Mr. Dzakumah noted that the resources used in building the community school at Abuadi should have been used to improve upon the infrastructure at the local secondary technical school and also absorb it to help address the educational needs of the people.
The chiefs and people also reminded the NPP government of a promise made to them during their campaign to absorb the school into the public system.