Busia was outstanding and extra-ordinary man – Veep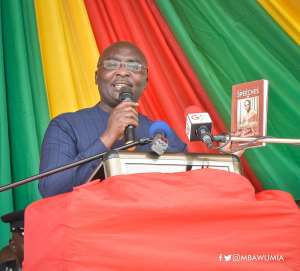 Richard Kofi Boahen, Wenchi - Vice-President Dr. Mahamudu Bawumia has described Dr. Kofi Abrefa Busia, Ghana's Prime Minister in the Second Republic, as an "outstanding and extra-ordinary man" who always strived to do what is right and served his generation with passion and a good heart.
"Dr. Busia always tried to do what is right and we know that it is not easy to always do what is right" but Dr. Busia always never got tired of serving humanity in such an outstanding and extra-ordinary manner.
Dr. Bawumia was speaking at Wenchi in the Brong Ahafo Region last Saturday during a durbar held as part of activities to celebrate the legacy of Dr. Busia, who passed on 40 years ago.
Thousands of people thronged the Jubilee Park in Wench where the programme was held. It was well attended by the chiefs and people of the area and people from all walks of life.
Also present were the Second Lady, Hajia Samira Bawumia; MP for Wenchi and Minister of Planning, Prof. George Gyan-Baffour; the Brong Ahafo Regional Minister-designate, Evans Opoku Bobie; Prof. Christopher Ameyaw Akumfi, Board Chairman of the Infrastructural Development Fund and Ama Busia, sister of the late Dr. K.A Busia and a host of other family members of the Busia family.
The Vice-President recounted that Dr. Busia's ideas about representative government, multi-party demoracy, the rule of law, freedom of speech, respect for human rights, the separation of powers, and democratic accountability earned him the nickname "The symbol of Democracy."
"For the benefit of future generations, Busia put these ideals in his books including "Africa in Search of Democracy" and "The Challenge of Africa", which are now seminal historical works. Today's political conversation is heavily influenced by Busia's ideas", Dr. Bawumia said.
He added that "…over and above his passion for democratic system, Dr. Abrefa Busia also had a passion for rural development…"
"As leader of the Progress Party, Dr. Busia stimulated conversation about rural development when he created a separate ministry – Ministry of Social and Rural Development…'
The Vice President said Dr. Busia established a Rural Development Fund to stimulate rural development. "This was funded through a levy of 40 pesewas from the salary of every worker whose salary was 34 New cedis and above was paid into the fund."
"Dr. Busia's vision was founded on the principles of free governments, multi-party democracy, free press, the rule of law and principles of democratic accountability. This is basically what Ghana is practicing today."
He noted that the legacy of the Busia has influenced the governance style of the NPP over the years saying, President Kufour, a protégé of Dr. Busia rolled out various interventions in accordance with the "Blue-print" of Dr. Busia.
Among them, he cited, are the National Health Insurance Scheme, Free Maternal Delivery, Metro-Mass transport system, Capitation grant and the School Feeding Programme, among others.
He added that the Free Senior High School policy currently being rolled out is also in line with the late Prime Minister's blue-print.
"After we have provided food, water and roads, one thing Dr. Busia would want us to do without fail is to ensure that every child in the country, regardless of where they live, and regardless of their parent's ability, gets the opportunity to go to school.
The MP for Wenchi and Minister of Planning, Prof. George Gyan-Baffour, in his welcome remarks eulogized the late Prime Minister for his exemplary leadership style which he amply demonstrated where ever he found himself.
He said Dr. Busia excellently blended tradition, religion, academic and politics – all in the supreme interest of humanity.
For her part, the Second Lady used the occasion which also coincided witth the International Literacy Day, to donate some reading materials to ten schools in the area, including the Wenchi Methodist Primary School where Dr. Busia started school.
Earlier in the day, the Vice-President, cut-sod for the construction of Dr. Busia's Memorial Library and Museum.
He also layed a wreath at Dr. Busia's tomb at Wenchi on behalf the government and the people of Ghana while the MP for the Area and Minister of Planning, Prof. George Gyan-Baffour layed one for the New Patriotic Party, with Kwasi Agyeman Busia, DVLA Boss laying one on behalf of the Busia family.