The Minority is against government's decision to go for a $50 billion century-long bond aimed at boosting Ghana's development.
President Nana Addo Dankwa Akufo-Addo gave hints about the intention to float the biggest single loan to be contracted in the history of the country during his visit to China over the weekend.
He told Chinese president Xi Jinping during a short ceremony in Beijing that "This will provide us with the resources to finance our infrastructural and industrial development. We are hoping that, at some stage, China will interest itself, and take a part of it as China's contribution to Ghana's development.
Information Minister-designate Kojo Oppong Nkrumah explained on Joy FM's Super Morning Show that the decision is a strategic alternative to the rather expensive short-term loans.
He said if implemented, the bond will shore up Ghana's resource mobilisation drive.
"If you look at the global financial markets all over the world, you are finding two things: They are improving domestic resource like we are doing in Ghana…and we are also looking at finding cheaper, longer-term financing to complement that.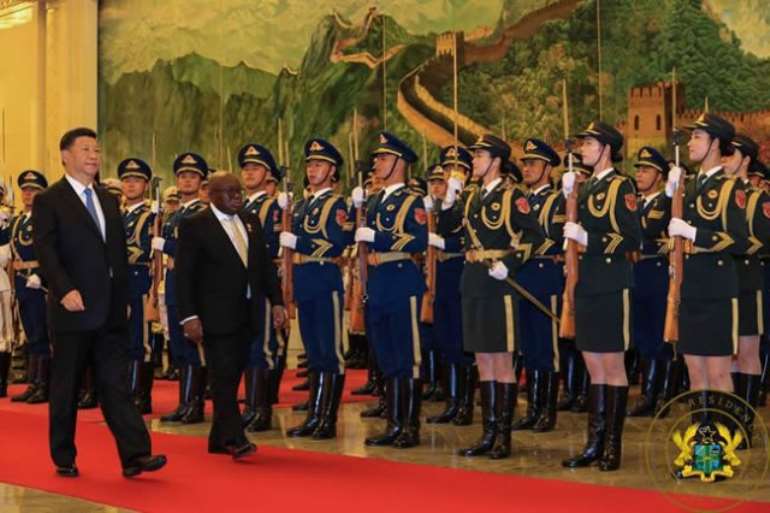 President Akufo-Addo with China's Xi Jinping "The Century Bond that has been done in other parts of the world is a good opening. It helps you to refinance some of your short term expensive instruments and gives you more fiscal space. It gives you more resources to stretch over a period to deliver more value," he said.
But the Minority is skeptical about the decision. Deputy Minority Leader, James Kluste Avedzi says the government is simply going to mortgage the future of the country.
In his view, the government should have considered the restraints the bond will have on generations to come before deciding on the move.
"How many generations of Ghanaians will be made to pay that loan back to the investors? It is my generation, the president's or generations after my children or my children's children.
"We need not mortgage the future of this country, we will have a different crop of leaders tomorrow and we have to give them space to decide on their own,' he said.
The Ketu North MP says he does not understand how the government is deciding for generations what to do with their money.
For him, changes in technology will result in changes in needs and the government cannot be in the position to decide how future generations use the country's money.
"What will be developmental needs of Ghana in hundred years from now, what will be interest rate on that bond in 50-100 years from now? It is difficult to determine as at now."
He continued that "I am getting a sense that if we are borrowing $50 billion for developmental projects in Ghana today, first of all, technology will change in some years to come.
"Maybe in 20 years to come what you will be providing today might not be relevant again. As technology changes the needs of the people change accordingly so we cannot go and borrow for a period of 100 years," he stressed.
The Chairman of Parliament's Public Accounts Committee is convinced that the move is a wrong one because the maximum year a loan can last should be between 20-30 years.
Anything more than that is bad, "if you borrow $50 billion today, which you are going to service over 100 years, it means you are mortgaging the future revenues of this country and you are not giving the future leaders of this country the opportunity to decide on their own what they should do, what is important and what is needed.
"As we are taking the decision today, you do not know what Ghana will need in 30 years you cannot determine so you will be dead and gone and our children will now be suffering," he added.