NDC Elections: Ade Coker Wins, Ativor, Baba Jamal, Yamin Lose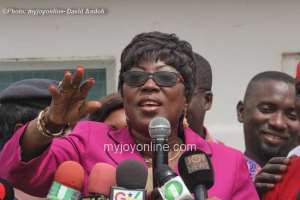 The opposition National Democratic Congress has elected new regional executives in all ten regions. Some big names suferred losses including former Transport minister Dzifa Ativor who lost her bid to lead the NDC in the Volta region.
Greater Accra regional chairman Ade Coker retain his seat.
In Ashanti Region, former Deputy Minister, Joseph Yamin's bid to lead the NDC failed as he lost by 88 votes to Andrews Augustus Nana Akwasi who polled 699 votes.
RESULTS DECLARED ARE AS FOLLOWS
Volta Region
Chairman
John Gyapong Kudjoe- 491 √
Dzifa Aku Ativor- 374
Vice Chairman
Maxwell Owusu Siaw- 175 √
Henry Ametefe- 355 √
Constant Tamawu- 60
Frank Adoba- 52
Claver Kofi Lawson - 158
Edwin Aklobortu- 63
Secretary
George Loh- 271
Dominic Amegashie-Viglo- 82
Manfred Nuku-Dei - 20
James Gunu- 494 √
Deputy Secretary
Gbande Mustapha- 294
Idam Barno Johnson - 178
Mary Agbenyenu- 34
Where Bright Kwashie- 356 √
Treasurer-Unoposed
Daniel Dzegede
Deputy Treasurer
Evelyn Gaglozu - 500 √
Mawuli Danyo- 221
Eric Agbenyo- 140
Organizer
George Dake(Zoto)- 432
Siki Abibu- 439 √
Deputy Organizer
Chester Sena Ati- 308 √
Hope Nyavedzi- 86
Courage Worlasi Danku- 125
Desmond Mensah- 207
Dominic Adoboe- 141
*Communication Officer- Unoposes*
Kafui Agbleze√
Deputy Communication Officer-
Stephen Tetteh- 182
Doe Kornyo- 49
Bright Delali Kugbadzor- 536 √
Edwin Kwame Amemasu- 90
Zongo Caucus Co-Ordinator
Hawa Tahiru- 313 √
Tanko Mohammed Abubakar- 221
Baba Salisu- 189
Mohammed Ayuba- 146
Central Region
CHAIRMAN
1. E K T Addo - 299
2. Kakra Yalley - 256
3. Aquinas Tawiah Quansah - 157
Vice Chairman
1. Theophilus Adu Mensah - 366
2. Stephen Edward Moore- 143
3. Lawrence Lamptey - 80
4. Abeku Aggrey - 51
5, Daniel Ohene Darko 45
6. Alfred Halm - 21
Secretary
1. Nii Commey Adams - 238
2. Kojo Qaunsah - 238
3. Henry Kweku Hayfron - 191
4. George Ebow Crentsil - 41
5. Elvis Christian Amoasah - 5
Organizer
1. Michael dery - 474
2. Peter Kofi Owusu Ashia - 233
Deputy Organizer
1. Nana Osebe Quansah - 129
2. Attah Mensah - 128
3. Kojo Peter Essel - 125
4. Paul powell Aboagye - 121
5. Nana Pyne - 78
6. Kofi Adzra - 45
7. Achimedes Avornu - 56
8. Simon Doodo - 20
Treasurer
1. Eric Esuah - 476
2. Veronica Essuman Nelson - 89
3. Derrick Mbir - 79
4. Justice Kofi Boison - 69
Deputy Treasurer
1. Victoria Pobee-Woode - 245
2. Peter Yaw Affum - 185
3. Charlotte Danquah - 98
4. Zacharriah Salifu - 78
5. Samuel Oheneba Quansen - 47
6. Kwame Sam - 24
7. Benjamin Ewusi Affum - 21
8. Theodore Yankah - 14
Communications Officer
1. Kwesi Dawood - 313
2. Ambroose Amoah Ashyiah - 261
3. Ike Afenyi Donkor - 139
Deputy Communication
1. Lawrence Kwesi Ghartey - 379
2. Emmanuel Kweku Arjoh Yeboah - 329
Zongo
1. Alhaji Rashid Abubakar - 214
2. Abdulai Amoh - 206
3. Alhaji Nuhu Abdul Mumun - 171
4. Mohammed Muftaw - 120
Women Organizer
Faustina Lamptey won
Deputy Women Organizer
Evelyn Ekua Sika Papabi
Youth Organizer
Eric Dadson
Deputy Youth Organizer
Bright Botchwey
Francis Asmah
Brong Ahafo Region
Unopposed:
Chairman: Ambassador Kwadwo Nyamekye Marfo (former BA Regional Minister)
Secretary: Dennis Twumasi
Zongo caucus Coordinator: Baba Gausu
Vice chairman: Kwadwo Takyi Arhin 212
✔
Alhaji Nasiru Yusif 200
Alhaji Ibrahim Gariba 434 ✔
Deputy secretary
Isaac Donkor 289
Mohammed Shamsudeen Ali 408 ✔
Abdul Razak Chachas 156
Organiser
Prince Kofi opoku Mensah 198
Mohammed Seidu 543 ✔
Kwasi Lampo 114
Deputy organiser
Charles Aseidu 553 ✔
Kwateng Gabriel 124
Abdul Fatao Abass 145
Treasurer
Gapson Kofi Raphael 480 ✔
Abonkrah Manu Joseph 375
Deputy Treasurer
Peter Suaka 357 ✔
Ayoma Moro 228
Magyina kwasi 215
Communication officer
Charles Akowuah Tuffour 543 ✔
Apraku Lartey 228
Moro Zongo 86
Deputy Communication Officer
Eric Adjei 482 ✔
Amadu Eben Awudulai 380
Youth Organiser
Efo Thomas Worlanyo ✔
Deputy Youth Organiser
Owusu Nkansah Ababio ✔
Rasheed Ahmed ✔
Women Organiser
Agnes kusi ✔
Deputy Women Organiser
Hajia Fati Abubakar ✔
Georgina Puopiel ✔
Ashanti Region
Chairman:
Nana Akwasi-699
Joseph Yamin-611
T.K Braimah-18
Kojo Adu Gyamfi(Kayad)-8
Secretary;
Evans Amankwah-583
Kwame Zu-757
Dep.Secretary
Mathew Kojo Njourkone-674
Charles Agyemang-290
Mohammed Awal Swala-373
Organiser:
Isham Alhasan-892
Godwin Bobobey-106
Abass Mubarak Abass-239
Asiedu Keteke-42
Alpha Justice-55
Deputy Organiser:
Bashiru Amisah-460
Chief Osman Salam-48
Abdulai Latif-131
Robert Owusu-313
Baba Armed Mohammed-101
Joe Tette-284
Treasurer:
Opoku Karikari-197
Marvin Philip Fraizer-557
Hopeson Keku-586
Deputy Treasurer:
Alex Yaw Opoku-385
Prince Attah-510
Adjei Baffour Arqua-239
Armed Rufai-200
Com.Officer:
Abass Nuredeen:608
Solomon Anane:423
Donko Fuseini-306

Deputy Com.Officer:
Asafo Adjei-1,129
Ofa Attah-197
Upper West Region
Chairman
1. Abdul-Nasir M. Saani (Bunas)-307
2. Mathew Song-Aabo (Matco)-81
Vice chairman
1. Alhaji Musah Issah-108
2. Lebeh Fred Ahmed-25
3.Alhaji Dauda Y.Mwimgpagra-Olo-35
4.Alhaji Seidu Yakubu Jamatutu-52
5. Kwame Mumuni-112
6. Alhaji Bawa Seidu-54
Secretary
1. Hon. Dapilah Cletus-178
2. Charles Lwanga Puozuing-179
3. Dominic Ziniyel-21
4. Eric Dakurah Faanuba-10
Deputy secretary
1. Alhaji Nurah Issah Danwana-346
2. Lord Michael W. Baatuolkuu-43
Organiser
1. Thomas S.Ngminbahaara-113
2. Issahaku Nuhu Putiaha-276
Deputy Organiser
1. Hon Basiera Saankara-266
2. Issahaku Karifa Salam-123
Treasurer
1. Prince Razak Abdul-Moomin Tachi-137
2.Mahamud Muhsin Afandi-43
3. Chireh Ibrahim Carlos-124
4.Batiah Abdulai Santi-82
Deputy Treasurer
1.Abu Abdul-Wahab-198
2.Osman Rayan-82
3.Boro Benjamin-109
Communication Officer
1.Issah Kantagyere-183
2.Puo-Ire Prosper-203
Deputy communication
1.Alhassan Sharifdeen Shash-127
2.Eunice Kaminata-193
3.Jinsung A. Rashid-68
Zongo caucus
1.Moomin Abdul-Razak Gado-221
2. Aziz Awudu-167
Women organizer
1.Hajia Salamatu Cecilia Hamza-20
2. Mrs Alice Teni Boon-16
Deputy women organiser
1.Florence Kpan-6
2.memuna Mahama Yahaya-12
3.Prica Domenyevi Kuupol Bagonluri-14
4.Sabogu Zakaria-3
Youth organizer
1. Rashid Bickson-2
2. Prince Mahmoud-11
3. Nicodemus N.B.D. Dery-34
Deputy Youth Organiser
1.Zakaria Abdul Rahman Markus-19
2.Tamimu Issah-1
3.Polukuu Titus-18
4.Abubakari Yahaya-7
5.Nyeyela Iddrisu A.Aziz-2
Women organizer
1.Hajia Salamatu Cecilia Hamza-20
2. Mrs Alice Teni Boon-16
Deputy Women Organiser
1.Florence Kpan-6
2.memuna Mahama Yahaya-12
3.Prica Domenyevi Kuupol Bagonluri-14
4.Sabogu Zakaria-3
Youth organizer
1. Rashid Bickson-2
2. Prince Mahmoud-11
3. Nicodemus N.B.D. Dery-34
Deputy Youth Organiser
1.Zakaria Abdul Rahman Markus-19
2.Tamimu Issah-1
3.Polukuu Titus-18
4.Abubakari Yahaya-7
5.Nyeyela Iddrisu A.Aziz-2
Greater Accra
CHAIRMAN
Daniel Amartey Mensah 293
Yahya Kundow 113
Emmanuel Ashie-Moore 283
Ade Kobina Coker 319
ORGANISER
Derrick Addotey 246
Maxwell Ofotsu Amevor 224
Humphrey Tetteh Mensah 144
Anthony Kwame Nukpenu 390
Rejected Ballots 1
TREASURER
Solomon Nii Aplah Barnor 117
Regina Samiratu Akunkel 430
Alhaji Seidu Haruna 242
Rabbon Kwashie Dodoo 216
Reject Ballots 0
DEPUTY TREASURER
Nubyl Kakra Vanlure 273
Mohammed Norgan 345
Abagna Raphael Muniru 124
Mercy Akromah 219
Ahortu John Nurudeen 41
Rejected Ballots 3
Total Ballots 1005
ZONGO CAUCUS COORDINATOR

Ismaila Horoya 446
Mohammed Ashkar 556
Rejected Ballots 4
COMMUNICATION OFFICER
Gabby Asumin 64
Jerry Johnson 679
Samuel Ablodeypey 295
Latif Osumanu 66
DEPUTY COMMUTATION OFFICER
Nana Adobea Koranteng 93
Isaac Nii Otoo Lartey 68
Dickson Dodoo 87
Thomas Addy Godfred 49
Spinnoza K. A Aboah 76
Gideon Tettey Tetteh 131
Frank Nii Dua 86
Simon Kwaku Tetteh 344
Maurice Mawugah 31
George Acheampong 38
Rejected Ballots 02
Northern Region
TREASURER
Hon. Kassim Bakari Ali......485 (49%)
Mohammed Abdul Mumin. ...155 (16%)
Abu Mohammed Hafiz....270 (27%)
Alhaji Bashir Ibrahim........76 ( 8%)
Dep. Treasurer
Mahama Janda Tanko. ....84
Sulemana Halid Sub chief....85
Hajia Shamima Razak.......751 (76%)
Mohammed Al hassan Akwa......64 (6%)
Communication
Yahaya Seidu............163 (17%)
Abdul Mumin Alhassan .........604 (61%)
Sulemana Mohammed Yaalana ........214 (22%)
Dep Communication
Viel Godsennor ...........140 (14%)
Malik Sidiwaya Basintale .....370 (38%)
Baba I. Musah ......221 (26%)
Issah Salifu..........252
Organizer
Abdallah A. Baba Zee.......497 (51%)
Habib Mohammed Tahiru Veron .....259 (26%)
Abukari Abdul Mumin ............110 (11%)
Iddrisu Hardi Pagazaa ........115 (12%)
Dep. Organizer
Alhaji Abdul Rauf Abukari......216 ( 22%)
Fuseini Nuhu..................170 ( 17%)
Fahad Yakubu.....................178 (18%)
Alhaji Haruna Issahaku........86 (9%)
Zakaria Majeed.................333 ( 34%)
Zongo Caucus
Issahaku Umar Bande ....198 (20%)
Hajia Jamilatu Amadu ...251 (26%)
Mohammed Sulemana .....118 (12%)
Alhaji Sakibu Wakaso ......58 (6%)
Papa Yawson....................39 ( 4%)
Thomas Ade.....................67
Mohammed Tauphick Jinkanyess......47 (5%)
Alhaji A bass Ibrahim .......................202
Secretary
Salisu Be Awurebe ...................482 ( 49%)
Alhaji Imoro Issifu Alhassan......50 (5%)
Mohammed Abdul Salam...............449 (46%)
Dep Secretary
Ziblim Saaka...............................535 (54%)
Mohammed Awudu S. Zacious...............449 (46%)
Chairperson
Alhaji Ibrahim Mobila Abdulai ...... 493 ( 50%)
Alhaji Osman Musah .................... 26 (2.7%)
Alhaji Umar Faruk.....................8 (1%)
Godfred Apatsinaba Wunbei...............397
Hon. Bakari Moses Mabengba...............52 (5%)
Alhaji Mohammed Sumani Zakari ..........3 ( 0.3%)
Vice chair
Alhaji Hassan Rufai Ahmed Veilim...... 431 (44%)
Hon. Ali Adolf John.........................230
Hajia Hawawu Boya Gariba...............142 (15%)
Alhaji Issaka Bawah ......................122 (12%)
Alhaji Yushaw Yakubu......................51 (5%)
Eastern region
Regional Chairman
Bismark Tawiah Boateng -281
Basil Ahiable – 249
John Owusu Amankrah -373
Vice Chairman
George Mensah Akpalu -190
William K. Atamudzi -285
Abednego Djagman -19
Francis Ojabu Djaahi -115
Ransford Owusu Boakye -94
Adu Stella Obeng-77
Kwaku Asamoah -34
Stella Ansah -45
Seidu Konate -48
Regional Secretary
Mark-Oliver Kevor -538
Baba Jamal Korney -365
Deputy Secretary
Sawodji Kwame Stephen 319
Cudjoe Adukpo-593
Organizer
Tom Budu Kenneth -260
Hackman S.Kabore-653
Deputy Organizer
David Dakudzie -366
Hafianyo Gershon Kwadzo -355
Amanor Francis- 124
Treasure
Ahmed Zakaria Kwakwa –
Michael Ofori Offei -116
Micheal Adu-Sei -245
Abdul-Aziz Mohammed -78
Deputy Treasure
Abdul-Rasha Ahmed -138
Millicent P. Ablakwa -218
Richard Lartey Obibini -378
Ibrahim Sahadatu-178
Communication
Paul Opata Bradi -291
Yaw Appiah Kubi -308
Darlas Williams- 317
Deputy Communication
Kwabena N. Eduful -42
Percy Ofosu Anim -237
Akore Micheal Ofoe -259
Prince Sulleyman -117
Emmanuel Opare Djan -256
Zongo Caucus
Alhaji Tamimu Mumuni -50
Alhaji Baba Kankani -90
Aminu Issah -113
Alhaji Ahmed Ibrahim-135
Abdul-Ganiyu Halidu-14
Issah Mohammed Sani -511
Western Region
Chairman
Nana Kwakwo Toku 469
Michael Aidoo 346
Vice Chairman
Kobina Jerry Kankam Darkwa 258
Musah Adamu 173
Michael Gbedemah 185
Captain rtd Anthony Cujoe 189
Secretary
Joseph Nelson 460
Famous Tumi Acquah 360
Deputy Secretary
Charles Kojo Adu Fordour 498
George Ofori Dankwa 318
Organiser
Japheth Baidoo 423
Younous Mohammed 394
Deputy Organiser
Thomas Asienae 407
Pious Kwame Nkuah 261
Clamper stone Reben 150
Communications Director
Richard Kirk Mensah 497
Sam Jerome 321
Dep Communications
Ebenezer Essien 480
Kankam Owusu Yeboah 338
Treasurer
Henry Rockefeller 524
Kwasi Dick 294
Deputy Treasurer
Daniel Darlinton 493
Daniel Armah 325
Zongo Caucus
Hafizu Alasco 494
Ali Sanusi Uttar 322
Women's Organizer
Gladys Egyin 36
Josphine Yankson 0
Anita Annan 4
Beatrice Sam 22
Dep Women's Org.
Elizabeth Nsaba 18
Janet Ansah 14
Beatrice Ofori 4
Georgina Zileru Antwi 2
Mariam Raji 25
Youth Organiser
Eric Kweku Kyere 23
Robert Kofi Agyekum 17
George Dadzie Junior 28
Dep.Youth Organiser
Louis Dartah 13
Jeremiah Kwame Ansah 11
Prince Nkuah 16
Havatious Ati Peter Cobbina 22
Mustapha Iddrisu 21
Abri Morkoh 9
Paul Kelvin Eshun 6