Senegal courts quash presidential poll bids of two main opposition figures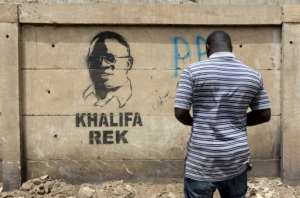 Two prominent Senegalese opposition figures had their hopes of running for president battered in the country's courts on Thursday in cases their lawyers describe as politically motivated.
In the first hearing, the court of appeal upheld a five-year jail term against leading politician Khalifa Sall for misuse of funds.
Later, the Supreme Court dismissed an attempt by former minister Karim Wade to be reinstated on the electoral list, a prerequisite to standing in elections, which are due next February.
The two men have been seen as a growing challenge to incumbent President Macky Sall, who shares the same name but is not a relation, and their lawyers have accused the government of using the judiciary to block them from contesting the polls.
Khalifa Sall, the 62-year-old mayor of Dakar, was sentenced in March on charges of fraudulent use of public funds.
"The court confirms the judgement against Khalifa Sall," a judge said, at a hearing held under tight security that was attended by some of Sall's supporters but not the mayor himself.
The court of appeal also ordered him, alongside three other defendants, to pay 1.8 billion CFA francs (2.75 million euros) to the state.
"We are not surprised. I have long ago stopped believing in this justice. This decision is not a legal one but a political one," one of his lawyers, Cire Cledor Ly, told reporters.
Sall has described the charges against him as politically motivated.
He was found not guilty on charges of criminal conspiracy, money laundering and misappropriating public funds.
'Strategy to eliminate candidates'
Sall intends to take his case to the Supreme Court in a last-ditch effort to run in February, according to a source close to him who requested anonymity.
"If he is sentenced once and for all before submissions (for the presidential poll) close" on December 26, he will then be out of the race, the source added.
The trial has been closely followed in Senegal since the start of the year, throwing a spotlight on Sall's high popularity and stirring debate over next year's elections.
"Their strategy is to eliminate presidential candidates," said Bamba Sall, Dakar district mayor who is close to Khalifa Sall.
In the case of Wade, the high-profile businessman son of former Senegalese president Abdoulaye Wade, the Supreme Court threw out his appeal.
His application to be added to the electoral register was declined in July by the Interior Ministry, which had invoked a provision in the electoral code that deprives anyone sentenced to more than five years in prison of civic rights.
Wade was sentenced to six years in prison in 2015 for "illicit enrichment", although he received a presidential pardon in 2016 and has since lived abroad.
But one of his lawyers said his battle to stand in the February polls was not over.
"We have other recourse but we are not going to reveal it here," said lawyer Madicke Niang, adding that "what happened today shows that the judicial system is on the side of power."
Fake receipts
While scores of people have indicated their intention to stand in the February presidential vote, none are as well known, and well-placed to challenge Macky Sall as Wade and Khalifa Sall.
A dissident member of the Socialist Party, Khalifa Sall began his political activism at the age of 11.
He later held various ministerial portfolios under then Socialist president Abdou Diouf before being elected mayor of the capital in 2009.
The specific charge of misappropriating public funds centred on 1.83 billion CFA francs ($2.85 million, 2.7 million euros) of city money which allegedly was misused between 2011 and 2015.
The court heard allegations of a system of fake receipts for rice and millet, the money from which Sall was accused of using for "political purposes".
Sall said the money was not diverted for personal or political use but instead used for discretionary spending on sensitive issues such as security.