Building A National Cathedral Is Necessary – Rev. Frimpong Manso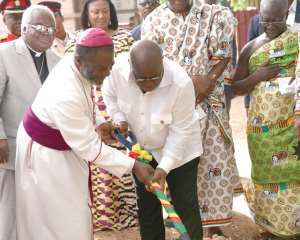 A member of the board of trustees for the National Cathedral, Rev. Proff. Frimpong Manso has stated that building the National Cathedral is a necessity.
According him, the country boast of being a Christian country with over 75% of citizens being Christians. Therefore it is only right for the country to have a National cathedral where all Christians can gather and worship their God.
"Building a National Cathedral is a priority. Ghana claims to be a national under God and our proverbs, our wise sayings and our everything so if we are doing an edifice to the glory of God to honor him, I don't think it is a misplaced priority", he said whiles speaking on Class FM earlier today.
President Nana Addo back in March last year 2017 cut sod for the construction of a National Cathedral around the 37 Military Hospital for interdenominational worship. The move has in recent weeks come under heavy negative criticism due to the fact that some bungalows of some judges will be demolished. Some legal practitioners have therefore condemned the move and threatened to petition his Exellency the President to express their displeasure.
For Rev. Proff. Frimpong Manso, building a national cathedral is in the right direction as it will be a way of acknowledging the deep seated needs of the people of Ghana as Christians. The also says there is already national mosque in the Country so there is nothing wrong with putting up a National Cathedral.
In addition, he stated that there will always be the need for some of these things to develop as we evolve as a people. He also explained that if we have a national cathedral, it can serve for other purposes beside interdenominational worship. He observes that recently when we lost our vice President, the Late Paa Kwesi Amissah-Arthur, we could have held his service in a national cathedral if we had one. He believes also that the swearing in of a president can equally be done in the National Cathedral once it is ready.
"Peoples argument has been money and that is a non-starter. See the money that is going through corrupt hands. See the money that is being wasted on other areas and people say spending money to build a National Cathedral is a waste", he sighted.