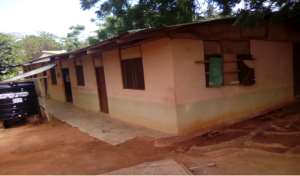 As Robert M. Hensel said, "There is no greater disability in society, than the inability to see a person as more". The national Assessment centre at Achimota which begun in 2012 and was schedule to be completed within six months has been left to rot. The department is under Ghana Education Service (GES) and it primary function is to assess children with disabilities throughout the country in order to place them in special schools. It was established to provide avenues for early identification and detection of early childhood disabilities and transfer them to special schools to gain education.
The building of the centre was awarded to Rock Everest Company by the Ministry of Education through the GETfund. The National Assessment and Resource Centre for Children with disabilities have been left due to lack of funds claimed the contractor.
Currently the centre is in a wooden structure with no proper ventilation and insect infested ceiling. The centre is located right in the heart of Achimota, one of the biggest towns in Accra. When it rains during working hours all work procedure have to halt and staff would vacate the premises, due to leakages. How can a country develop when it does not pay attention to the vulnerable in the society; disability is the minority group in the vulnerable society.
The centre works in a noisy environment where hearing assessment is very difficult. That is for a successful hearing assessment, assessing a child with hearing defects the consulting room should be acoustically designed and fitted with air condition and sound proof features. The audiometer currently being used at the National Assessment and Resource centre is an '1980' audiometer which does not function well. The centre is not well ventilated and makes assessment very difficult due to the heat and sweating copiously for both parties.
The staff strength at the Assessment centre for the whole country is less than ten, approximately one for every region. With the disability population of Ghana being around two million and counting, also being the less educated minority group in Ghana. All statistics conducted nationwide points to disability group needing improvement in the education sector. The 2010 Population and Housing census pointed to the fact that four in ten Persons with disabilities aged 3 year and above have no formal education with the majority stakeholder in these group being females.
Also, some parents who sort their services have either given up or kept their children at home due to delay of results from clinical psychologist when referred to hospitals, often delaying for at least a year. Work satisfaction is very low for the staff which put them at risk of having a mental health issues and providing quality assessment for the children.
My humble plea to government and other philanthropic individuals and agencies is to come and assist in completing the assessment centre. This is the only assessment centre for the whole country and should not be in such an upsetting state.