Mnangagwa on track to win Zimbabwe election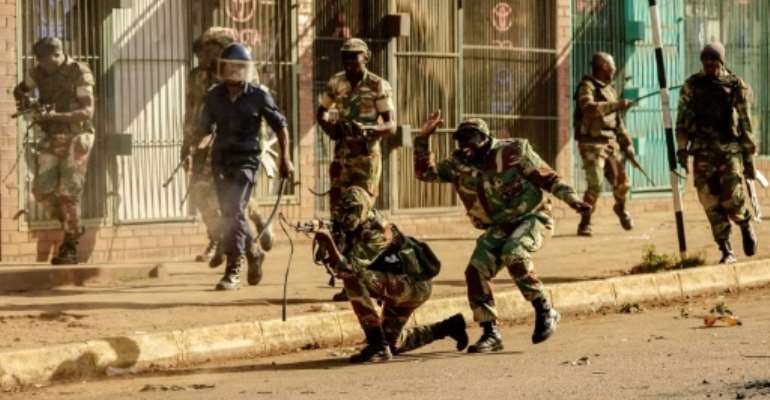 Emmerson Mnangagwa of the ruling ZANU-PF party took a clear lead in Zimbabwe's presidential election Thursday, ahead of his main opponent Nelson Chamisa of the opposition MDC party, according to official results.
With nine out of ten provinces declared, Mnangagwa had 2,147,505 votes to Chamisa's 1,929,704, according to tallies from the Zimbabwe Electoral Commission.
The result from the last province of Mashonaland West, a large ZANU-PF stronghold, was due to be released shortly.
Zimbabwe has been braced for the results in the landmark presidential elections -- the first since the ousting of Robert Mugabe -- which have already sparked a deadly crackdown on protesters.
Six people were killed on Wednesday when troops fired live rounds against MDC demonstrators alleging the vote had been rigged.
Soldiers and police cleared central Harare earlier in the day, shouting at pedestrians and traders to leave the area, as the opposition Movement for Democratic Change (MDC) continued to allege that ZANU-PF had stolen the election.
The government has accused the MDC of inciting Wednesday's unrest and has vowed to enforce a strict security clampdown.
"What they have been trying to do of late is to play around," MDC leader Nelson Chamisa told reporters earlier Thursday.
"That is rigging, that is manipulation, trying to bastardise the result, and that we will not allow."
If no presidential candidate wins at least 50 percent of the ballots cast in the first round, a run-off is scheduled for September 8.
Soldiers on the streets
Soldiers stood guard at ZANU-PF headquarters, while armoured personnel carriers, water cannon trucks and police anti-riot vans took position outside MDC headquarters.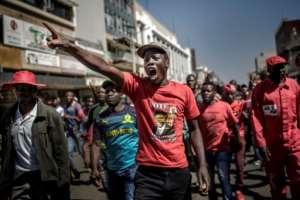 Several hundred opposition Movement for Democratic Change (MDC) supporters gathered outside the party headquarters in Harare, chanting and shouting that they had won the elections. By Luis TATO (AFP)
Monday's vote was meant to turn the page on years of brutal repression under Mugabe.
It has pitted incumbent President Mnangagwa, Mugabe's former ZANU-PF ally, against Chamisa, 35 years his junior.
After the protest deaths, Mnangagwa said on Twitter that he wanted an independent investigation into the killings, and that he sought to settle differences "peacefully".
But Chamisa ratcheted up the pressure, accusing the government of turning tanks and guns on voters, and ruling out the prospect of a unity government.
"No unity government. There has to a government of the people elected by the people," he told reporters.
In the parliamentary election, also held on Monday, ZANU-PF won easily.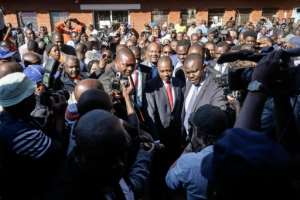 "We won the popular vote and will defend it!" opposition leader Nelson Chamisa tweeted. By Zinyange AUNTONY (AFP/File)
Mnangagwa had promised a free and fair vote after the military ushered him to power when Mugabe was forced to resign.
A credible and peaceful vote was meant to end Zimbabwe's international isolation and attract foreign investment to revive the shattered economy.
Election observers from the Commonwealth issued a statement to "denounce the excessive use of force against unarmed civilians".
Former colonial power Britain appealed for Zimbabwe to remove the army from the streets.
Before the violence, European Union observers declared they found an "un-level playing field and lack of trust" in the election process.
History of election violence
Under Mugabe, elections were often marred by fraud and deadly violence.
ZEC chairwoman Priscilla Chigumba, a high court judge, has flatly rejected allegations of bias and rigging.
Mugabe, 94, voted in Harare on Monday alongside his wife Grace after he stunned observers by calling for voters to reject ZANU-PF, his former party.
The campaign and polling day were lauded as relatively peaceful and open.
Mnangagwa was the clear election front-runner, benefitting from tacit military support and state resources. But Chamisa, a lawyer and pastor, sought to tap into the youth and urban vote.
Mnangagwa was allegedly involved in violence and intimidation during the 2008 elections when then opposition leader Morgan Tsvangirai pulled out of the run-off after attacks claimed the lives of at least 200 of his supporters.