Zimbabwe's tainted election authority under fire again
Nothing would demonstrate that Zimbabwe has entered a new era since Robert Mugabe's ousting more than a clean election.
But the Zimbabwe Electoral Commission (ZEC), which was synonymous with fraud, secrecy and bias under Mugabe, has again been engulfed by allegations of malpractice that threaten the credibility of Monday's vote.
In the last elections in 2013, it was accused of allowing the ruling ZANU-PF party to oversee voter registration and of delaying the release of an electoral roll full of ghost names, dead people and duplicates.
It also allegedly allowed ZANU-PF to assist many supposedly illiterate people to vote, rejected many legitimate votes and printed millions more ballot papers than needed.
This year, it has struggled to present an image of the open, fair election that President Emmerson Mnangagwa has repeatedly promised to deliver since he succeeded long-time leader Mugabe in November.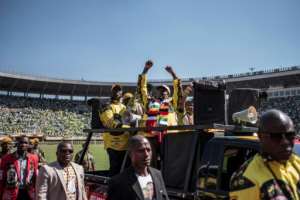 Zimbabwe's incumbent President and candidate Emmerson Mnangagwa (centre) at a rally in Harare. By MARCO LONGARI (AFP)
"The key tenets for a credible election are transparency and accountability -- and ZEC is averse to both," Tawanda Chimhini, head of Zimbabwe's Election Resource Centre monitoring body, told AFP.
"Zimbabwe could have seen a departure from the old way, and ZEC could have been much more transparent -- that would have built public confidence.
"But the commission is making the same mistakes. The credibility of the election will be in dispute regardless of who wins."
Chequered history
Back in 2008, ZEC also attracted international ridicule for declaring that year's election free and fair after then opposition leader Morgan Tsvangirai pulled out of the presidential run-off when more than 200 of his MDC supporters were killed.
This time around, ZEC has dismissed criticism that its new biometric voters' roll is riddled with errors, that the ballot paper illegally puts Mnangagwa's name at the top of a column, and that it is running the election opaquely.
Two weeks ago ZEC announced that the printing of ballot papers had been completed, and the following day furiously denied postal voting was already underway -- only to backtrack and admit that it had started.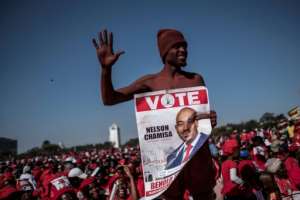 A supporter of MDC-Alliance (Movement for Democratic Change-Alliance) leader and opposition presidential candidate at a closing campaign rally in Harare. By MARCO LONGARI (AFP)
"From the voters' roll to ballot papers and postal voting, ZEC has been found wanting," said UK-based political analyst Alex Magaisa. "Regrettably, ZEC has so far failed to handle its enormous obligation as an impartial referee.
"There is a broad perception of bias which owes much to history but is also cemented by current indiscretions."
ZEC's failure to ensure balanced state media coverage has also been clear, with the state-run Herald newspaper and Zimbabwe television running fawning coverage of Mnangagwa and either ignoring or attacking Chamisa.
On 'Team ZANU-PF'?
The Movement for Democratic Change (MDC) has kept up a barrage of complaints about ZEC throughout the campaign, describing it as playing on ZANU-PF's "team".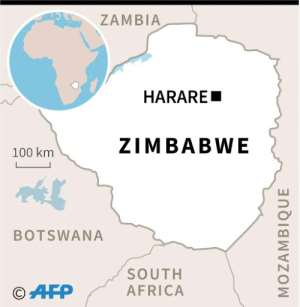 Zimbabwe is to hold its first post-Mugabe presidential election on Monday, July 30. By AFP (AFP)
"ZEC has failed us in fundamental ways," party spokesman Douglas Mwonzora told AFP, alleging ZEC has been staffed with former military personnel close to the generals who ousted Mugabe in favour of Mnangagwa last year.
"They have not released the exact copy of the voters' roll to us. They have not allowed us to observe the transportation, storage and safekeeping of the ballot papers," he added.
Many Zimbabweans are looking to international monitors from the European Union, African Union and others to keep the election on track, but the observer missions stress that the process is entirely run by ZEC.
ZEC commissioner Qhubani Moyo strongly defended its conduct to AFP, saying it has been following "the letter of the law".
"Our job is cut out for us in the constitution and the electoral act and any deviation is unacceptable," he said.
"We are an independent body and we are not going to lose sleep over some of the criticism we get."
The ruling ZANU-PF party vouched its support for the commission.
"We have confidence in ZEC and we have no doubt they will carry out their mandate as expected," party spokesman Paul Mangwana told AFP.
The head of the ZEC Priscilla Chigumba is a respected high court judge but, with both parties promising certain victory, she may face tough days ahead with the election results due by August 4.