Russia On The Move To Deepen Ties With Africa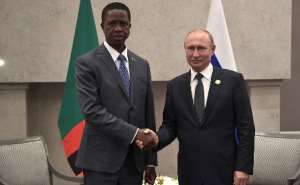 MOSCOW (Russia), July 28, GNA - Within the framework of 2018 BRICS summit, Russian President Vladimir Putin held separate meetings with President of Zambia, Edgar Lungu, and President of Angola, Joao Lourenco, to consolidate diplomatic ties and review economic cooperation with the two African countries.
'We are developing relations between our parliaments. The speaker of Zambia's National Assembly recently visited Russia. I am also pleased to say that our executive offices are developing ties as well,' he said at his meeting with the Zambian President.
He added that Russian professionals were discussing the possibility of cooperation in high-tech sectors, such as medicine and, more specifically, the fight against cancer, and said with the establishment of diplomatic relations long ago, the time had come to shift the focus to cooperation in the economy.
With the Angolan leader, Putin pointed first to the longstanding and friendly relations between Russia and Angola, saying that had been the basis for active cooperation in political and economic matters, security, and coordination at international organisations.
He, however, noted that trade had been quite modest so far, but in general, there were good projects that could be implemented - currently, the military and technical cooperation were developing.
President Lungu said that his ministers and technocrats had been engaging with Russian counterparts in trying to see how to scale up cooperation.
'Russia was the first country to establish diplomatic relations with Zambia. But over the years this relationship has gone cold, so to speak, not much has been done.'
'There are lots of various cooperation opportunities, and one of the main of them is energy. We want to use nuclear energy for peaceful means. We have signed MoUs with Rosatom and a few other agencies in Russia, so we look forward to your coming to open a ground-breaking, as you said, nuclear centre,' Lungu told Putin, inviting him to visit Zambia.
On his part, Angolan leader Lourenco congratulated Putin for the FIFA World Cup that was successfully held in Russia and expressed keen interest in strengthening the Soviet-era friendship and economic cooperation with Russia.
'During the Cold War, Soviet Union always supported the Angolan people and helped them achieve political independence. After the Soviet-era collapse, Russia has never turned its back on Angola.'
'We want our country to develop in all areas. Speaking about economic cooperation, we are counting on interaction with Russia. First of all, Russian enterprises work in our mining complex, but we would also like Russian businesses to be represented in other industries.'