Chirano Gold Mine Workers Mobilise Communities To Fight Filth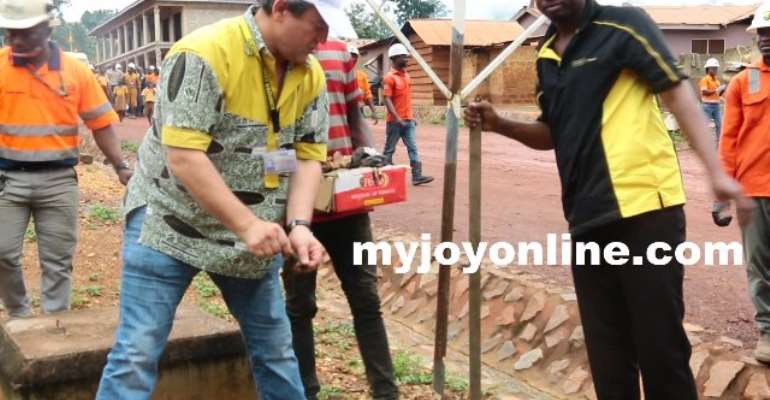 Chiefs and people of communities affected by mining are collaborating with Chirano Mines to rid communities of filth, especially plastic waste.
Choked drains caused by indiscriminate disposal of waste, especially plastic waste, account largely for the perennial floods in cities and rural communities.
Management of Chirano Mines has not only dedicated a day to clean the environment but also join locals to embark on a cleanup exercise in communities in which they operate.
Mining and related activities came to standstill when over 300 workers at Chirano Mines left the pits and shafts to rid local communities of filth.
The initiative is targeted at averting any threat of floods which have caused loss of lives and properties in some parts of the country, amid intensified rains.
Chiefs and people of Paboase, Etwebo and Akoti complemented the miners in their effort also to prevent malaria and other filth-related diseases.
However, Kinross Chirano officials believe the initiative is the way to empower the rural folks especially school children, on the need to maintain personal and environmental hygiene.
General Manager of Chirano Gold Mines, Adriano Sobreira, wants residents to institutionalise the exercise, at least, once every month.
"It has been estimated that by 2050, there will be more plastics in the ocean than sea foods, in view of this we must do well to dispose plastics responsibly to prevent chocked gutters and subsequent floods," he said.
He added: "It is incumbent on the general public to commit to responsible disposal of waste especially plastics, during heavy downpour to prevent outbreak of diseases like malaria and cholera."
Chief of Paboase, Nana Frimpong Manso, finds the collaboration between the mine and communities a positive development.
The chief calls for similar exercises to enhance development in other communities.