Nyarkotey Obu Joins Finalists For 2018 SHP International Rising Star Award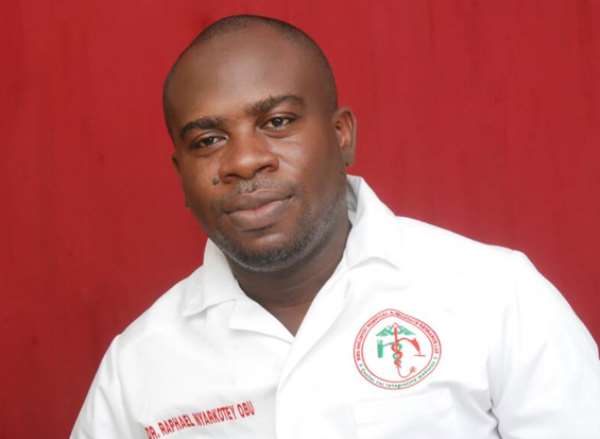 Raphael Nyarkotey Obu
Dr. Raphael Nyarkotey Obu, a renowned prostate cancer researcher and Holistic Medical Practitioner, science writer and advocate has been shortlisted to pick the prestigious 2018 Safety and Health Practitioner International Rising Star Award.
He has been a lonely voice in the fight against prostate cancer in Ghana and West Africa. Nyarkotey Obu is the only professional in Africa to make the lists in 2018.
According to the website of SHP :
SHP is delighted to announce the finalists for 2018's SHP International Rising Star Awards.
The awards have become an annual event to celebrate young people who have demonstrated excellence in their roles. This category was open to anyone under the age of 30 that is not based in the UK
A list of nominees was whittled down by a panel of experts and the following have been named as the finalists:
Shivam Tyagi – EHS Engineer/ HSES Co-ordinator, Kalpataru Power Transmission limited, India
Shivam leads a team of 12 members from diverse background of nationalities and cultures. Shivam has contributed to four million safe man hours in a project and is currently posted in Malawi, Africa where safety standards and education are very low. Shivam has assisted in creating better awareness and has developed some good H&S professionals, who will hopefully go on to prevent many injuries and ensure safe working practices.
Raphael Nyarkotey Obu – Prostate Cancer Advocate/Science Writer, Men's Health Foundation, Ghana
Raphael works with corporate institutions and national bodies with his team of prostate cancer ambassadors to send the message to the general public. He has become a major prostate cancer crusade in Africa by establishing the Men's Health Foundation Ghana, which has become the national peak body of prostate cancer in black men. He provides awareness talk, screening and institutional policies on how to reduce the impact of the diseases in their workplaces.
Amitabh Bhattacharya – HSE Manager, Global Environmental Management Services, India
Amitabh's efforts recognised at Baker Hughes by Region Sr. HSE Manager and Base Coordinator for awarding points under the 'Energize Recognition Program' and for driving HSE performance and dedication and for proactive participation and commitment in improving health, safety and environment by showing effective team work and dedication.
Sanjay Rajasekaran – Manager – Group Safety & Health, Tata Sons Ltd, India
Sanjay was part of the eight-member global team which created the Safety & Health Management System Framework for the Tata Group. He seamlessly integrated into the team and was integral to the global project being completed in a record time. Sanjay is also worked with cross company teams in co-creating Tata Safety Standard for the group followed by developing training content.
Sanjay has a keen business understanding provides simple and effective solutions which enhances safety and translates to better business performance.
Piumi Perera – Management Trainee Executive, Camso, Sri Lanka
Piumi is responsible for OSH communication, training and compliance and so has a duty arranging special communications and events for special days which are annually commemorated. She has organised several industrial level events, including workshops, poster campaigns, video clip presentations and awareness programs for the global water day earlier this year. The colleague that nominated her said: "Piumi effectively arranged and conducted these events, cooperating with others successfully and she is very capable of identifying her team members' skills and knowledge to get the maximum out of them."