Accused of dumping thousands of migrants at the border in the desert, Algeria has opened up the doors of its air-conditioned expulsion buses to try to allay criticism of its treatment of deportees.
With food-filled rest stops and nappies for the babies, the journey south for more than 350 migrants being sent out of Algeria stood in stark contrast to the reports of those who have come before them.
Rights groups have accused the Algerian authorities of arbitrarily arresting and deporting migrants from sub-Saharan Africa, sometimes abandoning them without water or food in the desert.
The government denies the allegations and invited the media on the trip of more than 2,000 kilometres (1,240 miles) from the outskirts of Algiers, where the more than 350 migrants arrested across northern Algeria were held.
The majority were Nigeriens, including women and children, while others said they were from Mali, Cameroon and Guinea.
"I don't want to return to Niger," said Abdelkader Adam, 56, who told AFP he had sent money to his family during the 14 months he worked in construction in Tizi Ouzou, 100 kilometres east of Algiers.
"I need to feed my two wives and my seven children who are there... I will do everything to come back to Algeria," he said.
Travelling in a convoy of a dozen buses, the 27-hour journey to a transit centre included a stop where Red Cross volunteers distributed food and nappies.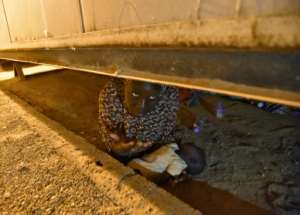 A woman from Niger hides with her baby at a transit centre for migrants in Tamanrasset in southern Algeria to try to avoid deportation on July 2, 2018. By RYAD KRAMDI (AFP)
Arriving at the brand-new centre at In Salah -- which the authorities say cost $2.6 million -- the migrants were served a sizeable dinner and given bottles of water and biscuits.
The expulsion process on show by the Algerian government aimed to counter what it has termed a "malicious campaign" by rights groups, which have expressed alarm at the treatment of migrants.
People interviewed by Human Rights Watch described being rounded up on the streets or at construction sites where they worked.
They accused the police of beatings and stealing their belongings and said they were driven to the border and forced to walk through the desert.
'Emerging from the desert'
After resting overnight at In Salah, 1,300 kilometres from Algiers, the migrants being followed by the media continued their journey south to a centre at Tamanrasset, where a local official defended the government's policy.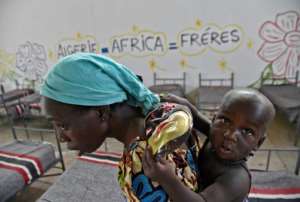 A Nigerien migrant carries her child in a transit camp in Laghouat, northern Algeria as she is repatriated on June 29, 2018. By RYAD KRAMDI (AFP)
The latest convoy "is a strong message for those who question the reality of the efforts taken by Algeria to take responsibility for these migrants," said prefect Djilali Doumi.
AFP was not authorised to continue south beyond Tamanrasset and observe the border crossing -- the point at which international organisations claim migrants are forced to walk through the desert with sometimes-deadly consequences.
The United Nations migration agency said its officials have seen "migrants emerging from the desert in the thousands", including pregnant women, at the Nigerien border town of Assamaka.
"IOM routinely sends search and rescue missions to pick up severely dehydrated and disoriented migrants who have been looking for shelter for days at a time," the International Organization for Migration (IOM) said last week.
Algeria vehemently denies the accusations and the expulsion followed by AFP was also observed by representatives of the IOM and UNHCR refugee agency.
The IOM's head of mission in Algeria, Pascal Reyntjens, welcomed the "coordination between all the people involved in the operation" to take care of "populations in distress".
'It's over'
Algerian authorities said the group of 354 Nigeriens, including 197 children and 77 women, was taken across the border to Assamaka on Monday.
They were then transferred to the city of Agadez, under a deal with the Nigerien government.
Those of other nationalities had to be "released", an official from Algeria's interior ministry said without giving further details.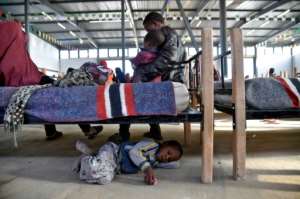 Nigerien migrants await repatriation at a transit camp in Laghouat, northern Algeria on June 29, 2018. By RYAD KRAMDI (AFP)
Algiers has claimed numerous sub-Saharan Africans are begging on the streets and more than 33,000 migrants have been repatriated since 2014, according to an Algerian official.
The IOM has reported a sharp rise in the number of migrants left to walk across the border between Algeria and Niger through the desert, up from 135 in May 2017 to 2,888 in April this year.
While many aim to return to Algeria, others hope to never see the frontier again.
Abdoulaye, a 19-year-old Malian, said during the journey south that he crossed the border a year ago and had to spend more than $1,000.
"In the end I'm back where I started," he said. "It's over. I'll never come back here."