Champion Advocacy For Good Sanitation--Churches Encouraged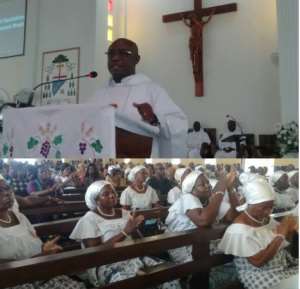 The Director of Governance, Justice and Peace at the National Catholic Secretariat, Reverend (Rev.) Father (Fr.) Clement Kwesi Adjei, has called on churches and other religious bodies to spearhead the campaign against poor sanitation.
According to him, churches have a responsibility to speak out on issues affecting the environment, sensitize the people on how to have a change of attitude and act according to the teachings of the bible.
He said the pulpit should not only be for the teaching of the bible but also for teaching the congregation how to protect the creation of God.
Rev. Fr Adjei made this call at the launch of the Catholic Dioceses of Koforidua Sanitation and Environmental Week at the St George Catholic Cathedral at Koforidua.
The Programme, which was under the auspices of the Justice and Peace Commission of the National Catholic Secretariat, seeks to sensitize and encourage members of the church to be sanitation and environmental conscious.
He explained that destruction of the environment, water bodies and illegal felling of trees affected humanity and urged churches and leaders to lead and speak against such ills of the society.
Rev. Fr Adjei said support from government to equip the assemblies to combat sanitation was inadequate and this had necessitated the churches involvement to complement the efforts of government.
He said if sanitation and environmental protection were left in the hands of only the political leaders, the desired results would not be achieved.
The New Juaben South Municipal Environmental Health Prosecutor, Mr Gordon Domi said his outfit had begun a campaign to educate Christians against indiscriminate dumping of refuse and other bad sanitation practices.
He noted that every individual, groups and all stakeholders had a role to play for the fight against sanitation to be successful.
Mr Domi urged the people to report recalcitrant persons who litter indiscriminately to the appropriate quarters for prosecution.
He charged the Zoomlion Company to up their game in the collection of refuse in the country and called for strict supervision to enable them monitor the activities of their workers and the public.