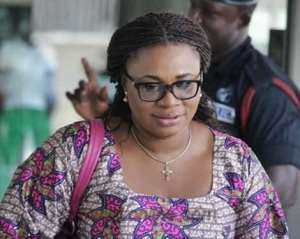 The umpire got her palm greased before the December 2016 general election. And the 'poster boy' had his bread buttered A whooping $12 million was supposed to be given to the Electoral Commission (EC), of Ghana but something fishy happened to that money during transit. Perhaps the actors thought they'd had their way.
BUT today the chicken is coming home to roost. One day pigs will fly and fowls will grow teeth. There would come a day mosquitoes will be wielding guns and nuns will be growing beards. One day we will see butterflies carry buckets to the riverside to fetch water and ants will push elephants around. And one day truth will bail herself out from the jaws of the rugs—as good will transcend evil.
How is this possible?
Well, we're already witnessing them in countless ways here in Ghana and elsewhere. Just to give you one example, it's reported that a Zimbabwe clergyman has been arrested by police for selling tickets to Heaven. Suffice to say the 'Heavenees' are upbeat they can't wait for the Armageddon. You may call it fake news. But we've seen, heard and read worse things than this one. So anything is possible.
"Jesus Christ appeared to me and gave me the tickets made of pure gold so that I can sell to people who want salvation," said Pastor Tito Wats. According to the reports he sold tickets to people for $500.00 especially sinners.
And the irony is thousands of people were reported to have protested at the pastor's arrest and had called on the police to release him immediately. The reason, they used their own money to buy salvation.
I know the above scenario seems strange. However, it's possible because as a people we appear to be so green and have allowed some individuals 'to slide in on a shrimp sandwich.' You didn't quite catch what that means did you?
It simply refers to individuals who didn't have to work to get where they are, Remember, a people that don't question the status quo or leadership risk mortgaging their own destiny. Not only that they face the danger of engaging in fratricidal and civil wars because there's deep mistrust, fear and apathy amongst them.
Can NDC get her $12 million back?
Former President John Rawlings didn't name names when he insinuated on Monday 4 June 2018 that some individual in the party (NDC) paid a whooping $3 million cash to a property owner for purchasing two mansions in an upscale area in the capital Accra.
"What did this small little character do? After we lost the 2016 election, I said he went and paid cash for two mansions. One for himself and one for his wife. The owner of the properties had to spend the whole night counting the $1.5 million each times two, the $3million. Do you get me? "


Yes Mr. Rawlings called no fowl but I guess the individual knew himself. Literally they would have chewed Mr. Rawlings up if he'd mentioned any names. They've ridiculed him as they'd often done and charge him to attack the NPP or President Akufo-Addo. And as expected many that were present at the 39th June 4th anniversary had a good laugh, Some chuckled, while others perhaps rubbished his statement.
Was is it a loan to the Devil?
Obviously one would have considered it as a forgotten deal. But you can be sure as hell to get your money back if you loaned it or gave it to Man or somebody in your party, house or town. It's been alleged that the NDC gave a former deputy minister of communication Felix Kwakye Ofosu $112 million to be given to the electoral body—EC. But it turned out he purportedly pocketed $6 million and gave the then EC Charlotte Osei. $6 million.
"Anyway according to sources they gave Felix Kwakye Ofosu $12 million to come and give to the Commission. You take some and you know...we give the staff. According to sources, when Felix also sensed that they are likely to lose, he took half of the money, went and gave Charlotte half. And that actually, infuriated us,' said EC Commissioner Paulina Dadzawa
There seems to be some connection here, (regarding the two claims) though not very strong. Mr. Rawlings' claim appears to corroborate Madam Dadzawa's narrative. And I can conclude that whoever paid $million cash for that two mansions was up to good. He feared the bank would find out. But I'm sure the property owner might still have some of those bills. Beyond that the owner knows his buyer.
But how did $6million end up in one man's pocket?
First let's find out based on what premise did the NDC give the said money to this individual? Were there witnesses? Did the individual return to tell the party that he'd delivered the said amount. And did the receiver EC or the chair acknowledge receipt? Did NDC keep mute over this to shield one of their own fearing public outcry?
Let's also establish that it's normal for parties to grease the electoral body's palm. In other words to say thank you for a good job done before or after elections. In fact, what one doesn't know is the intent or motive behind the so-called gift.
Was it to influence the outcome of election? Or as a practice it was a' token' to show appreciation or support the commission in discharging its work effectively and efficiently?
"...Normally whichever government is in power not necessarily before election or after the election. Kuffour did it. they come and say thank you NDC is more generous," a Commissioner said in an audio trending on the social media.
Meanwhile, Mr. Felix Ofosu Kwakye has debunked the allegation in a statement.
"I am by this statement demanding an immediate retraction of the malicious claims by Mrs. Dadzawa, failing which my lawyers have standing instructions to commence legal action against who spread the falsehood she peddled in the tape."
So granted it wasn't Mr Kwakye Ofosu, who else did the NDC give the $12 million to? I think the NDC must come clean on this. After all it's been established that gifts to the EC, are standard practice. And I can assure the umbrella that If they fail to do so, one day Mr Rawlings will come out and name names.