Prince William Visits Israel Holocaust Memorial In First Royal Visit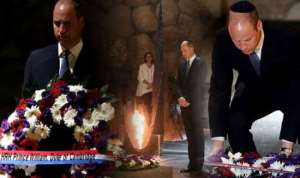 Accra, June 26 - (dpa/GNA) - Britain's Prince William started a trip to Israel and the Palestinian Territories on Tuesday with a visit to the Yad Vashem Holocaust memorial in Jerusalem.
The four-day tour is the first official visit of a member of Britian's royal family to the area, which Britain ruled as the colonial power from 1920 to 1948.
During his visit to Yad Vashem, he met with two Holocaust survivors who were part of the Kindertransport, a British-led effort to save around 10,000 mostly Jewish children from Germany and Nazi-controlled areas before World War II.
Writing in the Yad Vashem visitors book, William said the visit "has been a profoundly moving experience."
"The actions of those few, who took great risks to help others, are a reminder of the human capacity for love and hope. I am honoured that my own great grandmother is one of these Righteous Among the Nations," William wrote, referring to Princess Alice, who has been recognized for her role in rescuing a Jewish family in Greece.
The prince plans to Israeli and Palestinian leaders during the trip, and tour Jerusalem's Old City - a focal point of the Israeli-Palestinian conflict.
But a spokesman said his visit is non-political and will focus particularly on culture and youth aspirations.
On Tuesday, he met with Prime Minister Benjamin Netanyahu and his wife Sara at the prime minister's residence in Jerusalem.
Later on Tuesday he will watch a soccer match of Arab and Jewish children and attend a reception at the British ambassador's residence.
William is due to travel to Ramallah, the de facto Palestinian capital in the West Bank, on Wednesday to meet President Mahmoud Abbas.
His itinerary, which labelled East Jerusalem and the West Bank as "the Occupied Palestinian Territories," provoked some ire from Israeli politicians.
The issue of Jerusalem has remained especially sensitive after US President Donald Trump declared the contested city as Israel's capital and moved the embassy there in May.
Israel captured the eastern half of Jerusalem in the 1967 Six-Day War and later annexed the territory in a move that was never internationally recognized.
Palestinians want East Jerusalem as their future capital, while Israel says Jerusalem is the Jewish State's "undivided" capital.
Saeb Erekat, the chief Palestinian negotiator, said the Palestinians are trying to convice Britian to work against Trump's Jerusalem move.
"We have tried more than once with Britain to get it to apologize for what happened to the Palestinian people because of the infamous Balfour Declaration asking it to assume its responsibilities in this regard," Erekat said Monday according to Wafa, the official Palestinian Authority news agency.
"But what we are trying to do now is to get Britain on the right side of history by acting to build the largest possible front against the American slap of the century,' he added.
British Prime Minister Theresa May called Trump's Jerusalem deceleration "unhelpful" for peace in the region in December.
GNA