Akufo-Addo Worst In Ghana's History--Truth Defence Network.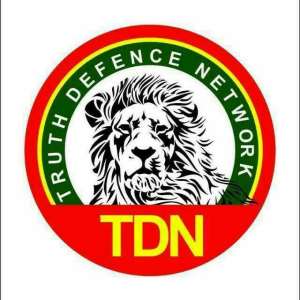 A group calling itself 'Truth Defence Network' has lambasted the Akuffo Addo led administration describing it as the worst ever in the history of Ghana . A group led by Madina Adams(Mimi) , Ezeke Adotey and Unas Aboagye Dadzie expressed their dissatisfaction towards the manner in which Akufo Addo led government is running the affairs of the country .
"This government is the worst ever in the history of this country . Besides being incompetent , his government has demonstrated to be the best ever government in corrupt practices . We can all see it that ,the recent cash for seat scandal , the BOST scandal , 2.25 Dollar Eurobond scandal amongst other scandals have proved to be indefensible". The group said .
The group which is believed to be affiliated to the NDC , most particularly in championing the good works the former president H.E John Dramani Mahama believes that Ghana has come of age to avoid corrupted and incompetent leaders like the likes of Akuffo Addo and his 1,268 appointees ."How can more than 1,200 people work at the presidency ..??".The group asked . They went on to add their voices to the alarming rate at which the economic stability of Ghana is declining , stating that , the vice president Dr. Mahamudu Bawumia is only good at mentioning figures that are far beyond the understanding of the layman .
They went on to also comment on the free education policy which they say , is an attempt to rob Peter to pay Paul .Explaining their point , they said the policy which requires continuing students to pay school fees and other financial obligations is an attempt to rob Peter to pay Paul adding that , their approach to policies are all cases of robbing Peter to pay Paul .
"All these are signs of the fact that , Ghanaians made a serious mistake in bringing Nana Addo and his cohorts into power during the 2016 elections and that , on the other hand will it vindicate the good sentiments of H.E John Dramani Mahama". The group added said .
The group advised Ghanaians to be very analytical in the policies introduced by the Nana Addo led government in order not to be misled. They pointed out that the Nation Builder's Cops(NABCO) program is not an exception of such policies to be analysed adding that , government should state their stance as to whether they will extend , or terminate the IMF program which has bedeviled the employment sector . They went on to encourage nurses trainees to demand for what was promised them by the NPP prior to the 2016 general elections .
They also described the declaration of the former president John Mahama to contest for presidential primaries of the NDC as dedication and commitment to serve God and country .
God Bless Ghana
God Bless H.E John Dramani Mahama and his legacies.
God Bless Truth Defence Network(TDN) .
PRESIDENT : EZEKIEL ADOTEY
GENERAL SECRETARY : ADINA ADAMS (MIMI)
COMMUTATION OFFICER : UNAS ABOAGYE DADZIE