Reconciliation elusive in Togo after political violence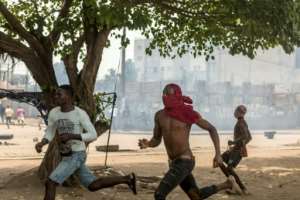 Afia Bassan has been unable to walk and still talks with difficulty since post-election violence erupted in her home town of Atakpame in central Togo in 2005.
Now, the 42-year-old's brother is taking her to collect a cheque for compensation from the government in the name of national reconciliation.
"People looted all her stocks of grain, cloth and jewellery... and beat her up. It traumatised her," he said.
Yet Bassan, a farmer, says she has "forgiven everything".
"It's over," she says with difficulty before picking up her cheque worth several hundred dollars as financial "reparation".
Atakpame is situated some 175 kilometres (110 miles) north of the capital Lome in a region where the opposition has held sway.
It was at the heart of violence after the 2005 election which saw Faure Gnassingbe elected president, taking over from his father Gnassingbe Eyadema, who ruled Togo for 38 years.
The unrest is still a dark chapter in the history of the tiny West African nation: government estimates put the death toll at 105 and 811 according to the opposition.
The United Nations said there were "between 400 and 500 deaths".
Gnassingbe has always denounced what he calls the "senseless violence, disorder and attacks" but Yacouba, a former roadside bar owner, still blames the military.
"It took them one night to wreck my home and burn down my very popular bar. I lost everything," he told AFP.
Compensation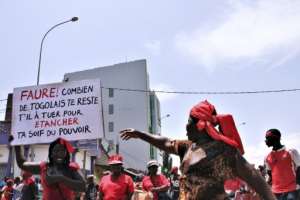 Togo's government is reeling from popular protests, which have seen tens of thousands of people take to the streets calling for President Faure Gnassingbe's resignation. By MATTEO FRASCHINI KOFFI (AFP/File)
In May 2009, the government -- still headed by Gnassingbe -- set up a Truth, Justice and Reconciliation Commission (CVJR) to "shed light on political violence between 1958 and 2005".
It collected testimony for almost three years, which allowed it to identify a total of more than 22,000 people to receive compensation totalling between 35 billion and 40 billion CFA francs ($62 million, 53 million euros).
In 2005, the commission recorded 12,000 victims, including 7,000 in Atakpame alone.
The process has quickened in recent months and the state has already allocated some three million euros.
Togo's government is reeling from popular protests, which have seen tens of thousands of people take to the streets calling for Gnassingbe's resignation.
He was re-elected in 2010 and 2015 in polls heavily criticised by opposition parties.
In December, about 100 people received compensation, and in a second phase that started in mid-April some 2,500 will receive between 420,000 and 2.1 million CFA francs.
Togo's High Commission for Reconciliation and Reinforcement of National Unity (HCRRUN) opened an office in Atakpame. Names of the victims are posted on a small board in the courtyard.
"The Togolese have turned against each other and killed each other in the name of politics," said the president of the HCRRUN, Awa Nana-Daboya.
"Today they can't explain what happened to them."
In July 2007, Gnassingbe visited Atakpame, where he promised that the violence "would never happen again on the land of our ancestors".
Yet just over 10 years later, chaotic scenes erupted again in Lome and particularly in the north of the country.
The scale of violence -- some 15 deaths -- is nowhere near that in 2005 but residents in Atakpame, who have seen it before, are concerned, as elections approach in two years.
"We've lived through the ordeal. Young people destroyed the town. Soldiers fired real bullets for days," said Adamon Sodji.
"My wife was killed with a shot to the heart while she was working in her hairdressing salon," he added with a tear in his eye.
Political change
Most of the victims who have come to collect their money say they want to move forward and "wipe the slate clean".
In Atakpame, there was no violence during the recent protests. The memory is still too painful.
"Compensation isn't enough but I accept it and end this dark chapter in my life," said Yacouba in the middle of about 50 people.
For many human rights organisations and some opposition political parties, peace can only come after a proper judicial process.
To this day, no-one linked to the 2005 violence has been prosecuted.
In 2010, ACAT-France, which campaigns against torture and the death penalty, and Amnesty International called on the Gnassingbe to put an end to the continuing "impunity" in Togo.
"It's all an act. We're tired of this system that has ruled us for decades," said Cyrille, a retired teacher. "The only concern Togolese have today is change in power."