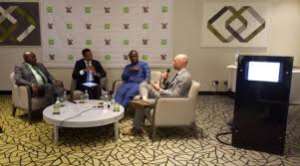 The mayor of Accra Mohammed Adjei Sowah has urged African cities to welcome the new Climate Action Planning Programme for Africa.
According to him, it would help build technical capacities within Africa cities to deliver long-term climate action plans and identify mechanisms to facilitate better national and local integration of climate mitigation activities.
Mayor Sowah said this on Tuesday at Launch of the C40 Climate Action PlanningAfrica Program in Lagos to support 9 sub-Saharan megacities –Accra, Addis Ababa, Cape Town, Dakar, Dar es Salaam, Durban, Johannesburg, Lagos, and Tshwane, to deliver bold climate action plan under the Paris Agreement.
He stressed the need for support in the area of the capacity building to ensure long-term improvement to emissions reporting, scenario modeling, and identification of transformative mitigation and adaption actions to deal with Climate change.
The mayor of Accra who is also C40 Vice Chair for Africa expressed gratitude to the Germany Federal Ministry for the Environment, Nature Conservation and Nuclear Safety for generously supporting the initiative and also thanked all the implementing partners for the preparatory work that has gone into the program.
Whiles Mr. Sowah was talking he said, The C40 Climate Action Planning Africa Programme is part of the International Climate Initiative(ICI). The programme was designed in collaboration with climate expects from Ricardo Energy and Environment who will work closely with the cities to develop their action plans and support greater vertical integration between the city and national government climate strategies.
It is expected to provide direct support to 11 African Cities in developing unprecedented, robust and evidence-based long-term climate action plans that align with the ambitious objectives of the Paris Agreement.
According to him, The support will include a dedicated City Advisor based in each City, a series of workshop, and access to expert technical advice as needed. Nairobi and Abidjan have also joined the programme and are anticipated to submit their climate action commitments soon.
He also said, discussants on the panel underscored the need to catalyze greater and more transparent contributions of cities to the International Climate Agenda, while, at the same time, addressing local climate change issues that impact on the social and economic well-being of urban residents in Africa.
The mayor concluded that Panelists emphasized the need to support African Cities to identify new, innovation and transformative activities to support local climate actions, to make African cities sustainable and resilient.

Mayor 2