Aide Chemists Wins 'Emerging Brand of the Year' Award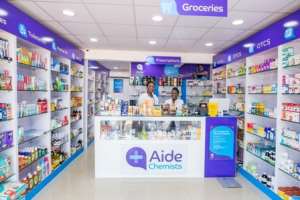 Aide Chemists Ltd, a chain of retail pharmacies that deliver quality and affordable branded generic products, emerged winner of the 'Emerging Brand of the Year' award at the maiden Ghana Pharma Awards held in Accra.
Run by a determined young woman seeking to succeed in a male dominated profession, Aide Chemists, a leading retail pharmacy chain in the country has a firm focus of becoming the first pharmaceutical retail choice in Ghana and the West African sub-region, offering affordable but quality products to clients.
Mrs Abigail Amma Abora Adoo, the CEO of Aide Chemists, said the opportunity to enter the retail space was desirable because some pharmacy owners usually lack requisite industry experience to enable them provide the pharmaceutical care service required to achieve profitability while serving the community.
'We were seeking to correct these shortfalls and thus acquired our first retail shop in 2012 from a local pharmaceutical producer and turned it into a profitable pharmacy with increasing year on year turnover,' she said. The company further acquired two more outlets in 2014, beginning the growth of Aide Chemists' retail chain.
In 2015, Aide Chemists expanded into other regions in the country with 20 outlets, selling prescriptions and over the counter drug to customers.
Aide Chemists plans to have presence in all the ten regional capitals and key district capitals by 2019, and to increase its retail outlets to 60 by 2021.
The Company's unique proposition of strategically placing its retail pharmacies in vulnerable communities, which are considerably underserved, coupled with its unique branding and ambience is a total departure from what you see largely in such communities.
On the Corporate Social Responsibility front, Aide Chemists offers free health and medical screening every other month to better the lives of the vulnerable in deprived communities, testing for malaria, blood sugar, and typhoid and providing medication to the beneficiaries where necessary and within its remit.
'In 2017, we organized a health screening in Koforidua, Mataheko, Kumasi and Ashalley Botwe with an average of 600 people benefitting per location,' she said.
Mrs Addo said she was very happy about the award 'because it not only improves our brand's image but corroborates our efforts are seen and appreciated. It also confirms our goal to be the pacesetters in terms of branding and service delivery. "
The Ghana Pharma Awards brought together the major players in the pharmaceutical industry in Ghana and provided the platform to recognize individuals and companies that play significant roles in the growth and development of the industry.
As the premier awards event in the industry, it sought to recognize distinction and promote the interest of the industry - locally and internationally by rewarding excellence within the industry.
The Ghana Pharma Awards recognizes excellence and provide recognition throughout the entire supply chain in the pharmaceutical industry. The event celebrates thinkers, creators and strong advocates, individuals and companies that are committed to driving the industry forward.
GNA