Judicial Service Launches 2018 ADR Week In Sunyani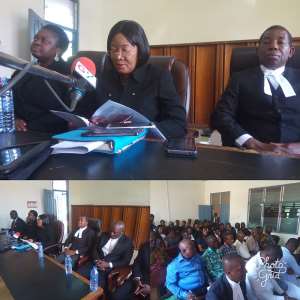 The Ghana Judicial Service has officially opened its 2018 Alternative Dispute Resolution (ADR) Week on Monday, 12th 2018 in Sunyani.
The week was set aside to use the ADR to resolve cases pending in courts that were connected to the programme, and also to create mass public awareness in order to educate the citizenry on the use of the programme.
Her Ladyship Justice,Irene Charity Larbie,Justice of appeal court and the Judge in charge of the ADR Programme, , speaking at a press conference at Sunyani District court B to launch 2018 ADR Week celebration said,
a total of 3,486 cases were mediated through the Alternative Dispute Resolution (ADR) process, out of which 1,571 cases were settled, representing 45%.
She said Alternative Dispute Resolution (ADR) programme has been extended to 87 courts across the nation with at least five mediators assigned to each of the courts.
Mrs. Irene Charity Larbie, said the ADR concept had served as a complement to the traditional court system in making access to justice cheaper, easier, expeditious, non-adversarial and faster.
"This has also helped in reducing the backlog of cases in the courts substantially due to the mass mediation exercise" she added.
She said ADR cuts down the cost of litigation and thereby makes justice more accessible to a greater number of people.
Mrs Larbie said a total of 490 mediators have been trained and assigned to these 87 courts connect to the ADR programme.
"The time has come as a nation for us to deepen our commitment to doing justice by resorting to interventions that make access to justice more meaningful than the adversarial system we are used to" she stated.
She said the vision of the Chief Justice was to expand the court-connected ADR programme to all courts nationwide.
Justice Irene Larbi used the occasion to encourage court users to refer their cases to ADR because it is 'effective and guarantees the interest of both parties, who are involved in every aspect of the process.
According to her, two main activities take place during the week celebration,the first is to give opportunity to parties who have their cases pending in the Courts that are connected to the ADR Programme to have their cases settled using ADR.
Justice Irene Larbi added that the second is to educate the publics of the Service on ADR through public awareness programmes and activities.
The 2018 Alternative Dispute Resolution (ADR) Week taking place nationwide from Monday, 12th- 16th March.