Kidney Association Seeks Patients Support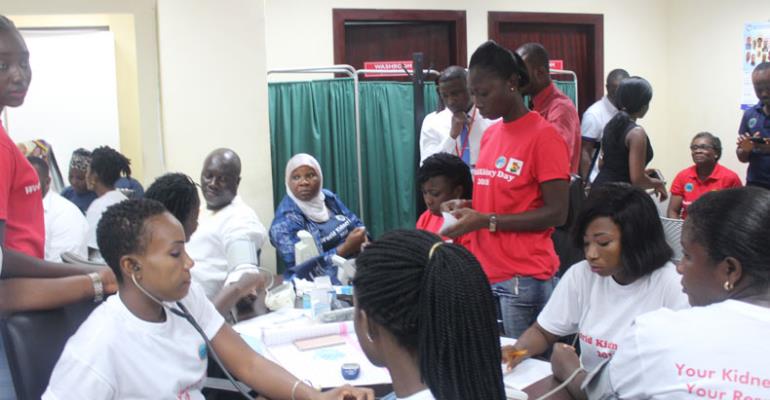 The Ghana Kidney Association (GKA) has called on government to take the necessary steps to ease the financial burden of kidney patients undergoing treatment.
According to the association, a lot of people with kidney disease, especially the end stage, who need dialysis or transplant are not able to afford because the treatment is very costly.
"The people getting the disease are very young between 20 and 40 years and they are the people working for the nation so it will be in government's own interest to assist them with the cost of treatment," Perditer Okyere, a nephrologist at the Komfo Anokye Teaching Hospital (KATH), said.
She made the call at the commemoration of the 2018 World Kidney Day held at Parliament House in Accra, where members of parliament and their staff had the opportunity to be screened for blood pressures, body mass index, urine tests and dietary consultations.
Explaining the plight of patients to journalists, Madam Okyere said to have dialysis in Korle-Bu costs about GH¢260 and between GH¢200 to GH¢190 at Komfo Anokye per a session, adding that patients need three sessions per week, including other medication.
"So roughly you need about GH¢1000 a week which I do not know how many of us can afford so … we as health workers we want to be the bridge between our patients and government so government will know that patients with this kind of disease are not able to afford treatment and for the government to come in and support them," she added.
The Korle-Bu Hospital sees about 400 kidney patients in a month while the Komfo Anokye Teaching Hospital has about 50 patients per month on dialysis.
Madam Okyere mentioned that the entire country has just five kidney centres, which is not sufficient for the number of people who need dialysis treatment.
"We need government to also set out dialysis facilities in all regional hospitals to care for patients," she said.
Dr Vincent Boima, Head of the Renal Unit, Korle-Bu and President of the Ghana Kidney Association, highlighted that 17 percent of Ghanaian population has some form of kidney disease.
"Through this media, we are pleading with other people who will be supporting us because we really have to run on very tight budget to run on this programme," he said.
Touching on the theme: 'Kidney Health Your Responsibility', Dr Boima cited that the GKA encourages the public to take their kidney health into their own hands and then engage in healthy behaviour that will help prevent their kidney from the diseases or if they already have it will delay the progression of the disease.
The Member of Parliament for Mfantseman, Ekow Heyford, who went through the screening exercise, expressed his contentment at the exercise for law makers.
He said, "The screening is important and encouraging. If I had the purchasing power now I would suggest it is done for every civil servant and those in the informal sector."