DCE Announces Facelift Projects For Agona East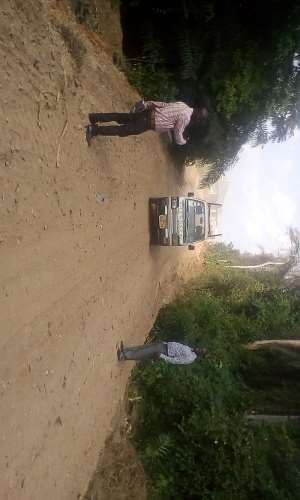 " The Agona East District Assembly through its Common Fund is undertaking a number of facelift project to improve the lives of the people", the DCE, Hon. Dennis Armah Frempong has announced.
According to him, most of the deplorable roads would be reshaped for smooth transportation of goods and services and also boost the economic activities of the people.
In an interview with newsmen soon after inspecting one of such roads at Agona Asafo recently, Hon. Armah Frempong noted that presently over 10km roads in the district were being reshaped.
He disclosed that the Assembly would continue to fix all roads leading to deprived communities adding it had been the source of worry becsuse food stuffs usually gets rotten in the bush.
" It's sad to note that even motor bikes riders sometimes find it extremely difficult to move let alone carry small scale goods to market centers.
The Assembly has reshaped the road from Kwansakrom Sawmills to Agona Asafo after a convert over Dutch River was competed creating access to road users to enhance their businesses.
Plans are far advanced for reshaping of Agona Asafo, Agona Kwanyarko town roads and also Mankrong Junction to Namanwura to make life more comfortable for Students of the Senior High School.
While the Assembly is doing its best to ensure roads becomes accessible, I would like to appeal to Ghana Cocoabod to use its cocoa roads componet to assist us in reshaping our deprived road network "
Hon. Dennis Armah Frempong further stated that other social interventions would be carried out in education, agriiculture and healthcare among others. " This is the core mandate ofvtge Agona East District Assembly ".
The DCE bemoaned lack of school bus for Agona Nsaba Presbyterian Senior High School and appealed to GETfund to assist the school authorities with school bus to enhance their extra curricular activities.
" We want to call on development partners to extend helping hands to supplement our efforts " the DCE concreshaped